Stephen ("Stevie") Payne had a successful career as a computer animator following his graduation from Hertfordshire University in 2007. After working for some of the biggest names in computer animation, including Sony, he decided to take a career break to travel. In 2017 Stevie and his friend Rob embarked on a 3,100 mile charity bike ride across the US raising money for the Alzheimer's Society. The plan was to start the ride in Jacksonville and finish in San Diego. On their return to the UK, Stevie planned to continue his dream career in game animation.
The incident
The pair arrived in the US as planned in March 2017. On day 55 of the ride, after covering 2,700 miles, whilst cycling on the US Highway 70, near the San Carlos Apache Indian Reservation, Arizona, Stevie was struck by a pickup truck attempting to overtake him. The driver of the truck, which belonged to a commercial cleaning company, failed to leave enough room when passing, striking Stevie first with his wing mirror and then with his trailer. Stevie sustained life-threatening injuries. He was airlifted to HonorHealth Scottsdale Osborn Hospital in Phoenix, Arizona where he was diagnosed with a traumatic brain injury, a brachial plexus injury, a splenic injury and multiple fractures. Upon hearing the news of Stevie's accident, Stevie's parents flew out to Phoenix to be with him. They had been told to expect the worst. To this day, Stevie credits the medical team at Scottsdale with saving his life. After spending 16 days in Scottsdale, Stevie was repatriated to the Neurological Intensive Care Unit of Southampton General Hospital.
Legal case
Stevie's parents were recommended to Stewarts and were put in touch with Chris Deacon, Partner in the International Injury department. Chris was instructed to investigate the accident circumstances and pursue a claim for damages. This would ensure Stevie had access to the therapy, rehabilitation and medical treatment he would likely need in the future, and to compensate for his lost earnings if he were unable to return to game animation as planned. The team's expertise in cross-border personal injury cases meant that they were able to liaise with specialist counsel in Arizona and work with them to investigate and pursue Stevie's claim against the company the truck driver was working for when his negligence brought Stevie's charity bike ride to an abrupt end.
Physiotherapy and Rehabilitation
Against the backdrop of his legal claim, Stevie was continuing to recover from his physical injuries. In the first five weeks following the accident, he was only able to communicate with family and friends by blinking his eyes. His resolve to return to normal life saw him take positive steps towards his rehabilitation. His recovery was progressing weekly. Stevie attended three different rehabilitation facilities, including Snowdon Neuro Rehabilitation Centre, Hobbs Rehabilitation and The Wellington Hospital, with a view to maximising his recovery and regaining his independence. Stevie's determination meant that within less than a year of the accident he had secured a job in London and was living independently once again.
Settlement
In early 2019, Stewarts finalised the terms of settlement for Stevie, giving him certainty and the security to meet his future needs. The effects of Stevie's injuries are ongoing, presenting themselves in different areas of his life. Stevie admits that his memory is not as good as it once was. He also experiences double vision for which he has had to seek medical advice to return to driving. Stevie has not however allowed the effects of his brain injury to hinder his progress. Two years after the accident he is now happily working at a London studio producing video games and has found a partner, Jennifer. The settlement means that should Stevie require further therapy in the future then he has the funds available to return to the Wellington Hospital, Hobbs Rehabilitation or a similar setting.
Return to US
From early on in his recovery, it was always Stevie's aim to return to Phoenix and thank the doctors and nurses at Scottsdale Osborn Hospital who saved his life. On 5 March 2019 Stevie returned to Phoenix with his friend Rob and parents in tow. Stevie visited the doctors and nurses of Scottsdale Osborn Hospital to thank them, dedicating a photograph of the Titanic, Southampton's contribution to world history and also a poignant reminder of Stevie's incredible journey and recovery. Following the visit to Scottsdale, Stevie and Rob then made their onward journey from Phoenix to San Diego, completing the route that they would have taken in 2017, although this time in a brand new Mustang.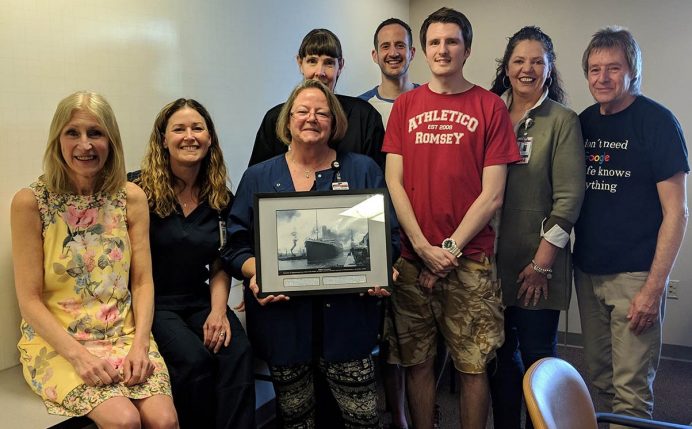 Life beyond injury
Stevie also wanted to thank his friends and family for their support following the accident. On his return to the UK he booked an area of a restaurant and surprised his friends and family. Each person was given a gift and got to witness Stevie's incredible, inspirational speech.
Stevie commented:
"From the time I became mentally and emotionally able to discuss my case with my lawyer, Chris made sure the information I was receiving was clear. Chris always spoke to me in a friendly manner. He's always been very understanding of any action I would like to take, and how I would like an area of my case to progress. He was required to explain many parts of the proceedings to me, but he did so in a way that I was comfortable with. Chris spoke with me as a friend, and showed genuine interest in me attaining as much closure and settlement (financially and emotionally) as possible. He went beyond what's required as a lawyer and truly cared about me getting the best life I could after the accident. I wouldn't hesitate recommending Stewarts to a friend."
At the conclusion of the case Chris commented:
"I am proud to have acted for Stevie and to have been able to make a difference after everything he has been through. Stevie's strength of character, physical and mental perseverance has been remarkable and undoubtedly made a difference to the outcome of his injuries. I hope that this continues as he moves forward in the future. I was impressed by his plans for the trip back to the States and from the pictures I have seen it looks like Stevie, his parents and Rob had a fantastic time, even if not by cycling!"
Chris Deacon was supported by Edita Alic
---
You can find further information regarding our expertise, experience and team on our International Injury pages.
If you require assistance from our team, please contact us or alternatively request a call back from one of our lawyers by submitting this form.
---
Life beyond injury
We have teamed up with other clients who have catastrophic injuries to tell their stories of Life Beyond Injury. Please visit the Life Beyond Injury webpages here.
We hope that by sharing these stories, newly injured people can see that with the right support they too can overcome adversity to lead full and active lives.
You can join in the conversation and share your stories of overcoming adversity to lead a fulfilling life beyond injury: on Twitter, here #lifebeyondinjury; or on Facebook, here #lifebeyondinjury.
---
Subscribe – In order to receive our news straight to your inbox, subscribe here. Our newsletters are sent no more than once a month.