The Divorce and Family team at Stewarts and 4PB Family Law Barristers recently co-hosted a panel discussion: Agency Of Older Children: The Law, Psychology, and Practice.
This event's panel included Stewarts partners Carly Kinch and Toby Atkinson, alongside Barbara Mills KC, Teertha Gupta KC and Julia Townend of 4PB; and consultant child and adolescent psychiatrist Dr Mark Berelowitz.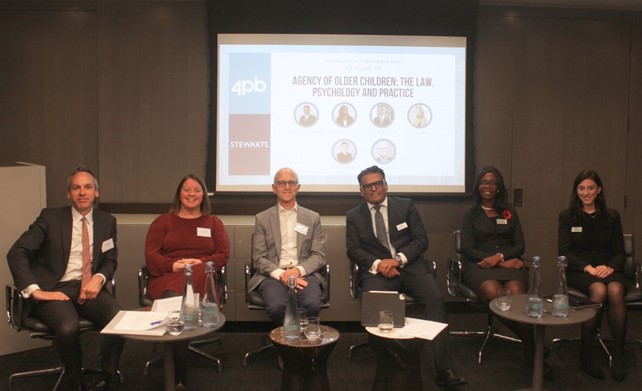 Should children be given agency in family law proceedings?
Teertha Gupta KC chaired the panel's discussion, which centred around whether children should be given agency in private children proceedings. Dr Berelowitz explored the psychological effects and impact of ascertaining the child's wishes and feelings. Barbara Mills KC touched upon whether there was any scope for featuring the child's voice in out of court dispute resolutions, in particular mediation and alternative dispute resolution. Teertha then approached the subject from an international viewpoint, and what practitioners in England and Wales can learn from foreign jurisdictions. He discussed the practices of Germany, Canada, and Brazil among others.
Julia Townsend pointed out that there is little scope for children to have agency when there are allegations of alienation. She found this to be in the case in all three avenues for providing the child with agency; separate representation, independent social workers, and direct conversations between the child and the judge.
Toby and Carly described their own respective experiences in family law matters involving agency of children, and their thoughts on whether separate representation of children is becoming more commonplace. The expertise of the panellists made for an incredibly interesting and thought provoking discussion, which ended with Dr Berelowitz touching upon a very important additional subject: the mental wellbeing of the professionals who assist separating parents and their families.
---
You can find further information regarding our expertise, experience and team on our Divorce and Family pages.
If you require assistance from our team, please contact us or alternatively request a call back from one of our lawyers by submitting this form.
---
Subscribe – In order to receive our news straight to your inbox, subscribe here. Our newsletters are sent no more than once a month.