We are informed from time to time about criminals sending emails or faxes to the public purporting to be from Stewarts or one of our solicitors. 
The email or fax may look very similar to a genuine Stewarts correspondence but the sender will not be genuine. The fraudster may be aware that you are a client of the firm and will send you an email or fax claiming that we have changed our bank details, however the bank details inserted will be those of the fraudster so you may inadvertently send funds to the fraudster's account.
Sometimes the correspondence will look as though it comes from a third party, such as an official government body but will involve Stewarts. The scams are intended to induce you to send money to the fraudster or to disclose your personal and bank account details. They will often suggest that you are entitled to a lottery win, unclaimed inheritance or bank funds, compensation or some other financial gain. They may ask you to pay an "administration fee" to obtain the funds or alternatively ask for your bank details.
These fake emails or faxes are sometimes linked to a fake website or a clone of our own website on a domain that is not our main domain. Be very careful, these sites could contain malicious software (malware) that could cause damage to your computer or steal your data.
Please note:
We will never inform you of any change to our details solely by electronic means

Any email regarding changes sent outside normal working hours should be treated with caution

Our website domain is www.stewartslaw.com, any variation of this e.g. www.stewartslawllp.com should be treated with extreme caution

If you wish to discuss the authenticity of an email or other communication you should contact us and speak to someone you know at the firm

We do not accept responsibility if you transfer funds to an incorrect account
If you receive any correspondence of this kind you are advised not to respond to the email or fax, nor provide your contact details, proof of identity nor bank details. These emails and faxes are fraudulent and should be reported to the appropriate authorities (see below).
You should take steps to ensure that you protect your personal information and bank details from identity theft and fraud, for example by ensuring that your anti-virus software is up to date.
Reporting fraud and scams
UK police – www.actionfraud.police.uk
US authorities – www.us-cert.gov/report-phishing
Scam alerts
Examples of attempted scams using the Stewarts name
An example of a fraudulent fax is below: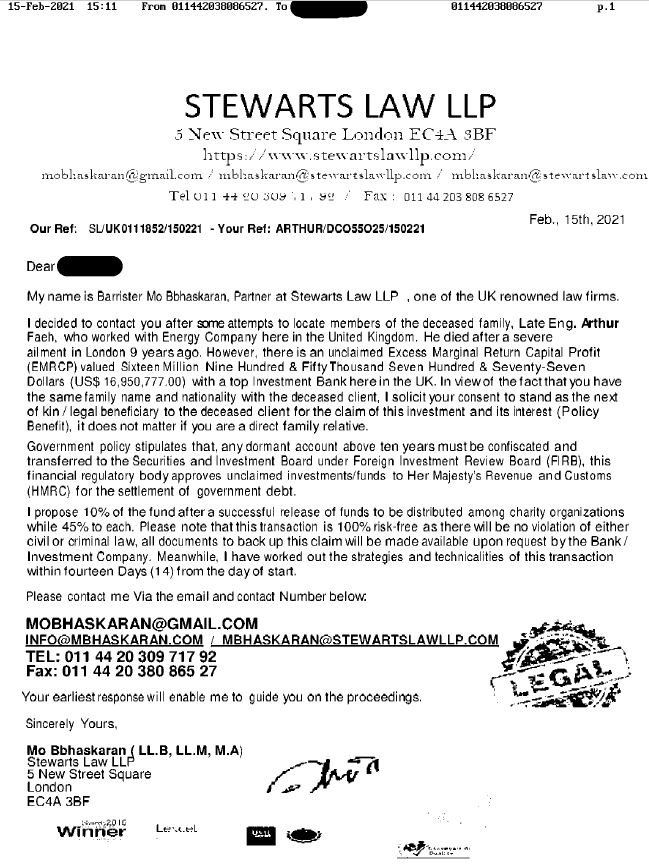 An example of an email is below: