Stewarts is the UK's largest litigation-only law firm with more than 400 staff, including 80 partners. We act for corporate and individual clients in high-value and complex disputes.
Each of our departments has an international reputation for excellence. We are top-ranked in both The Legal 500 and Chambers, the leading guides to the legal profession in the UK.
The firm comprises some of the UK's leading litigation lawyers and enjoys a reputation for innovative and ground-breaking litigation.
Our lawyers have unrivalled experience in putting together innovative costs arrangements enabling our clients to manage risk and litigate from a position of financial strength.
Many of the disputes in which we act have an international element. To enable our clients to take a global approach to litigation we have strategic partnerships in place with law firms around the world.
We strive for excellence in all that we do. This includes not just our cutting-edge approach to litigation, it extends to our responsibilities as an employer and to the wider community.
30 Years of Litigation Excellence
2020 marked our 30th anniversary and we recognised it with this short video of our history and highlights. We take you from the establishment of our first office in Lincoln's Inn Fields in London to recently leading on the first virtual case to be heard in the Commercial Court.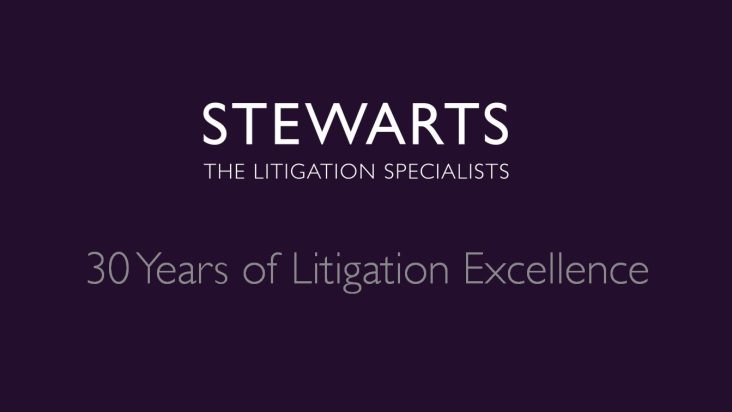 "I found them to be first class. Their knowledge is excellent"
"Stewarts come across as being specialist, this is where their real strength lies"
"They are certainly innovative in the way they litigate"
"Because they are litigation only they are more focused on getting results for their clients"
"The rise and rise of Stewarts" – The Lawyer magazine
We have been profiled by The Lawyer magazine following four of our cases being listed in the Top 20 cases of the year 2020. The article highlights our expanding practice areas and investment in people power, noting that we now have 15 different practice areas, a number that has more than doubled in the past 10 years.