Stewarts has an outstanding reputation across all its specialist departments. We are widely recognised for our innovative and cutting-edge approach to high-value and complex litigation.
Our position and reputation is confirmed by our top rankings in The Legal 500, Chambers and The Times Best Law Firms, the major guides to the legal profession in the UK. We have also won and been nominated for numerous awards, some of which are listed below.
The Legal 500
The Legal 500 provides the most comprehensive worldwide coverage available on legal service providers in 90 countries. It is used by commercial and private clients, corporate counsel, CEOs, FDs and professional advisers, as well as by other referrers of work both nationally and internationally. It is widely regarded as offering the definitive judgement of law firms' capabilities. 
In the latest edition of The Legal 500, we earned record-breaking results. Thirteen of our practice areas have been ranked once again, and a record 46 of our lawyers have scored individual rankings.
You can read more about our rankings in The Legal 500 or here.
Chambers UK
First published in 1990, Chambers has established a reputation for its in-depth research. Based on thousands of interviews with lawyers and clients, the guide ranks solicitors and barristers in more than 60 specialist areas of law. Inclusion in the guide is based solely on the research team's findings: no one can "buy their way in". 
In the latest edition of the Chambers UK guide to the best law firms, the firm had 16 department rankings and a record 60 individual rankings.
You can read more about our rankings in Chambers or here.
Chambers High Net Worth
This guide is specifically aimed at the international private wealth market. It covers private wealth management work and related specialisms in key jurisdictions around the world, featuring in-depth editorial about the leading lawyers and law firms for wealthy individuals and families. 
The latest edition saw two of our departments achieve Band 1 rankings and 20 individuals were ranked for their expertise.
You can read more about our rankings in Chambers High Net Worth or here.
Chambers Global/Europe
This guide researches the world's best lawyers. Stewarts has been recognised in two international directories published by Chambers. Chambers Global covers over 190 countries across the world and Chambers Europe covers 52 jurisdictions, from Greenland in the west to Russia, Turkey and eastern Europe in the east. 
You can read more about our rankings in Chambers Global and Chambers Europe or here.
The Times Best Law Firms
We featured for the fifth consecutive year in The Times Best Law Firms survey. The survey lists us as a top three firm for personal injury and clinical negligence, and we are also listed for divorce and family and commercial dispute resolution. The Best Law Firms directory was voted for by peers, being described as "the lawyers' own view of their competitors". The results were gained by asking lawyers which firms, aside from their own, they would refer work to.
You can read more about our rankings in The Times Best Law Firms or here.
Awards
Stewarts has won and been nominated for numerous legal awards. The firm has previously won The Legal 500 Dispute Resolution Firm of the Year, The Legal 500 Best Regional Law Firm for Dispute Resolution, and Best Managed Firm at the MPF European Practice Management Awards. The firm has also been nominated as Law Firm of the Year by The Lawyer.
Recent awards:
30 Years of Litigation Excellence
We are all facing exceptionally challenging times, but would like to recognise our 30th anniversary with this short video of our history and highlights. We take you from the establishment of our first office in Lincoln's Inn Fields in London to recently leading on the first virtual case to be heard in the Commercial Court.
Our best wishes for the weeks and months ahead.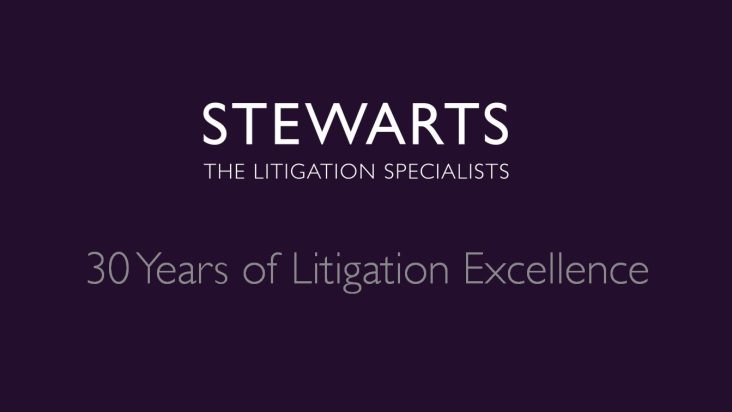 "They are simply top-rate. The lawyers are very knowledgeable and conscientious, and care about their clients"

Chambers
"Stewarts stands out for its wealth of experience and strong team of very impressive lawyers"

The Legal 500
"They really know what they're doing so I would have no hesitation recommending them. They're really excellent in what they do"

Chambers