We have a reputation for providing an excellent service to our clients and taking a cutting-edge approach to litigation.
Legal advice is delivered in an increasingly short time frame. We work hard to maintain the highest standards and provide expert advice in a rapid response environment. This is achieved through investment in our people and the way in which we manage our clients' cases. 
Our lawyers handle a small number of cases to ensure that they give our clients the attention they deserve. And, our lawyers listen, a critical but often overlooked skill. We identify our clients' objectives at the outset and take time to understand the key legal and strategic issues they face.
Stewarts was named as one of the top 10 law firms in the UK for client service in new independent research by The Legal 500. The research surveyed thousands of clients of firms in the UK, rating firms on a range of criteria including billing practices, team quality, industry knowledge and consistency of service.
Our reputation for technical excellence is confirmed by our top rankings within The Legal 500 and Chambers, the two leading guides to the legal profession.
30 Years of Litigation Excellence
2020 marked our 30th anniversary and we recognised this with a short video of our history and highlights. We take you from the establishment of our first office in Lincoln's Inn Fields in London to recently leading on the first virtual case to be heard in the Commercial Court.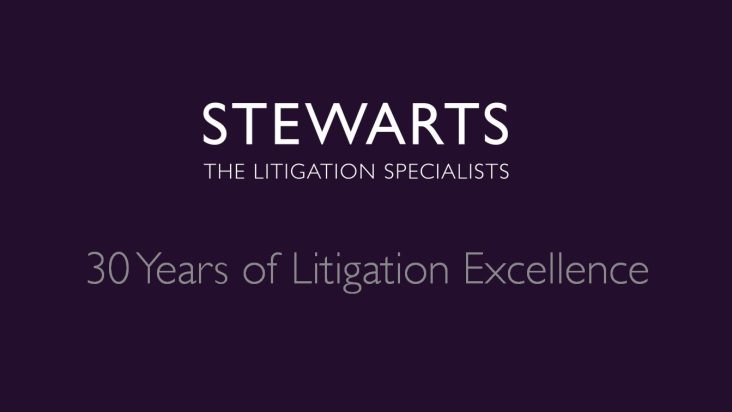 "They are just top-rate; they are everything I would look for in lawyers - very responsive, extremely knowledgeable, and really care about their clients"

Chambers
"Stewarts stands out for its wealth of experience and strong team of very impressive lawyers"

The Legal 500
"They really know what they're doing so I would have no hesitation recommending them. They're really excellent in what they do"

Chambers
Lexcel
We are a Lexcel accredited practice. Lexcel is the Law Society's practice management standard. Accreditation is only awarded to law firms who meet the highest management and customer care standards. Accredited practices undergo rigorous independent assessment every year to ensure they meet required standards of excellence in areas such as client care, case management and risk management.
Our latest Lexcel assessment stated: "Stewarts Law LLP is risk averse in all business areas and the experienced management team proactive in ensuring high-quality legal advice is provided to clients. Members of staff feel highly valued and demonstrate high levels of genuine passion and engagement. There are high levels of effective leadership and supervision."
Complaints
When something goes wrong we need our clients to tell us about it. This helps improve our standards. For further information, visit our complaints page here.
Client case studies and testimonials
In some cases, we have teamed up with our clients to tell the story of their case. We hope that by sharing these stories others in need of specialist complex disputes services will feel reassured by our experience and expertise.