Fifteen volunteers from our firm provided coaching in the latest instance of our collaboration with education charity Future Frontiers, which works with schools and businesses in the UK to offer access to professional role models for underprivileged young people.
Nearly two-thirds of young people born into low-income families do not achieve qualifications above GCSE level by the time they leave full-time education. This leads to a vicious cycle of unemployment or low paid work and widens inequality in society.
Young people from low income families do not lack aspirations, but do lack the guidance, networks and role models that can help them turn their hopes into reality.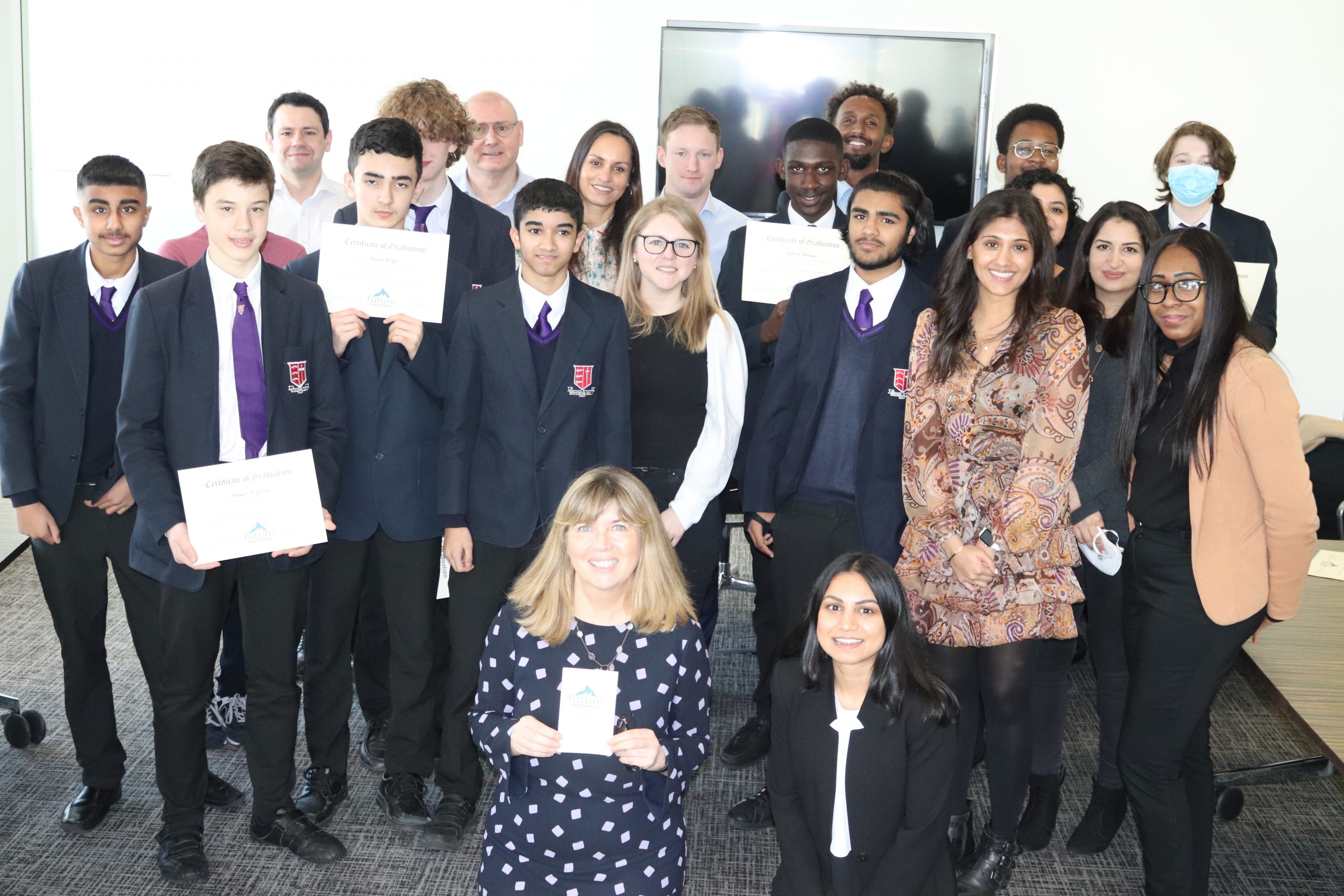 2022 report
Our volunteer coaches worked with Year 10 pupils from Nower Hill School, based in the London Borough of Harrow. 23% of disadvantaged young people in Harrow are NEET (not in education, employment, or training) at some point between the ages of 18 and 24, compared to 16% for their non-disadvantaged peers.
During this year's programme, our volunteers each supported a pupil on a one-to-one basis for a total six hours of coaching. The coaches provided the pupils with an invaluable space to explore their interests, discover inspiring careers and plan for their next steps.
Our volunteers also connected their assigned pupils with contacts from their professional networks ranging from fields as diverse as software development, graphic design, law, dentistry and football.
100% of the pupils agreed that their coach helped them find an inspirational career, and that they better understand what to do to achieve their ambitions after the programme. All the young people coached by our volunteers will go on to receive one-to-one careers advice sessions in Year 11 and ongoing support from Future Frontiers.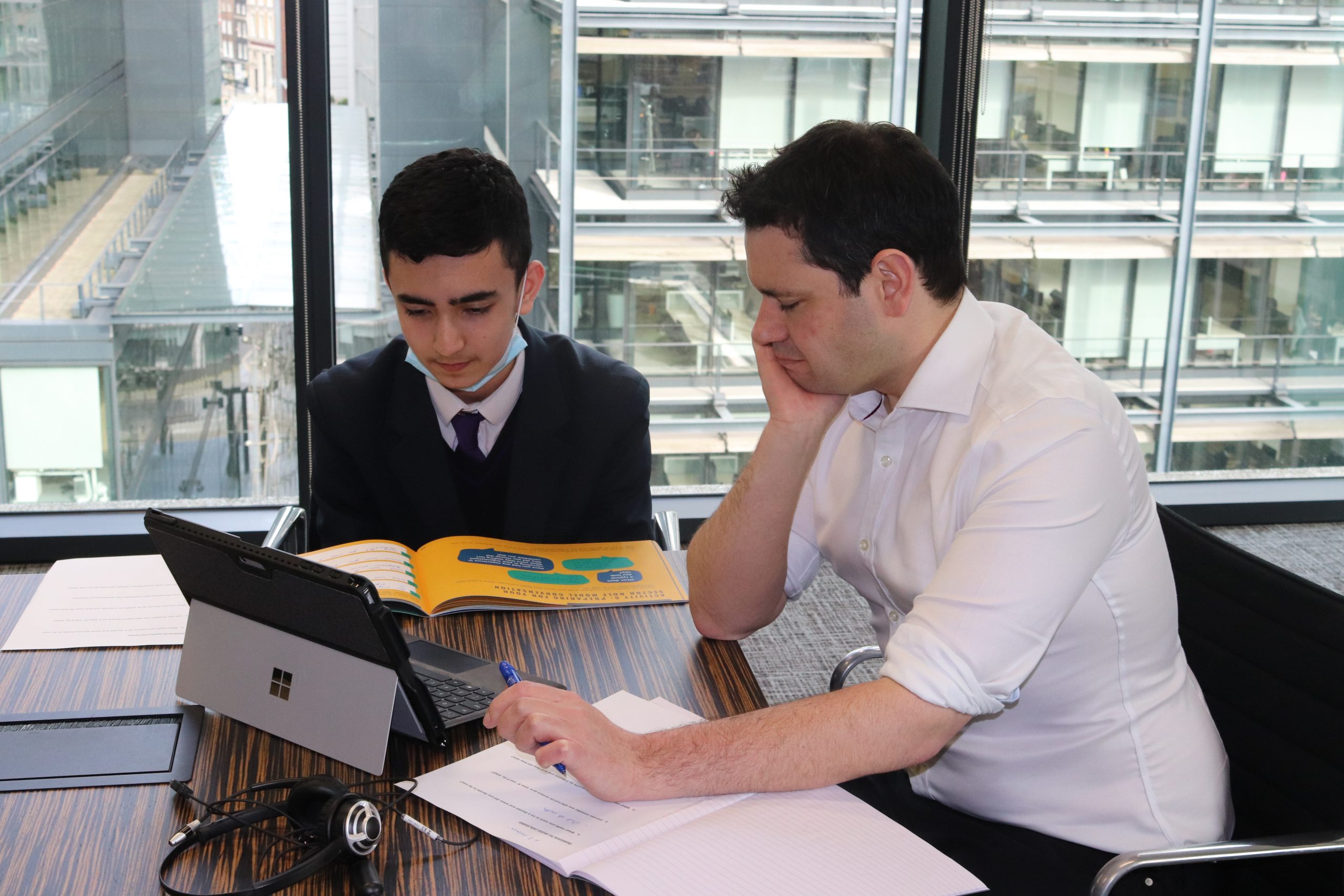 Testimonials from our staff and Future Frontiers
Partner Stephanie Clarke:
"I was really humbled to take part in the Future Frontiers mentoring programme. It just brought back to me how very fortunate we are if we have the opportunity to thrive in education because we have supportive parents and access to learning and networking that is all too often taken for granted.
"My young pupil had gone through the most awful personal upheaval as a result of circumstances outside his control and really had no family support at all. I was determined to try and introduce him to sector role models and managed to obtain the help of two people who were incredibly generous in giving their time to coach and support him."
"I think the programme, together with help from his teachers and external carers, really made a difference to him."
Senior Paralegal Aarti Chadda:
"I was keen to get involved with Future Frontiers because when I was at school, I had a clear career path and access to legal professionals who provided invaluable advice. This made my transition to higher education an easy decision. I therefore wanted to give back and help someone who may not have the same opportunities as I had.
"During our first session, my pupil was fairly shy and reserved, but the sessions went on he opened up and become more vocal. He was very ambitious, resilient and hard-working, but needed some direction regarding next steps. I was fortunate that my pupil was interested in a legal career and therefore I could easily explain the routes into law and required qualifications.
"The favourite part of the coaching for my pupil was a meeting with Ian Gatt QC. Taking the opportunity to sit with Ian in person and ask questions helped him appreciate the wide variety of opportunities available to him in a visual and achievable way. This confirmed his motivation to pursue a legal career.
"Witnessing the pupil grow in confidence over such a short period of time was extremely rewarding and I am grateful for the opportunity to develop my mentoring skills."
Associate Hayley Symington:
"As a member of the Stewarts Social Mobility focus group I was really keen to get involved with the Future Frontiers mentoring programme. Coming from a state school myself, I know how important having the right support and guidance can be when considering future career prospects.
"Seeing the difference in my pupil by the end of the programme was quite incredible. Initially they were quite shy and unsure of the direction they wanted to go in. Their confidence visibly grew throughout the coaching sessions, and by the final session they were able to confidently express what they wanted to do in terms of a future career, how they could achieve this, and the strengths and skills that they would bring to the role.
"I have since volunteered as a Sector Role Model for the Future Frontiers programme going forward, in the hopes that I can continue to support young people progress in their chosen career."
Trainee Punam Shah:
"I am so grateful to the people that helped me out on my career journey and it feels good that I have been able to help someone else.
"I'm really impressed by how much my student learnt in the last four weeks and glad I've played a part in motivating him to achieve his goals."
Future Frontiers programme manager Kate Christopher:
"Working with Stewarts volunteers has been an absolute pleasure. All of the coaches were extremely dedicated to the programme and went the extra mile to make sure that their pupils had the best experience.
I was really impressed with the commitment from the coaches too, making sure the pupils were the main focus of the programme. We are really grateful for all of the hard work the Stewarts volunteers put in during a very challenging time and it is clear to see the positive results it has had on their pupils!"
---
About Stewarts
To find out more about the firm, please visit our About Us and Careers pages.
You can find further information regarding our expertise, experience and teams on our Expertise pages.
If you require assistance from one of our teams, please contact us or alternatively request a call back from one of our lawyers by submitting this form.
---
Subscribe – In order to receive our news straight to your inbox, subscribe here. Our newsletters are sent no more than once a month.