To mark Holocaust Memorial Day this year, Stewarts' Inclusion Committee had the privilege of hosting a webinar with Holocaust survivor Eva Clarke. The talk was hosted by the Holocaust Educational Trust. Jas Bansil summarises the event here.
Held on 27th January each year, Holocaust Memorial Day marks the anniversary of the liberation of Auschwitz-Birkenau, the largest Nazi concentration camp. Holocaust Memorial Day encourages remembrance of the victims of genocide all over the world.
Stewarts has marked Holocaust Memorial Day in recent years by working alongside the Holocaust Educational Trust, hosting events to hear directly from survivors. As 77 years have now passed since the liberation of the Nazi concentration camps in Europe, the Holocaust Educational Trust's Vanessa Bowcock noted that we are may soon have our last chance to hear eye witness testimonies from the survivors themselves. The Holocaust will move from living memory into history.
For the 2022 event, survivor Eva Clarke BEM recounted her family and personal story to Stewarts' lawyers and staff in a virtual setting.
Eva's story
Eva provided an insight into her family's journey, focusing particularly on her mother, Anka Kauderová, who had fallen pregnant with Eva ahead of arriving in Auschwitz-Birkenau. Fifteen members of her family died at the Auschwitz camp.
Eva noted that her mother was pregnant, but not visibly, which saved both of their lives. Had her mother's pregnancy been visible to the perpetrators of the atrocities, Eva's parents would have been forced to sign a document stating that when the child was born, she would be handed over to the Gestapo to be murdered. Eva explained that this had already happened when Anka was pregnant with her brother, who had sadly died while she was still carrying him.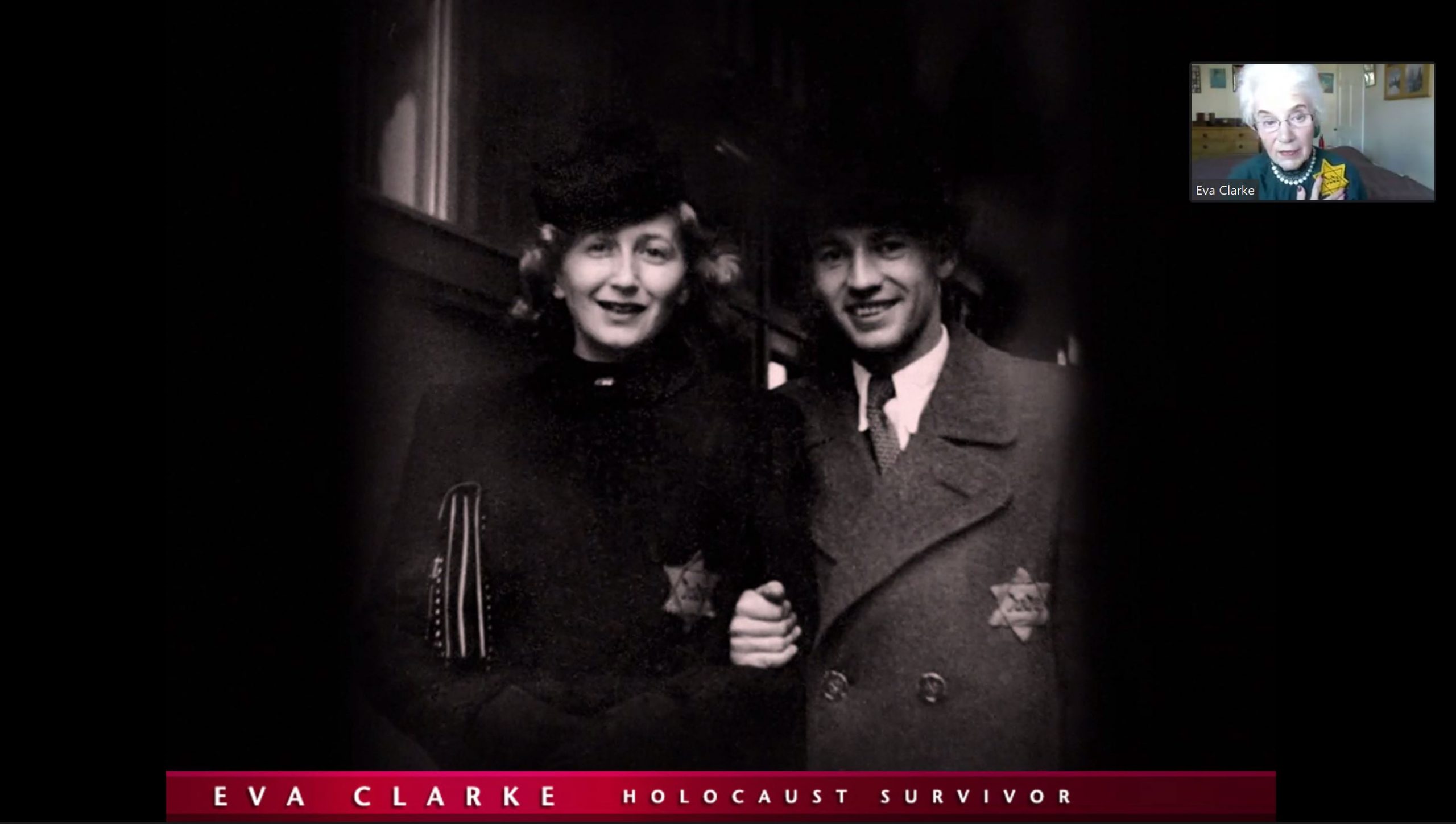 As the tide of the war turned, the Nazis retreated and evacuated certain concentration and slave labour camps. Anka was taken to Mauthausen concentration camp. After the three-day train journey and in shock at seeing the infamous camp's name, Anka went into labour. Eva described her mother's appearance as a "scarcely living pregnant skeleton". Anka, weighing just five stone, gave birth to her three-pound baby.
Concluding her testimony, Eva told us that her mother returned to Prague and then moved to the UK, settling in Cardiff. She showed photographs of her family including her mother, partner, children and grandchildren.
After a captivating 45-minute summary of her and her family's story, Eva conducted a Q&A with the staff at Stewarts. Eva said that her mother had deliberately passed on her testimony and recollections for Eva to continue sharing and raising awareness.
Eva's recollection of her and Anka's story was unforgettable. It was truly inspiring and admirable, and left the staff at Stewarts with a real lesson in resilience.
Holocaust Educational Trust
The Holocaust Educational Trust was established in 1988 with the aim of raising awareness about the dark history of the Holocaust and its contemporary relevance.
The Holocaust Educational Trust works closely with members of parliament, companies, schools, football clubs, civil societies and institutions. They also train teachers, provide resources to schools and support survivors to share their testimony to over 100,000 individuals a year. The Trust arranges trips to the Holocaust Memorial sites for young people to help them learn more.
The Holocaust Educational Trust has a nationwide outreach program, which allows over 55,000 people a year to hear from the survivors.
Read more about The Holocaust Educational Trust on their website, LinkedIn, Twitter and Facebook.
Photo: Eva's portrait by Tanya Harris 
---
Diversity and inclusion at Stewarts
The principles of inclusion, equal opportunity and diversity are important to us. We aim to create an inclusive culture that respects people's differences and gives everyone a chance to excel at what they do. We believe that this is enhanced by embracing our staff's different backgrounds and personalities, and creating a positive working environment.
You can find further information regarding diversity, inclusion and equal opportunities at Stewarts here.
---
If you require assistance from our team, please contact us.