On Friday 11 October 2019, 20 students from the George Mitchell School in Leyton joined us at our London office for the Premier League Inspires Networking day. The Premier League Inspires programme, in conjunction with the West Ham United Foundation, aims to increase students' confidence, aspirations, attendance and motivation at school.
For many students, this was their first adventure into a corporate environment, with some having never been into central London. While some students arrived with a firm idea of what they want to do after education, many of the students were undecided.
To assist with career development and applications for jobs or further education, the day involved interactive workshops on CV writing, networking and skills sets.
The students were given the opportunity to network with Stewarts' employees from all across the business to gain an insight into the possible career paths available within a law firm, from traditional legal roles to accountancy, HR and marketing. It was an opportunity for the students to discuss their passions, skills and interests, and to hear about the career options available to them.
Former West Ham United football player, Marlon Harewood, attended the event to provide the students with an insight into both his football career and his successful career as an entrepreneur following his retirement as a professional football player. Marlon finished the day with a motivational speech, telling the students if there is anything you want to achieve stick at it and it will be yours.
Dionne Lewis, a form tutor at George Mitchell, spoke highly of the event, saying she could feel a shift in the school environment afterwards and saw the students instantly grow in confidence.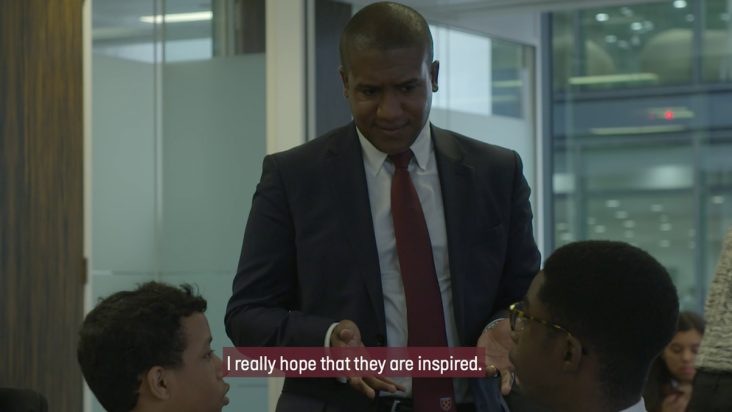 Barrington Atkins, an associate specialising in sports injury claims, and Ambassador of the West Ham Foundation, coordinated the event and described it as "deeply rewarding to all involved".
The student feedback from the Premier League Inspires Networking day has been overwhelming, with 100% of the students reporting that the day had impacted their future career plans, and 20% saying they had decided to redirect their careers towards law!
This article was written by our paralegal Miriam Spencer
---
You can find information regarding our expertise, experience and team on our Football Injuries, Sports Injury and Clinical Negligence pages.
If you require assistance from our team, please contact us or alternatively request a call back from one of our lawyers by submitting this form.
---
Interested in joining us?
At Stewarts, we aim to recruit and retain the best people at all levels of the firm. The ability, dedication and technical excellence of our people are critical to the successes we achieve for our clients.
If you are interested in working for Stewarts our Careers section provides further details of our recruitment process and current opportunities.
You can find further information regarding our expertise, experience and teams on our Expertise pages and more about the firm on our About Us section.
---
Subscribe – In order to receive our news straight to your inbox, subscribe here. Our newsletters are sent no more than once a month.