Channel 4 recently aired a documentary about one of our clients, who sustained a spinal cord injury in a car accident that left him tetraplegic.
Taylor Britton was injured on his way to work in 2016 and was admitted to Southampton Hospital's Neurological Intensive Care Unit with a spinal cord injury.
The award-winning film documents his stay in intensive care and follows the team of doctors and nurses who help him on his path to recovery.
Trailer: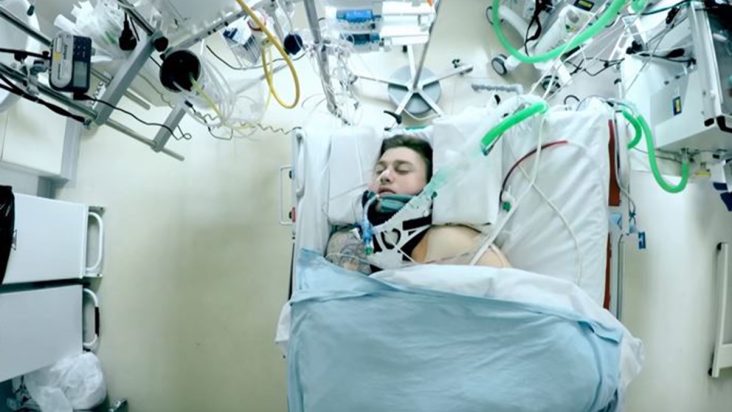 To view the full documentary film, please click here – Bring me back to life – All4 
Taylor became a father for the second time whilst being cared for on the unit, and the film captures the moment he meets his daughter for the first time.
Lucy Robinson, the partner looking after Taylor's case says:
"Taylor does not remember much of his time on the Neurological Intensive Care Unit and sadly he could not be there for the birth of his second child, Tayla Mai. The documentary has provided him with an intimate account of his time on ICU and most importantly, the first time he met his daughter. This has led Taylor to appreciate, even more so, how far he has come. 
"The documentary shows what a patient/client goes through during the period immediately after sustaining a life changing injury. This is something that has not previously been televised and demonstrates the highly skilled and caring role of the staff at the Wessex Neurological Centre."
To read more about the work Wessex Neurological Centre undertakes, and what it did in particular in Taylor's case, please click here.
---
You can find further information regarding our expertise, experience and team on our Personal Injury pages.
If you require assistance from our team, please contact us or alternatively request a call back from one of our lawyers by submitting this form.
---
We have teamed up with other clients who have catastrophic injuries to also tell their stories. Please visit the Life Beyond Injury webpage to see their stories.
We hope that by sharing these stories, newly injured people can see that with the right support they too can overcome adversity to lead full and active lives.
Please feel free to share our films. You can join in the conversation and share your stories of overcoming adversity to lead a fulfilling life beyond injury:
On Twitter, using the hashtag #lifebeyondinjury.
Or on Facebook, using the same #lifebeyondinjury hashtag.
Media contact: Lydia Buckingham, Senior Marketing Executive, +44 (0) 20 7822 8134, lbuckingham@stewartslaw.com