Stewarts and Solomonic have worked together to produce and analyse data regarding commercial fraud claims in the civil courts of England and Wales.
In this chapter taken from the report, Senior Associate Charlie Mercer analyses sector trends and how these have changed since 2019. Banking and finance claims predominate – but there were spikes in real estate and technology, media & telecoms disputes in 2022.
Sector and industry trends in commercial fraud claims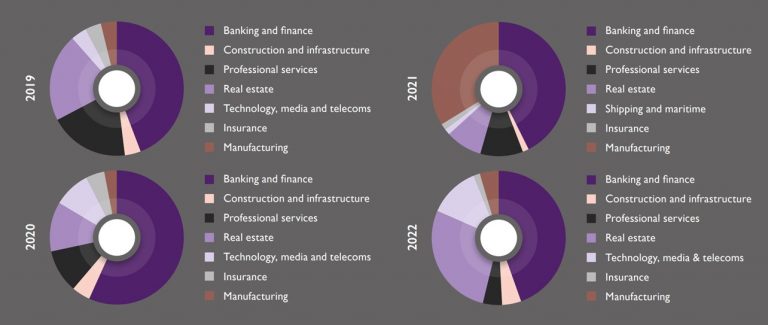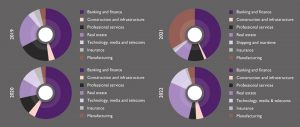 Banking and finance disputes have dominated since 2019 and continued to do so in 2022. This is not surprising given that financial institutions and transactions are so often at the heart of these disputes, whether that be a bank pursuing a creditor, a fall-out over a specific transaction, where a sovereign wealth fund or other financial institution has been defrauded, where a claimant is seeking to recover funds from a financial institution, or where a claimant is seeking to trace, freeze or identify assets held by a bank. Indeed, even fraud claims centred on other sectors will inevitably interplay with the financial system in some respect.
This dominance reflects the findings of a recent study by the Association of Certified Fraud Examiners (the "ACFE"), which found that the banking and financial services industry was affected by the greatest number of cases of occupational fraud.  And it is not just in the numbers. Some of the key fraud disputes over the last decade have centred on banking and finance, ranging from the landmark JSC BTA Bank v Ablyazov litigation to significant cases currently going through the courts, including The Republic of Mozambique v Credit Suisse International and others and PJSC Commercial Bank PrivatBank v Igor Valeryevich Kolomoisky and others.
What is more striking is the steady presence of sectors such as real estate. Not only was there a spike in that sector in 2022, but there has been a constant stream of disputes since 2019. A review of a sample of claim forms does not reveal any particular unifying issues that have driven this spike, although a number related to disputes arising from investments and joint ventures.
Notably in 2022, there was also a spike in disputes in the technology, media and telecoms sectors. Although the ACFE's study indicates that instances of occupational fraud are steady in those industries, a review of a sample of claim forms does not reveal any particular drivers from the past year.
Historically, high-value disputes in the telecoms sector have arisen from, for example, joint ventures in emerging markets between international investors and local partners, as exemplified most recently in the successful claim by Iraqi Telecom against its local partner in the Kurdistan region of Iraq for bribery and corruption, resulting in an arbitral award of US$1.65bn. Although such claims are often subject to arbitration, there are a number of ways they can interplay with the English courts (and those of offshore jurisdictions), including for the purposes of asset preservation and other actions in support of the arbitration.
In technology, the most high-profile recent dispute was the landmark claim relating to the purchase of Autonomy by Hewlett-Packard in 2011, which involved a 93-day trial and in May 2022 resulted in a 1,700-page judgment (not including quantum issues). That case exemplified the capacity of the English courts to handle significant fraud disputes in that sector and beyond.
Register for webinar: Analysing trends in commercial fraud litigation

In a webinar on 11 October 2023 hosted by Lexology, experts from Stewarts will look at the findings from data regarding commercial fraud claims in the civil courts of England and Wales.
Topics discussed will include the volume of claims, success rates, key sectors and the overlap with cryptoasset litigation. The panel will also consider developments that will shape the landscape of fraud claims in the near future, including legislative and procedural changes, recent UK Supreme Court cases and the continued development of cryptoasset litigation.
---
If you require assistance from our team, please contact us or alternatively request a call back from one of our lawyers by submitting this form.
---
Subscribe – In order to receive our news straight to your inbox, subscribe here. Our newsletters are sent no more than once a month.