Stewarts' client WH, a 58-year-old man, was severely injured in a road traffic accident when hit by a lorry while riding his bicycle to work. WH sustained serious life-changing brain injuries in the accident.
Ben Townsend and Emma Lyons acted for WH. Ben and Ronak Mahdavi Jovainy review the case here.
Background to the accident
WH was travelling to work on his bike, a journey he would take every day, when he was involved in a road traffic accident. WH was travelling through a junction when an HGV lorry collided with him. The lorry driver accelerated to 37 miles per hour in a 30 mile per hour zone to get through a set of traffic lights. The traffic light had turned red by the time the lorry passed through the traffic lights.
WH was knocked unconscious for a short period. He was taken to hospital, where he was intubated, sedated and put on a ventilator. WH sustained skull fractures, a subarachnoid haemorrhage and brain contusions. He also had an extended period of post-traumatic amnesia, as well as rib fractures and abdominal injuries. WH remained sedated for two weeks and was not considered to be out of post-traumatic amnesia until approximately a month after the accident.
WH spent approximately seven weeks in hospital and, on discharge, required considerable care and assistance from his family. Although WH remembers setting off from his home on the morning of the accident and reaching the traffic lights at the junction, he does not recall the accident or a significant period of his subsequent hospital stay.
Before the accident, WH lived an entirely independent life. He worked in a physical job and has not been able to return to work following the accident. WH's wife also ceased her employment to care for him. WH previously enjoyed swimming, watching football and going to the local pub to socialise with their friends. They would also enjoy a two-week holiday abroad each year.
Injuries
As a result of the accident, WH experienced the following symptoms:
Increased cognitive fatigue
Sustained and divided attention
Problems with multi-tasking
Reduced speed of information processing
Problems with planning, decision making, problem-solving, abstract thinking and prospective memory
Increased temper outbursts, and
Difficulty cooking and requiring support generally for activities of daily living.
WH also experienced physical difficulties, including problems with his mobility. He can negotiate going up the stairs but finds it difficult going downstairs.
The claim
The circumstances of the accident were not entirely straightforward. There were some practical points that needed to be addressed initially and legal difficulties in relation to blame for the accident.
We obtained expert evidence in relation to WH's capacity on our instruction, which revealed that WH did not have capacity to litigate. His wife, YH, acted as his Litigation Friend and bore responsibility for making decisions in relation to WH's case on his behalf. WH also lacked capacity to manage his finances, so Stewarts arranged for a deputyship to be put in place.
Following our initial investigations, it became clear that some apportionment of blame would be placed on WH. The defendant was speeding and drove through a red traffic light, but WH had also travelled through a red light, meaning some blame would be placed on him for his contribution to the accident. Due to the likely blame that would be attributed to WH, we knew it was important to achieve the highest possible settlement as there would be a reduction in the compensation he would receive to reflect his contribution to the accident.
We instructed a case manager to assist WH with sourcing rehabilitation and support workers. While this was invaluable in terms of WH's rehabilitation and providing support for YH in such unknown territory, it was not without difficulty. The Covid-19 pandemic was understandably challenging for WH and YH. The initial support, including physiotherapy, occupational therapy and a personal trainer, was withdrawn due to Covid-19 restrictions. Once the lockdown restrictions eased, WH's case manager was able to implement the required support for WH, including a support worker for three days per week, later increasing to five days a week. The introduction of a support worker was invaluable in relation to WH being able to resume a more normal life.
One of the main issues throughout the case and an issue that was hard fought by the defendant's insurer's solicitors was the amount of commercial care and support WH required. His wife became heavily involved in providing care to WH, and we argued that it should not be the responsibility of YH to act as a carer. Instead, we argued that he should employ commercial care to fulfil that role and allow YH to resume her role as WH's wife.
From the outset of the case, Stewarts worked collaboratively with the defendant's solicitors to ensure we achieved the best possible results for our client, from initial instruction to settlement. Accordingly, we were able to obtain £248,000 in interim payments on account of damages prior to the final settlement.
Using these interim payments, WH and YH purchased a static caravan, which provided an important opportunity for them to get away together regularly. They were delighted to have that holiday facility available to them all the time.
Settlement
Ben Bradley of Outer Temple Chambers was instructed to represent WH and provided advice throughout the claim. The legal representatives of both parties attended a settlement meeting in September 2021, which was conducted by the barristers for each party. Both sides took a collaborative and pragmatic approach, and WH's claim was settled for £2.3m, a fantastic result for WH.
WH hopes to buy a more suitable home for him and his wife, which will now be possible following the settlement.
Testimonial from WH's wife
"Stewarts are amazing. I absolutely love Ben and Emma, they have been brilliant throughout the whole process. The settlement has helped us a great deal and we are hoping to move house very soon.
"It feels like we have come out of the tunnel and we can see the light, all thanks to Ben, Emma and Stewarts."
---
Life beyond injury
We have teamed up with other clients who have sustained catastrophic injuries to tell their stories of Life Beyond Injury. Please visit the Life Beyond Injury webpages here.
We hope that by sharing these stories, newly injured people can see that with the right support they too can overcome adversity to lead full and active lives.
You can join in the conversation and share your stories of overcoming adversity to lead a fulfilling life beyond injury: on Twitter, here #lifebeyondinjury; or on Facebook, here #lifebeyondinjury.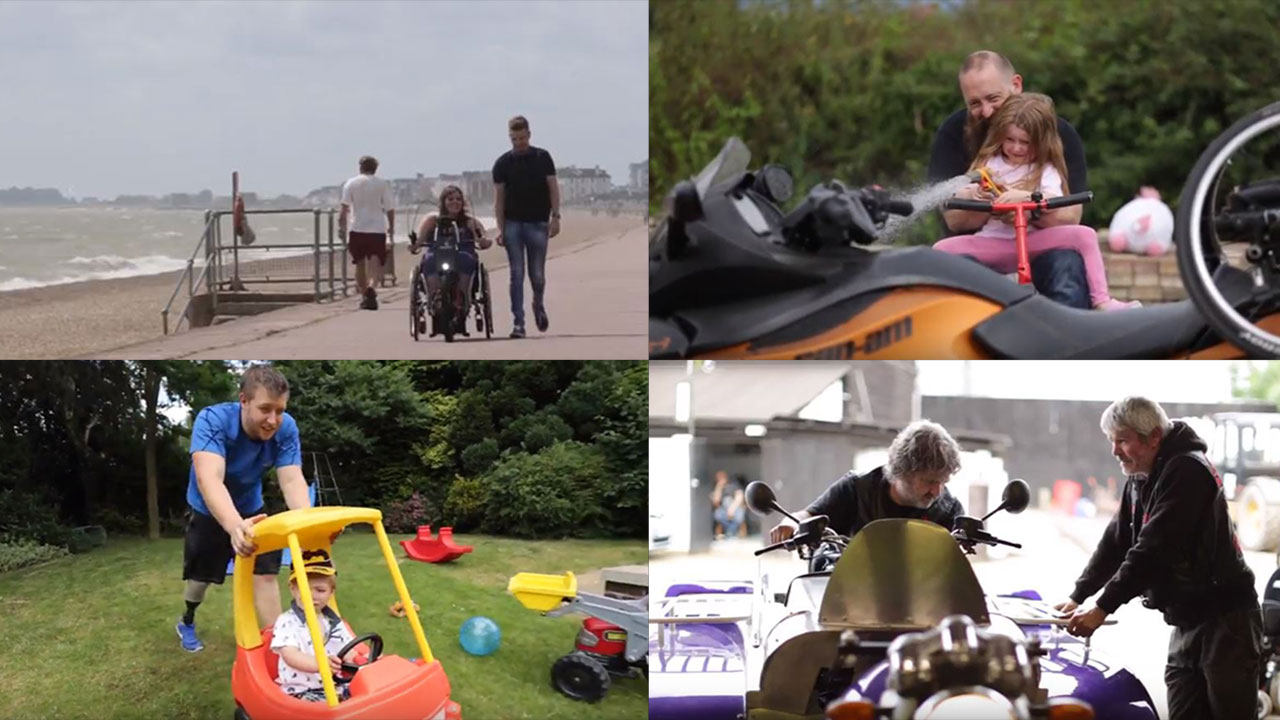 ---
You can find further information regarding our expertise, experience and team on our Personal Injury pages.
If you require assistance from our team, please contact us.
---
Subscribe – In order to receive our news straight to your inbox, subscribe here. Our newsletters are sent no more than once a month.