FDS was a fit and active 45-year-old who worked full time, was a keen swimmer and lived with his long-term partner who was pregnant with their first child. While on holiday in Greece, he suffered a severe stroke and rapidly lapsed into a coma with tetraplegia. His partner, acting on his behalf, sought Stewarts' help in obtaining compensation to help him continue life with the care and support he requires.
Partner Alison Goldney and trainee Shannon Maude, who acted for FDS in the clinical negligence claim, reflect upon the experience of our client and consider the benefits of rehabilitation even some years post-injury.
Background
FDS was originally diagnosed with a cerebral aneurysm in 2003 but following surgical input he made a good recovery with no neurological deficit.
Around 11 years later, on 6 October 2014, FDS suffered a mild stroke. He again underwent surgery whereby the aneurysm was embolised with coils. Several months later, FDS underwent further embolisation, and a stent was implanted. He was prescribed anti-platelet medication, Clopidogrel and Aspirin, for six months. FDS returned to normal life, including working full time.
On 29 September 2015, follow-up radiology revealed a small residual aneurysm. The plan was for a further radiological follow-up in six months. FDS was to stop Aspirin at the end of 2015 but continue with Clopidogrel until June 2016.
On 24 March 2016, the follow-up MRI (magnetic resonance imaging) of FDS's head took place and he was advised that the aneurysm continued to shrink. It was agreed that a further MRI would take place in September 2016 but there was no mention of the medication. It is the Claimant's evidence that the MRI showed that the stent was not binding to the artery wall which created a significant stroke risk, and accordingly, FDS needed to be on life-long anti-platelet medication.
The Claimant's case was that the first defendant verbally informed FDS in around May 2016 that he should continue taking Clopidogrel beyond June 2016. However, unfortunately this update was not communicated to his GP. The Claimant contacted his GP in June 2016 for a repeat prescription of Clopidogrel.
FDS's GP sought advice and clarification from the consultant neuroradiologist at the first defendant trust regarding his ongoing aneurysm management, in particular, his continued use of Clopidogrel. FDS made further contact with his GP surgery on 8 August 2016 and was incorrectly advised by the second defendant (not the GP who had been involved with the enquiries of the second defendant) to stop taking Clopidogrel.
In accordance with the advice given, FDS stopped taking Clopidogrel on 8 August 2016 and days later travelled to Greece on holiday to visit his family.
On 11 August 2016, the first defendant responded to the GP advising that a follow-up MRI would be performed in September 2016, after which the multi-disciplinary team would decide on a possible discontinuation of his antiplatelet medication.
Extent of injury
On 20 August 2016, while on a beach in Thessaloniki, FDS suffered a catastrophic brain stem stroke and consequent tetraparesis, and profound cognitive and communication impairment. He had to be resuscitated and intubated by the ambulance crew and was ventilated after admission. FDS was repatriated to the intensive care unit at John Radcliffe Hospital on 12 September 2016 for ongoing treatment and rehabilitation.
FDS has been diagnosed as being in a "minimally conscious plus" state. He is unable to communicate on a consistent and reliable basis. His partner is, however, able to recognise facial expressions, for example raising eyebrows, frowning and mouth movements.
The legal case
FDS, a Protected Party by way of his Litigation Friend JHG, instructed Stewarts to investigate and pursue a claim in relation to the alleged negligent management of his anti-platelet therapy.
The clinical negligence claim was issued against the first and second defendants.
A mediation took place with the first defendant in December 2020, leading to a liability agreement being reached in the Claimant's favour. A significant six figure interim payment on  account of damages was also agreed between the parties. Both the liability agreement and the interim payments were approved by the court in February 2021.
The second defendant made a monetary offer on a full and final basis without admission of liability. This offer was accepted and later approved by the court at an Approval Hearing on 3 November 2021. Acceptance of the monetary offer did not impact upon FDS's rights to enforce his agreement with the first defendant.
The claim is ongoing against the first defendant on a quantum only basis.
The impact of the interim payment
The interim payment, achieved through the mediation with the first defendant and subsequent monetary settlement with the second defendant, has had a major impact on FDS's life in terms of rehabilitation.
Up until this point, FDS was residing in a care home. He required 24-hour support but was being left alone for many hours each day with no stimulation or one-to-one support. He was often slumped in a poor position in his wheelchair.
The interim payment funded a period of neurorehabilitation at STEPS in Sheffield. At STEPS, FDS received around the clock therapies. As a result, he experienced significant improvements in posture and communication, albeit predominately non-verbal. STEPS completed a full assessment and implemented changes to his medication, a prescription for glasses and new seating in his wheelchair. These measures helped improve FDS's posture and his ability to have eye contact with therapists and his family. Prior to his injury, FDS was a keen swimmer and used to attend a local pool three to four times a week. Rather poignantly, the last thing FDS did before his stroke was swim in the sea. STEPS has facilitated a return to this pre-injury hobby by implementing regular hydrotherapy, which he very much enjoys, smiling and even crying when he first went in the pool.
A case manager was also appointed following receipt of the interim funding. This has enabled FDS's partner to take a step back from the level of day-to-day support she was providing, particularly in terms of liaising with professionals. The case manager has been pivotal in liaising with architects, care agencies and sourcing equipment. FDS's partner was also able to hand over the management of her concerns and issues with the care home prior to his admission to STEPS.
The family home purchased before his injury was unsuitable for FDS's access and care needs. He was discharged from STEPS in May 2022, and is now living with his partner and, for the first time, his young son, now aged five. The interim payment has assisted in securing a suitable rental property and for them to begin a new chapter in their lives.
Testimonial
FDS' Litigation Friend JHG said: "I am so thankful for Stewarts, everyone has been brilliant. This is an incredible firm that can't do enough for you. Alison in particular is amazing.
It means so much that we are able to live together under one roof as a family for the first time. We are now busy thinking about school for our son and it makes such a difference being together at home as we take these important life steps.
Words fail me, I cannot articulate how much you have helped make where we are today possible."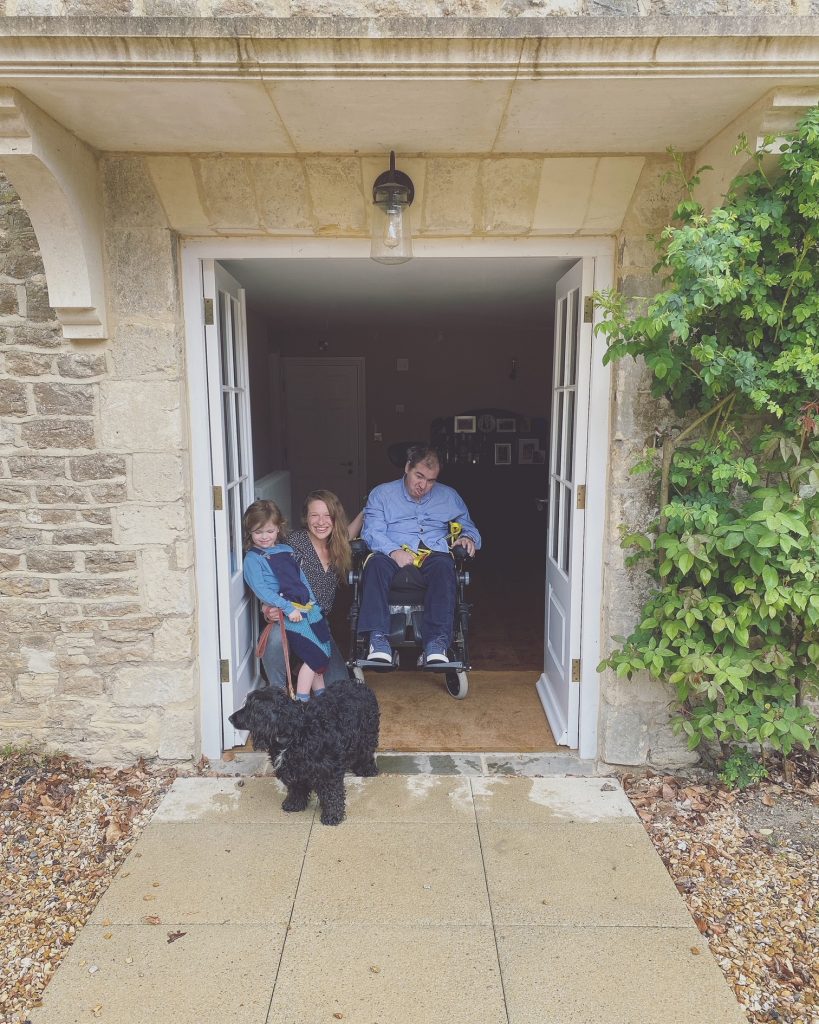 ---
You can find further information regarding our expertise, experience and team on our Clinical Negligence pages.
If you require assistance from our team, please contact us.
---
Subscribe – In order to receive our news straight to your inbox, subscribe here. Our newsletters are sent no more than once a month.