Senior Associate Lucy Stewart-Gould speaks to The Times for their 'Stories of our Times' podcast, in an episode titled 'Love and Lockdown: The spike in divorces and breakups'. The episode looks at some of the reasons behind the increase in the number of divorce enquiries following us seeing a 122% increase in enquiries between September and December 2020.
The Times summarise the episode as follows:
"The coronavirus pandemic is keeping us all at home and many of us have been taking a long, hard look at our closest and most intimate relationships – and deciding to call it quits. What's causing all the break ups? And with the end of lockdown far from sight are more relationships doomed?"
In the episode, Lucy explains that the uptick in divorce enquiries is unlikely to slow down in 2021 as lockdown restrictions continue to be in place. The two pressure points when most lawyers see an increase in enquiries are usually September and January, but this seems to have been over a longer period in 2020.
Lucy also outlines that the firm has seen a shift in the balance between male and female enquiries, with a roughly even split of enquiries between men and women in September 2019. She also talks about how the rate of enquiries almost doubled in September 2020.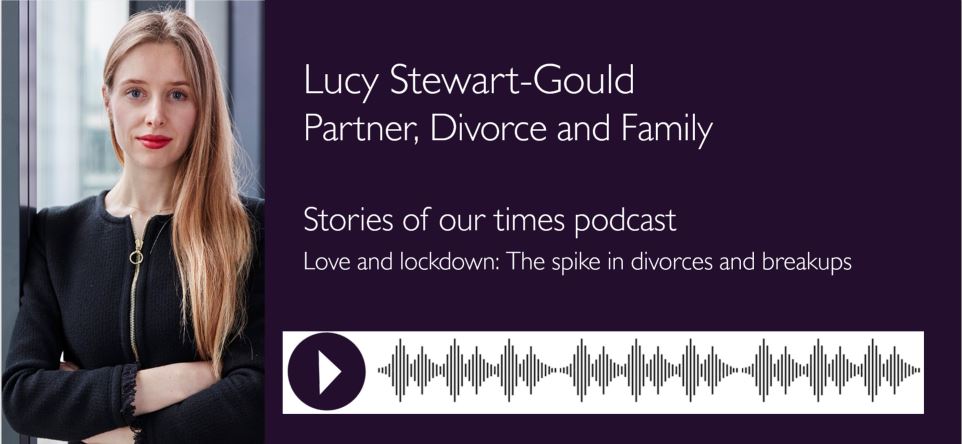 You can listen to the episode here. Guests include Emma Kenny, a psychologist and broadcaster, and Katie Glass, a features writer, columnist and freelance journalist. The episode is hosted by Manveen Rana.
---

Covid-19 is impacting individuals and companies around the world in an unprecedented way. We have collected insights here to help you navigate the key legal issues you may be facing at this time.
---
You can find further information regarding our expertise, experience and team on our  Divorce and Family pages.
If you require assistance from our team, please contact us or alternatively request a call back from one of our lawyers by submitting this form.
---
Subscribe – In order to receive our news straight to your inbox, subscribe here. Our newsletters are sent no more than once a month.