(read time: 5 mins)
"Gender equality is good for everyone: it is not just an issue for 50% but 100% of us" Christina Blacklaws, President of the Law Society
The 2018 Women in Law Summit took place on 25 September 2018. The summit was the first of its kind and followed on from the successes of other women in industry conferences aimed at championing diversity in all forms.
The purpose of the summit was to inspire, celebrate and connect women in law.
Over 400 women in law from diverse backgrounds gathered to hear from empowering keynote speakers, engage in panel discussions, take part in interactive career development workshops and network with others. Speakers included High Court judges, eminent barristers, directors, founders, partners and associates and other industry leading participants.
The conference was attended by the following members of Stewarts' Inclusion Committee: Angela Melia, Head of Human Resources; Funmi Kolaru, Compliance Manager and Data Protection Officer; Stephanie Clarke, Partner; Zara Okereafor, Trainee Solicitor.
"Hair-raising" and "depressing" statistics regarding career progression
In her inaugural speech in July earlier this year, President of the Law Society, Christina Blacklaws, drew attention to the fact that "women now represent the majority of practising solicitors and have been over 60% of new entrants each year since 1990, but still 78% of partners in private practice are men". Christina gave a talk at the summit entitled, "Leaders – Born or Bred", and in that she spoke about what she described as "hair-raising" and "depressing" statistics following a global survey carried out this year on gender equality in the legal profession.
The extract below identifies the main reported barriers to career progression: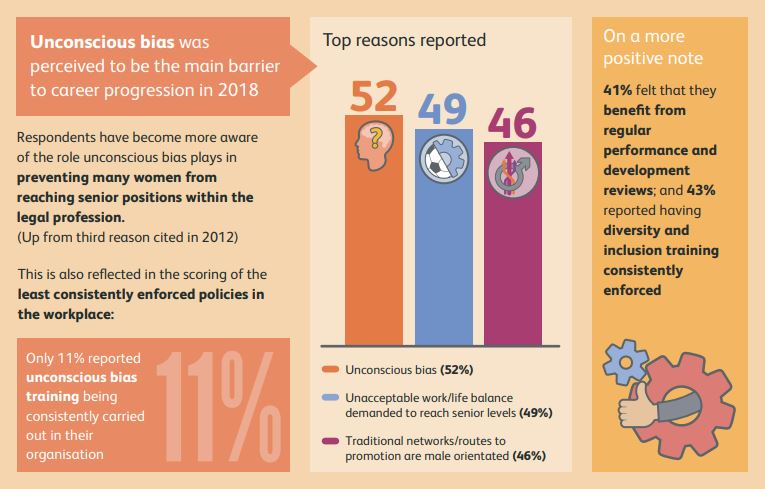 To access the full infographic produced by the Law Society, click here.
It was clear to everyone in attendance that as an industry we need to adopt strategies to educate and encourage so that we do not discriminate and discourage.
A summary of some of the thought-provoking sessions from the Women in Law Summit can be found below. Though the event title was "Women in Law", the points discussed in each session were applicable to everyone in law.
The Power of Role Models
In the first session of the day, Dana Denis-Smith, founder of First 100 Years, spoke about mentors and role models and stressed the importance of having both to help shape your career. Dana advised that seeking a mentor through a formal mentoring scheme was not necessary and that a mentor need not even know who you are.
The Road to Success: Is there a Hidden Path?
The panel discussed their experiences of gender inequality in the workplace, addressed their biggest career challenges and shared positive steps they took to overcome them. The panel session was moderated by Alexandra Marks CBE, Deputy High Court Judge and retired partner at Linklaters, and the panellists were: Evelyn Ofori-Koree, Vice-Chair of the Ethnic Minority Lawyers Division; Chantal-Aimee Doerries QC, Head of Atkins Chambers; Sally Penni, Founder of Women in the Law UK; Andrea Coomber, Director at JUSTICE.
The Importance of an Inclusive Culture: Promoting Diversity & Strengthening Retention
Led by Olivia Balson, Head of Legal Services at Freshfields Bruckhaus Deringer, the session identified the benefits of harnessing an inclusive culture, namely: happier employees; more innovation; stronger reputation; increased revenue and performance. Olivia also identified what happens if you don't harness an inclusive culture: engagement levels drop; financials drop; lack of innovation; and a reduction in work quality. Olivia concluded that from an ethical standpoint, harnessing an inclusive culture is simply the right thing to do.
 A Millennial's Perspective
The practical session was an interactive workshop led by Mary Bonsor, Co-Founder @ F-LEX. Group discussions took place on the topic of what millennials want and how the future generation can be attracted and retained. Measures the groups felt employers could take to increase retention included: flexible working without the stigma; ownership of cases at a more junior level; increased exposure to senior managers; client secondments; trainee seats/general experience in business services; and having a seat at the table particularly when driving change.
Come Back Stronger – the Story of a Returner
The session was led by Laura Ford, a Legal Director at DLA Piper. "If you can't do networking events that disrupt your precious family time, think about inviting your colleagues to events where you can both take your kids," she said. Although Laura talked about her story as a returner after taking maternity leave, the session was aimed at anyone returning to work after a break. Laura's advice included: developing and maintaining your network whilst away, for example, by attending evening events where possible; adopting alternative ways of networking that include your children and the children of those in your network; and utilising the Back to Law Ambassadors at the Law Society.
Don't Pull Up the Ladder! Look Behind You
Led by Georgina Wolfe, Barrister at 5 Essex Court, the session was a powerful reminder to those in senior positions to look out for others who may need help. She gave examples of a quiet trainee or an inappropriately dressed work experience student who was never told what to wear or the person sat at the back of a seminar too afraid to speak their mind and ask a question. She encouraged everyone to create space for others to seek your help and discussed the unexpected karmic benefits that one could gain.
Angela Melia, Head of HR, said of Georgina Wolfe's session:
"Georgina Wolfe's talk on helping others achieve their goals was compelling and really encouraged those with experience to offer their time and guidance willingly."
Stephanie Clarke, Partner, commented on the Women in Law Summit:
"It was great to hear so many different voices on the subject of inclusivity. The speakers spoke with creativity and passion about something that should be commonplace and all-embracing in today's modern society.  The message to all employers was, take a risk, be forward thinking, and keep having those difficult conversations about the changing face of what your workforce wants: to create a diverse, thriving and happy environment. If you do, the benefits will follow and so will staff retention. It was really inspiring to see what others are doing."
Funmi Kolaru, Senior Manager, also commented:
"It was empowering to see and hear from so many diverse women absolutely at the top of their game. The summit was a reminder to lean in, reach out and step around when we need to."
Key points to take away
No matter your gender or background, diversity and inclusion affects everyone. Before positive steps can be taken to improve it, it is important to understand diversity in all forms and the impact an inclusive environment has on people and the culture within a workplace.

There is no hidden path to success (no matter how personally defined). Take risks and seize every opportunity.

Consider who your role models are and in the words of Dana Denis-Smith, founder of First 100 Years, "Get a mentor – they don't have to know!"
To access the full agenda and list of all sessions held at the summit, click here.
---
The principles of inclusion, equal opportunity and diversity are important to us. We aim to create an inclusive culture that respects people's differences and gives everyone a chance to excel at what they do. To find out more about our approach to diversity and equality visit our page here.
If you are interested in working for Stewarts our Careers section provides further details of our recruitment process and current opportunities.