The Times Best Law Firms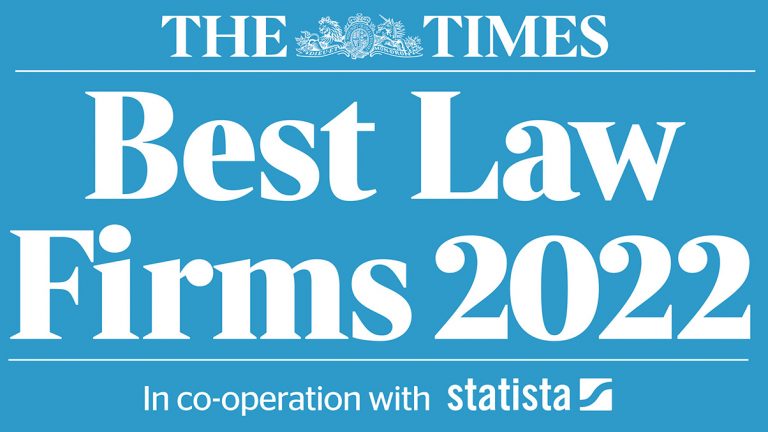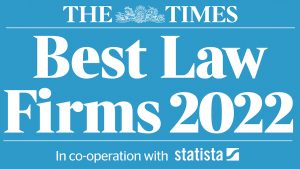 We have been listed for the fourth year running in The Times Best Law Firms report as a commended firm for personal injury. This prestigious ranking in the Times list is determined by votes from lawyers from other firms specialising in personal injury claims, who were asked a simple question: "Who would you recommend if you were not recommending your own firm?"
The International Injury team's work in representing Olivia Jackson, a stunt performer who was injured while filming Resident Evil: The Final Chapter in 2015; and acting for the family of Jules Bianchi, who died nine months after suffering a severe brain injury during the Formula 1 Japanese Grand Prix in 2014, has previously been picked out for a special mention.
Read the firm's listing here.
"Exceptional claimant-side practice attracting instruction in complex and high-value claims arising from catastrophic injuries abroad"

Chambers
Chambers and Partners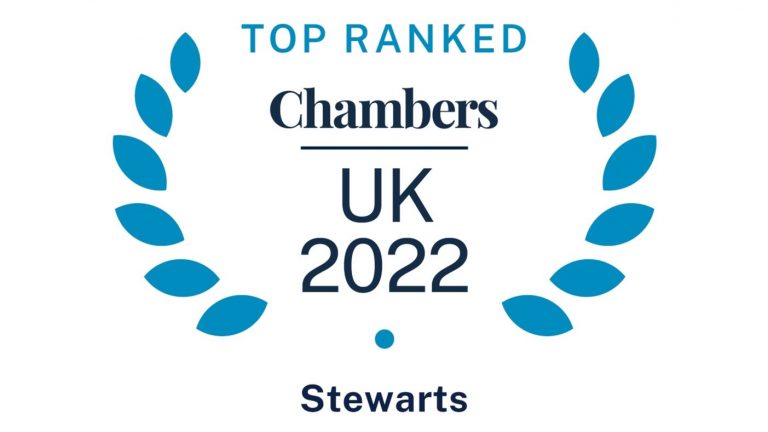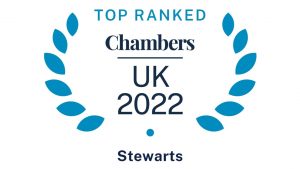 The top ranked International Injury team once again has all of its partners ranked in the 2022 Travel section of the guide. Stewarts is described as "the pre-eminent claimant firm for catastrophic injury litigation". We have been consistently listed in Band 1 since the listing was created in 2011.
A client praises the team for "offering a first-class service. They leave no stone unturned and are prepared to commit real resources to cases."
See our latest entry in Chambers here.
Our international injury experts
Julian Chamberlayne is listed as the only 'Star Individual' in this sector and Chambers states Julian is "is a standout practitioner in the travel law space." Market sources said that Julian is "a really clever, conscientious and tenacious lawyer who is head and shoulders above anyone else working in this field."
Chambers describe Scott Rigby as "a respected advocate who frequently handles complex personal injury claims. He has a particular focus on claims arising from RTAs and employment accidents abroad." Clients said: "We couldn't have wished for a better person to guide us through the litigation process… [Scott] is an experienced cross-border litigator with an ever-steady hand on the tiller in the most challenging of cases."
According to Chambers Chris Deacon "has got an encyclopaedic knowledge and is very dedicated, experienced and tenacious". Chris has strong expertise assisting clients with high-value claims arising from catastrophic incidents, particularly RTAs.
Rebecca Huxford is highlighted as an 'Associate to Watch' and is "noted for her adept representation of claimants who have been catastrophically injured abroad". An interviewee said Rebecca is "a fantastic lawyer – she has an incredible eye for detail and a nice manner with clients."
"Real specialists in their field and able to guide clients through complex matters but at the same time display an empathy with the families of people in life-changing situations."

Chambers
Legal 500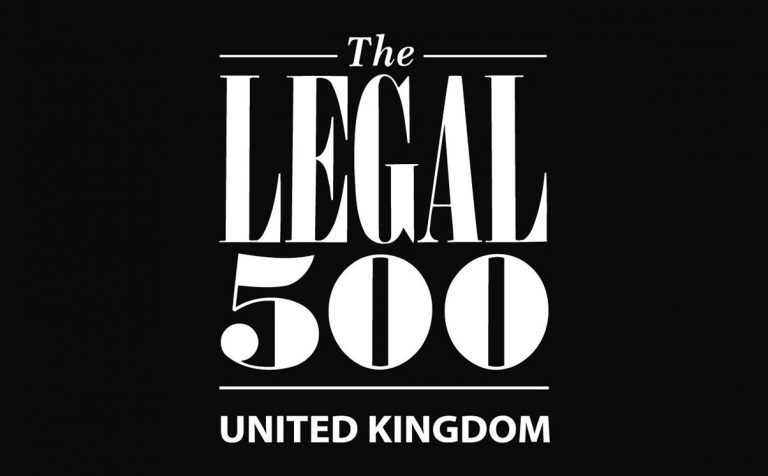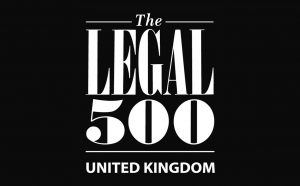 In the 2022 guide the International Injury team is top-ranked together with our Aviation team under the Travel section. The guide states that "Stewarts 'dominates the field' of travel and personal injury law." Our team has been top-ranked since the category was created in [year].
"This team is right at the head of its market," according to testimonials. "If you suffer an injury abroad or are injured in an incident with a foreign angle, there is no better team of UK lawyers you could hire to represent you. This well-resourced and experienced team brings deep legal knowledge and well-honed litigation skills to the field."
View our latest entry in The Legal 500 here.
Our international injury specialists
Department Head Julian Chamberlayne is a member of Legal 500's illustrious Hall of Fame, with rankings for Scott Rigby (Leading Individual), Chris Deacon (Next Generation Partner) and Rebecca Huxford (Rising Star).
Julian Chamberlayne has recovered more than £155m for catastrophically injured clients since joining the firm. "Julian's determination in our case is faultless," one source said. Another reported that he "leads from the front. His clients can have confidence that they have the best lawyer in the field."
The Legal 500 says Scott Rigby "is another key name and is particularly prominent in advising on cases concerning the Rome II Regulation."
Testimonials have praised Chris Deacon as a "fantastic lawyer, personable and very savvy. Achieves excellent results in all of his cases… has a knack for obtaining concessions from defendants."
Rebecca Huxford is acclaimed as a rising star. "Her knowledge is immense and her attention to detail amazing," a market source said.
"If you suffer an injury abroad or are injured in an incident with a foreign angle, there is no better team of UK lawyers you could hire to represent you."

The Legal 500
Association of Personal Injury Lawyers (APIL)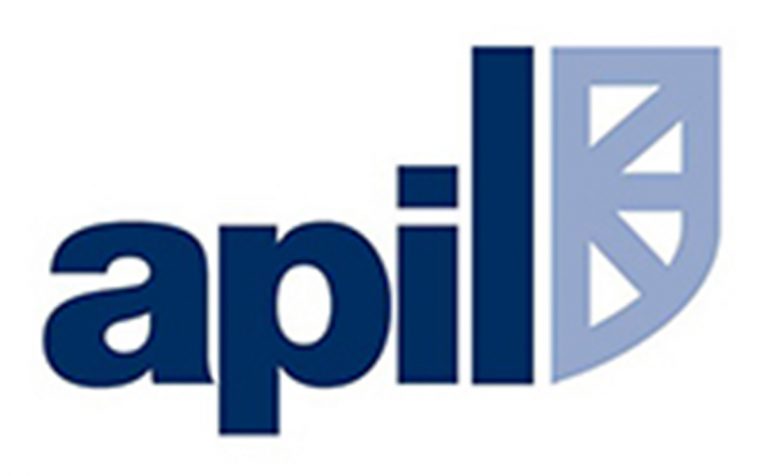 APIL accreditations provide a quality mark of expertise for solicitors dealing with specialist types of personal injury claims. The accreditation scheme demonstrates that an APIL lawyer has achieved a high standard of: knowledge; understanding; know-how; skill; and behaviour. As known leaders in the field of accidents and illnesses abroad, in 2016 Julian Chamberlayne, Scott Rigby and Chris Deacon earned the specialist 'accidents and illnesses abroad' accreditation from APIL and were appointed as assessors for future applicants.
The 'accidents and illnesses abroad' accreditation, which Chris helped APIL devise, specifically acknowledges that a solicitor is "able to manage and progress a claim arising from an accident or illness abroad, and/or which involves consideration of another jurisdiction and/or a foreign applicable law, so as to establish, assert and enforce, in an effective and efficient manner, the rights of a client damaged or disadvantaged by the negligence or breach of another party.
Julian is also an APIL accredited specialist in Spinal Cord Injury and Fatal Accidents, while Scott is accredited for Spinal Cord Injury and Brain Injury. Chris is an accredited Spinal Cord Injury specialist and Coordinator of the APIL International Special Interest Group, responsible for co-ordinating APIL's Accidents Abroad conference.
"Stewarts offers a first-class service. They leave no stone unturned and are prepared to commit real resources to cases."

Chambers
FOCIS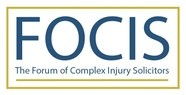 The Forum of Complex Injury Solicitors (FOCIS) is Chaired by our head of department Julian Chamberlayne.
FOCIS is a group of pre-eminent solicitors (including 8 past Presidents of APIL) who specialise in acting for seriously injured people in personal injury and clinical negligence claim.  The objectives of FOCIS include lobbying to increase understanding in the wider community of issues which arise for those who suffer life-changing injury, and promoting the highest standards of representation for claimants with life-changing injuries.
View the FOCIS website here.
"Without doubt the leaders in this field. They approach each case on a collaborative basis and are open to thinking outside the box to the benefit of all parties involved."

The Legal 500
Meet the International Injury Team
Our team is ranked No.1 in both Chambers and The Legal 500.
We are unique in that all of our partners are individually ranked by both of these well respected directories and have specialist accreditations from the Association of Personal Injury Lawyers.