To mark Holocaust Memorial Day this year, Stewarts' Inclusion Committee had the privilege of hosting a webinar in conjunction with the Holocaust Educational Trust and Holocaust survivor Eve Kugler BEM. Varsha Chandrasegaran summarises the event here.
Held on 27th January each year, Holocaust Memorial Day marks the anniversary of the liberation of Auschwitz-Birkenau, the largest Nazi death camp, in 1945. Holocaust Memorial Day encourages us all to bear witness to those who endured genocide, and honour the survivors.
Stewarts has commemorated Holocaust Memorial Day in recent years by working alongside the Holocaust Educational Trust, hosting events to hear recollections of the Holocaust directly from survivors. This year we had the privilege of hosting Eve Kugler BEM, who shared her personal experience of the Holocaust to Stewarts' lawyers and staff in a virtual setting.
Eve's story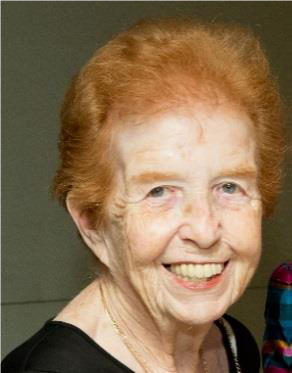 Eve took us on a journey into her family's story and her early years in Germany. After repeatedly being passed over for a visa, Eve and her family endured the growing repression against Jews in Germany. Eve recounted personal childhood experiences in school and shared her first-hand encounter of the extent of the oppression expressed against Jews when she witnessed her cousin, then five years old, being called up to the front of her class by her teacher and then verbally and physically abused and humiliated in front of her classmates. Eve's family business was eventually boycotted and she witnessed the arrest of her grandfather and father, the demolition of their family synagogue, sacred household possessions and eventually the loss of their family home in Germany.
Eve's mother remained determined and pursued an answer from the police as to her husband's whereabouts. She was told that he was placed in a concentration camp and would be released if she could produce a visa allowing them to leave the country. She remained resilient despite being turned down by a Jewish agency who could only apologise for not being able to obtain a visa for the family. After various attempts, Eve's mother found a forger who produced a forged visa that passed inspection by the police resulting in the release of her husband.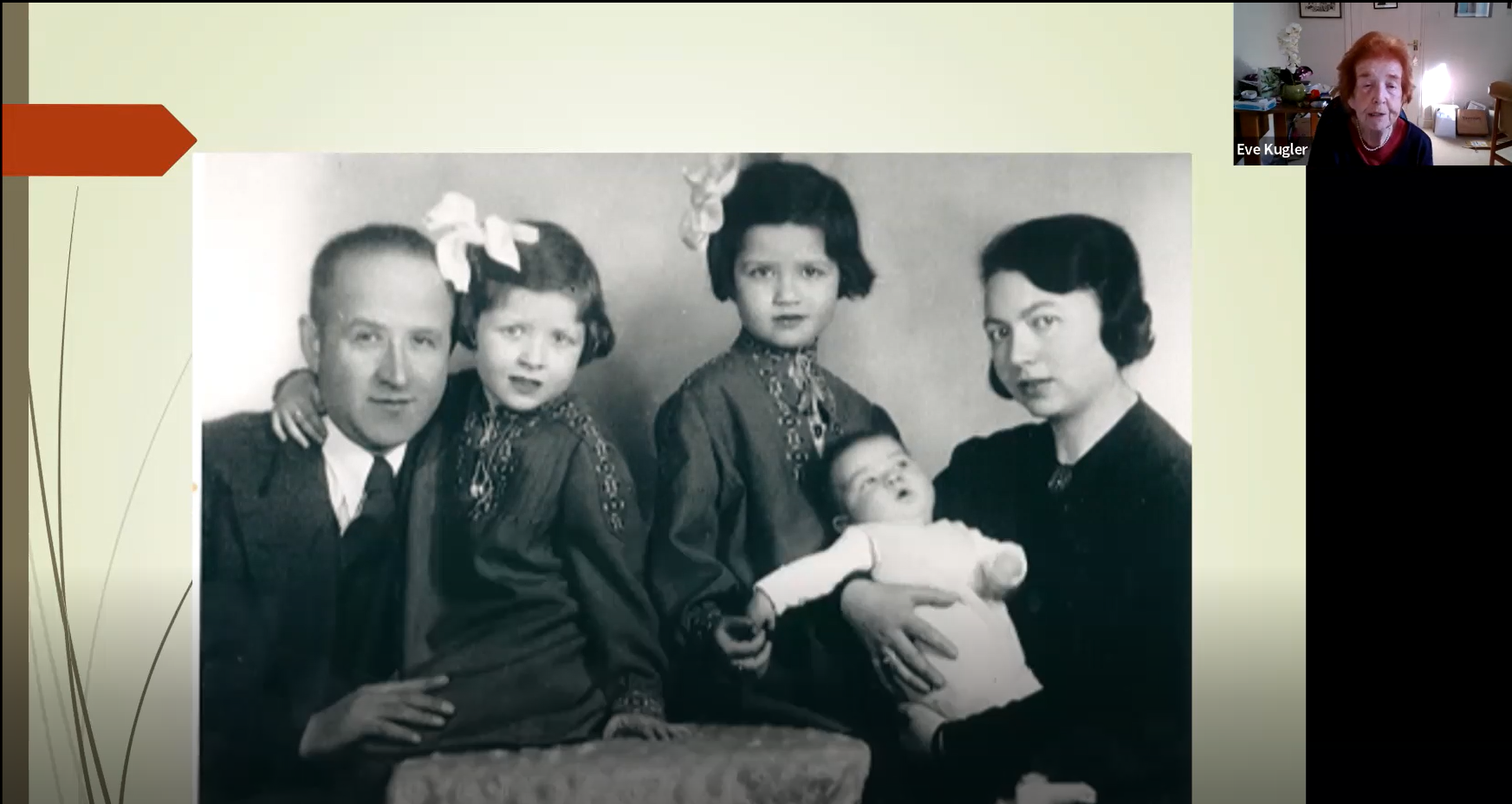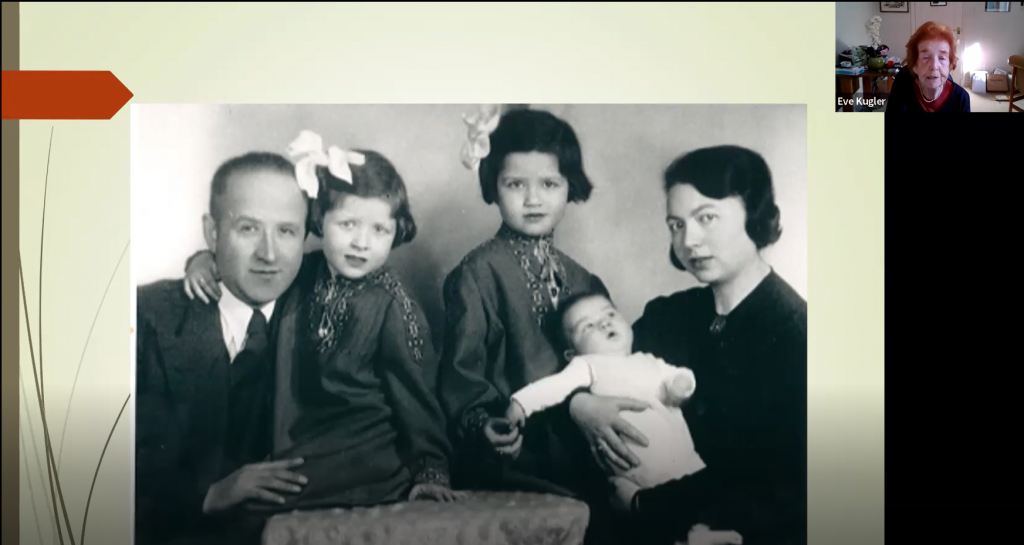 After Eve's parents turned over all the family's assets to the Nazis and fled to France with their children in search for safety, the second world war broke out and Eve's father was interned by the French police in Paris due to his German citizenship. After being left alone to care for three young children by herself, Eve's mother placed Eve and her sisters, Ruth and Lea, in a home for Jewish children outside of Paris where she worked as a cook. Following heavy Nazi bombardment for a period of ten days, the children were evacuated to another home in Limoges where they lived under Nazi occupation.
Eve and her sister, Ruth, eventually received a visa and made a lengthy and arduous journey by air and sea to America, where they lived in New York City for the next five years in three different foster homes (sometimes apart from each other). Eve's parents survived the war in French concentration camps while Eve's other sister, Lea, was hidden in a Catholic convent and then in an isolated farm with a French family. Eve narrated the terrible conditions that her parents endured in the camps, but was beaming with pride when she spoke about the sacrifices they made to help others suffering around them. While Eve's mother was a prisoner at one of the French transit camps for three months, she volunteered to assist a Red Cross nurse with moving medical equipment despite being hungry, weak and frail.
Having lost all hope that her parents and Lea were alive, Eve was finally reunited with them in New York in 1946. She shared photographs of her family including her parents, grandparents and sisters with us. Eve concluded her testimony by paying tribute to her parents who rose to extraordinary heights and did extraordinary deeds whilst helping their family and other Jewish people during a very challenging time.
Q&A
Following a 40-minute recollection of her and her family's story, Eve conducted a Q&A with the staff at Stewarts. Eve, noting that we may soon have our last chance to hear eyewitness testimonies from the survivors themselves, finished the event with the following message:
"Here are my thoughts about the question of my hopes for the time when there will be no survivors to give first hand testimony.
There is already an organized program in the UK in which the second generation, that is the children of survivors, tell the stories of their parents' experiences during the Holocaust. There is still a personal element in their talks and they have been very well received. The personal element is an important factor in keeping the memory of the Holocaust alive. So we survivors hope that the third generation, particularly the grandchildren who were fortunate enough to know their grandparents will also take on the task sharing the family testimony.
Knowledge is a great weapon. Knowing about and understanding the Holocaust is a great step to preventing its recurrence. So I hope our personal histories can be kept alive through testimony by our descendants, through the films we have made and the books we have written, which include the outstanding Holocaust accounts of Eli Wiesel and Primo Levi, among others.
My dream is for a world without anti-Semitism, without hatred of "The Other" and respect for "The Other", a world where people will treat others as they themselves wish others to treat them. It's so simple. What a wonderful world it would be if that came to be the norm."
The Holocaust Educational Trust has kindly shared with Stewarts a list of recommended books, testimonies and films that serve as a remembrance of the victims of this genocide all over the world.
The Holocaust Educational Trust
The Holocaust Educational Trust was established in 1988 with the aim of raising awareness about the dark history of the Holocaust and shining a light on its contemporary relevance. The Holocaust Educational Trust works closely with members of parliament, companies, schools, football clubs, civil societies and institutions. They also help teachers, provide resources to schools and support survivors to share their testimony with over 100,000 individuals a year. The Trust arranges trips to the Holocaust Memorial sites for young people to help them learn more.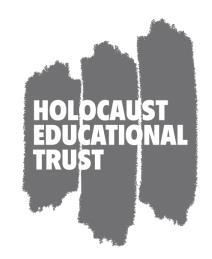 The Holocaust Educational Trust has a nationwide outreach program, which allows over 55,000 people a year to hear from the survivors. Having played a crucial role in the establishment of Holocaust Memorial Day in the UK in 2001, the Trust continues to play a key role in the delivery of this national commemorative day.
Read more about The Holocaust Educational Trust on their website, LinkedIn, Twitter and Facebook.
---
If you require assistance from one of our teams, please contact us.
---
Subscribe – In order to receive our news straight to your inbox, subscribe here. Our newsletters are sent no more than once a month.