Romlo, a takeaway food delivery driver, sustained life-changing injuries following a road traffic collision while working. A seven-figure settlement agreed at a round table meeting with the defendant's insurer will allow Romlo to live his life to its full potential, giving him back control and independence.
Nichola Fosler, who acted for Romlo in this case, reviews his claim and rehabilitation before and following the settlement.
The collision
Romlo was injured in August 2019 whilst working as a food delivery driver. At the time of the accident, Romlo was working full time in a semi-manual job as a supervisor for a commercial cleaning company. Romlo also had a second self-employed job as a food delivery driver, working for Uber Eats.
The collision occurred on a traffic light-controlled junction in Taunton, while Romlo was on his way to a delivery for Uber Eats. He was in a line of traffic passing through the centre of the junction when the defendant, who was driving a Ford KA, attempted to turn right and in doing so drove directly into the offside of Romlo's motorcycle.
The defendant driver pleaded guilty to the criminal offence of driving without due care and attention.
As a result of the collision, Romlo sustained a compound fracture of the right femur for which he required internal fixation, and a fracture of the left patella which required washing and closure. Romlo ultimately required a below-knee amputation of his right leg, as the injury meant his right tibia was unsalvageable.
Transfer of solicitors
Romlo initially instructed another firm of solicitors, but his claim and rehabilitation were not progressing as they should and he was advised by a number of his treating therapists to move his case to another more specialist firm.
In March 2020 Romlo instructed Stewarts, who took over the claim. At the time that the case was transferred, Romlo had received limited interim funding and he was still wearing a poorly-fitted NHS prosthetic limb which was limiting the progress of his rehabilitation.
Interim funding
Within a few weeks of Stewarts taking over the claim, Romlo secured further interim funding of £45,000, enabling the purchase of a privately-funded everyday prosthesis as well as a water activity limb. Further interim payments followed throughout the claim.
Rehabilitation and recovery
The defendant's insurer, Esure, took a collaborative approach to dealing with the claim. Liability was admitted following the criminal conviction.
During the claim, Romlo's case team secured a total of £541,000 in interim funding. With the assistance of case manager Scott Hodder, Romlo was able to instruct a property finder and locate a suitable rental property to meet his short term needs, including all his living accommodation on one level. The property move demonstrated the effect of living in the right environment on a claimant's ability to regain their independence and engage with rehabilitation, and was hugely important in helping Romlo move forward after the psychological impact of the collision.
Romlo received private treatment from specialist physiotherapist Holly King, exercise rehabilitation instructor Simon Burgess and prosthetist Alan McDougall of Proactive Prosthetics. Through working with Proactive and his physio team, Romlo began to regain his fitness – helped by his decision to give up smoking, increasing his life expectancy and improving his cardiovascular fitness. During the claim Romlo participated in a trial of microprocessor feet and purchased equipment including an Empower microprocessor foot, everyday limb, sports limb, water activity limb and limb with a silicone cosmetic cover.
Romlo also sought advice from an occupational therapist. As he was unable to return to his pre-accident occupation, Romlo was referred to and sought input from a vocational specialist.
Romlo developed a neuroma which affected his ability to engage with rehabilitation. He was referred through the claim to a private plastic surgeon, Mr Evivriades. After undergoing targeted muscle reinnervation (TMR) and revision surgery to his stump, Romlo was able to come off all pain medication.
The interim funds allowed Romlo to not only progress his physical rehabilitation but also improve his mental wellbeing, as he and his wife could receive psychological support. He received advice on his future transport needs and purchased a fully adapted car to meet his needs. Romlo also sought advice from a disability holiday specialist which enabled him to travel to Brazil to visit his family. During such a traumatic time, being able to spend time with family was a huge comfort.
One of Romlo's goals was to re-establish his fitness and not let his injury stop him from pursuing new activities. Working closely with his case manager and the Proactive and physiotherapy teams, Romlo was able to successfully sea kayak and horse ride during his time in Brazil. He had enjoyed skateboarding prior to his accident and during his claim he began snowboarding lessons – all of which were aided by the specialist prostheses he purchased through interim funding.  He also returned to cycling and purchased an E-bike.
Legal case and settlement
Although Romlo's previous solicitors had already instructed experts for the claim, Stewarts instructed additional experts as their evidence was necessary to secure the best possible outcome. Instructions covered orthopaedics, psychiatry, amputee rehabilitation, prosthetics, care, occupational therapy, accommodation, physiotherapy, plastic surgery, assistive technology and life expectancy. In addition, Stewarts sought advice from a financial expert on form of award.
After the full admission of liability, the team could focus its efforts on calculating quantum. A full range of reports from both experts instructed by Stewarts and the previous solicitors was imperative to securing the best possible claim for Romlo. The team also secured witness statements from Romlo's family, as well as from his employer to support claims for his loss of earnings and future promotion prospects but for the accident.
The claim was settled in April 2022 before proceedings were issued at the High Court. The settlement meeting occurred at Stewarts' offices, during which Romlo received advice from Stuart McKechnie QC.
A seven-figure settlement was negotiated, including sums for loss of earnings and pension, prosthetics, accommodation, travel, medical care, care and case management, additional holiday and leisure costs and therapies. The settlement ensures Romlo has the financial security to enable him to live the rest of his life to his full potential. It will also allow him to purchase suitable prosthetics and access medical treatment and therapies that will serve him well as he navigates and considers the next steps in his career and daily life.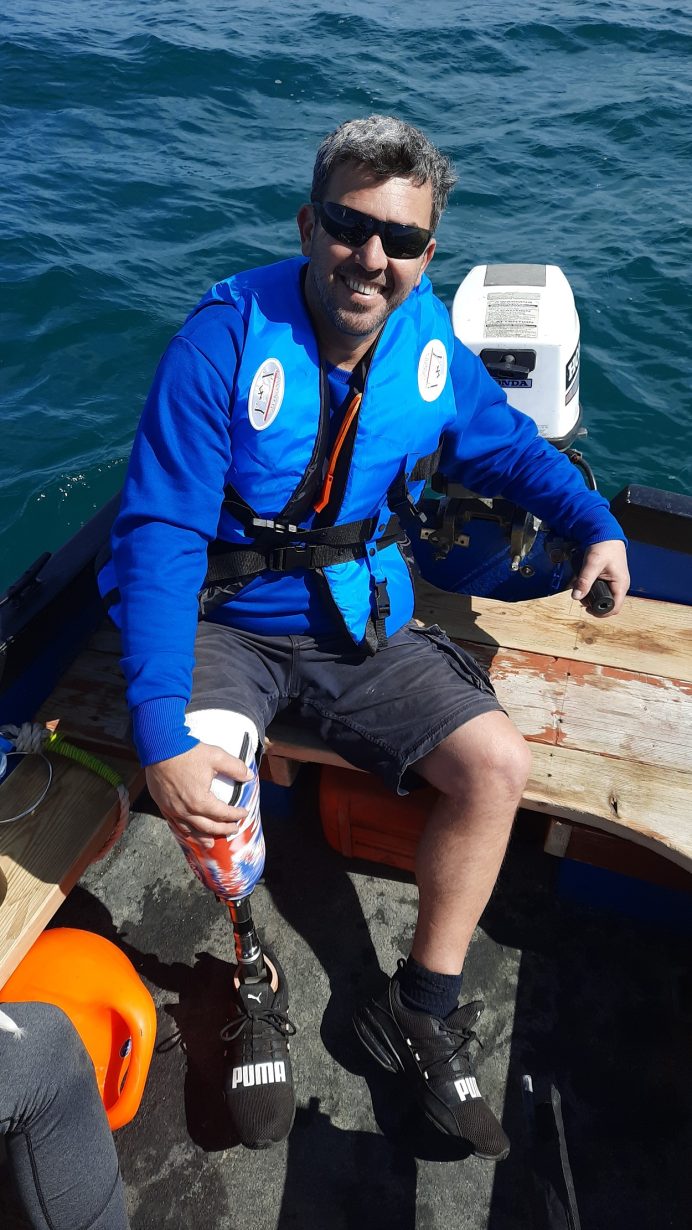 Life beyond injury: testimonial
Romlo says: "I couldn't have been happier with the decision to move to instructing Stewarts. They are 100% the most professional firm out there, Nichola and all the team have been so great. There are no words to describe how great they have been. All the rehab team including Holly King, Alan McDougall, Simon Burgess and Scott Hodder have been amazing."
"Since the settlement of my claim I have been continuing with my rehabilitation exercises, making sure I keep up with these on a regular basis. I use my Empower prosthesis to go on lots of walks with my family, and have been able to purchase a small boat which I take out and sea fish on. I can spend more time with family and friends doing this activity together."
"I plan to go to Poland in February to snowboard. I am swimming a lot more which is something I very much enjoy, and I am gaining the confidence to play more football again. I am also enjoying being able to cycle again. With my Pro-Flex limb, I have been able to get back into mountain biking and recently completed a round trip cycling from Wellington to Bridgwater – just under 40 miles in total. I am looking forward to getting back to my motorbike and car repair is on my to-do list once we've moved in to a new property.
My youngest daughter has recently learnt how to ride a bike – something that I was able to help teach her. Having a comfortable house for me and my family, where I have access to good prosthetics and everything I need has been such a help. Without the settlement I wouldn't be in the position I am now in."
Paralegal Lizzie Dunn co-wrote this article
---
Life beyond injury
We have teamed up with other clients who have sustained catastrophic injuries to tell their stories of Life Beyond Injury. Please visit the Life Beyond Injury webpages here.
We hope that by sharing these stories, newly injured people can see that with the right support they too can overcome adversity to lead full and active lives.
You can join in the conversation and share your stories of overcoming adversity to lead a fulfilling life beyond injury: on Twitter, here #lifebeyondinjury; or on Facebook, here #lifebeyondinjury.
---
You can find further information regarding our expertise, experience and team on our Personal Injury pages.
If you require assistance from our team, please contact us.
---
Subscribe – In order to receive our news straight to your inbox, subscribe here. Our newsletters are sent no more than once a month.