A motorcycle accident in 2017 left our client, Russell, with life-changing injuries. Russell instructed Stewarts to take over his legal claim in 2019, and we secured a significant interim payment five months later.
After years of painful surgeries, Russell was able to fund an elective leg amputation in 2020. Having settled his claim, he is now rebuilding his life with his family.
The accident
In July 2017, Russell was riding his Harley Davidson motorbike when a Mercedes van suddenly struck him. The van, which was speeding, performed an extremely dangerous manoeuvre by cutting across into Russell's lane to take a junction exit at the last minute. The van driver was found guilty of driving without due care and attention and received six penalty points and a fine.
Russell incurred serious injuries, including significant open fractures to his right leg and foot. He was attended to by the East Anglian Air Ambulance and admitted to intensive care at Addenbrooke's Hospital. His injuries were so severe that he was initially placed into an induced coma for approximately six days. Russell has no recollection of the accident but was later informed that Prince William had been the helicopter pilot who attended him that day.
Stewarts instructed
Russell instructed partner Stephanie Clarke in September 2019 to take over his claim for compensation against the van driver. Russell had previously instructed solicitors via his union, but after two years of little progress and no rehabilitation, he was dissatisfied with their lack of action.
The insurers for the van driver denied liability for the accident, despite his conviction in the Magistrates' Court. They also refused to give Russell access to any funds for his rehabilitation and treatment. Court proceedings were commended against the van driver on 4 November 2019. The insurer then agreed to pay £10,000 to fund a case manager to support Russell's immediate rehabilitation needs.
An accident reconstruction expert was instructed, and detailed statements were taken from independent witnesses to the accident. The evidence was damning against the van driver, but the insurer still refused to concede he was at fault. We made a court application to secure further interim funding for Russell of £150,000. In February 2020, two weeks before the court hearing, the insurer admitted primary liability and agreed to pay the £150,000 in full. We obtained further interim payments totalling £275,000 in 2020 and 2021.
Treatment and rehabilitation
Russell required numerous gruelling surgeries following his accident. He had a Taylor Spatial Frame (a large circular metal frame with metal pins) fitted to his right leg to try to unite the various fractures. His left knee also needed reconstruction surgery.
Russell's right leg was left extremely deformed despite all this treatment, and his knee was fused in place. When Stephanie met him in September 2019, Russell could only walk short distances using two crutches and relied on a wheelchair.
With the interim payments, Russell was able to receive private physiotherapy and counselling, and pay privately for a through knee amputation of his right leg in June 2020. He was also able to have specialist inpatient rehabilitation, arrange a new car, move to more suitable accommodation with a full care package, and purchase a bespoke Genium X3 prosthetic limb.
Despite the improvement in his mobility due to his prosthesis, Russell still lives with the ongoing effects of the serious, life-changing injuries he sustained in the accident.
Settlement
Stephanie negotiated a multimillion-pound sum with the van driver's insurer on Russell's behalf, which was significantly more than the sum of £150,000 they had initially offered. This allows Russell to access lifelong provision for prosthetics, bespoke equipment, medical treatment and therapies, as well as providing financial security for him and his family. The settlement was agreed in July 2021.
Life Beyond Injury
Russell met his now wife Kathy a few months before his accident. At the time, she was living in Essex, and Russell was in Cambridge. Following the accident, she moved into his property with her son to provide significant care and support to Russell. After all, they had been through, Russell and Kathy realised that life was too short and married on 25 October 2017.
Russell has been able to use the gym he set up in one of the outbuildings of his new property. He recently attempted Mount Snowdon and hopes to return to his pre-accident hobby of motorcycle riding with a three-wheeled Harley Davidson trike.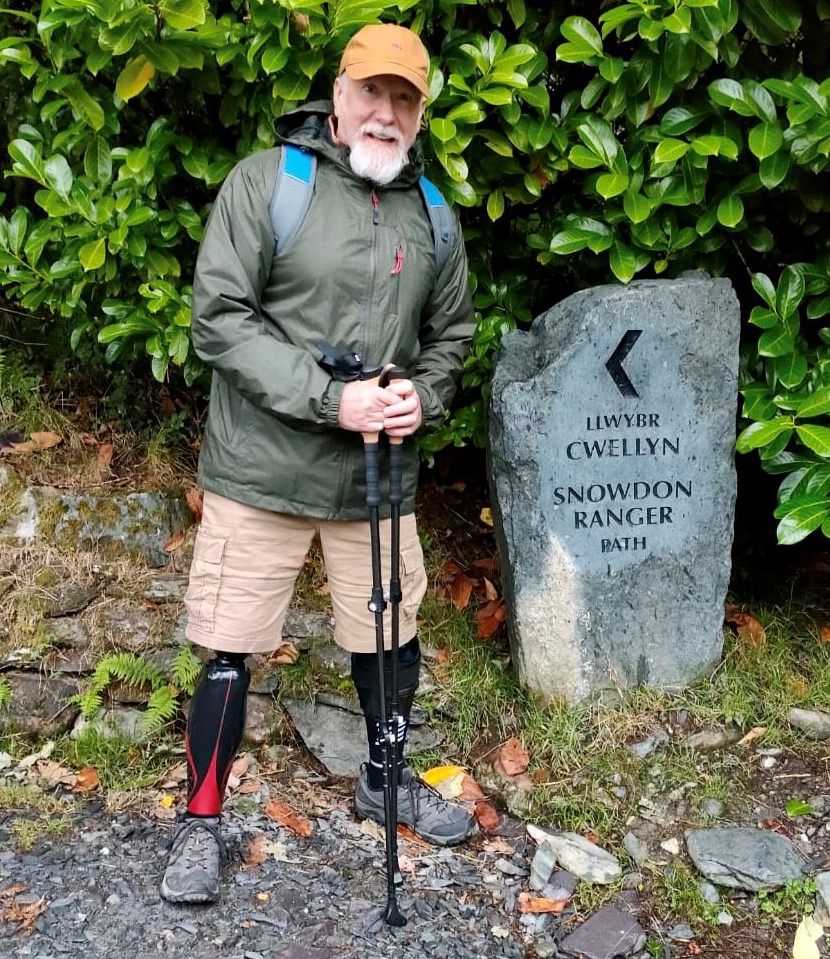 With his new prosthetic leg, Russell and Kathy can now walk together holding hands, something they weren't able to do as he had always needed crutches or his wheelchair. Russell is also able to be more active with his stepson and grandchildren. He continues to be an active member of his church and local community, which provided significant support throughout his recovery.
Testimonial
Russell says:
"I met Stephanie Clarke while being in a very dark place. Two years had gone by since the accident, and nothing had taken place that would help me, despite the driver who knocked me off my motorcycle being convicted of the deed. I felt abandoned and let down by different agencies who left me to fend for myself and make my way through life.
"My legs were permanently mangled, underwent reconstruction, which failed, and amputation became inevitable – all while trying to go back to work to make ends meet. Stewarts (Stephanie) stepped in, showed much compassion and took over my case. She met me in person, which my previous solicitor failed to do, and explained how things could proceed if she went to work for me. Because she saw me, she understood how serious my injuries were and how difficult life would be without help. She understood more than I did! Right away, she attacked the situation, secured admission of primary liability, and made it so that I could stop working and concentrate on surgery, recovery and rehabilitation.
"Samuel Hick, paralegal and colleague of Stephanie's, was a tremendous help. He is the one who took the brunt of my venting when things got frustrating, which they often do during the claims process. He always showed empathy and care but has the cool head of a meticulous professional. He is unflappable, which was much needed, as I can get emotional when I'm under stress. Sam helped me understand the processes when I couldn't get my head around them and saved Stephanie much time and unnecessary conversation, which helped us both. I'm sure Sam has a bright future in law if he stays the same.
"Stephanie hand-picked the best experts and case manager to help me along the way, all the way to the end of the settlement and beyond. I do not overstate or overdramatise the facts: if Stewarts' excellent professionals had not come to my rescue, I would not have had the care I needed to get on with my life and become the active, creative adventurer that I am. My health, mental health, and mobility would have been drastically damaged forever. How grateful I am to Stephanie and her colleagues at Stewarts. I hope many more people who are struggling to survive post-trauma have the same good fortune that I have had!"
---
Life beyond injury
We have teamed up with other clients who have sustained catastrophic injuries to tell their stories of Life Beyond Injury. Please visit the Life Beyond Injury webpages here.
We hope that by sharing these stories, newly injured people can see that with the right support they too can overcome adversity to lead full and active lives.
You can join in the conversation and share your stories of overcoming adversity to lead a fulfilling life beyond injury: on Twitter, here #lifebeyondinjury; or on Facebook, here #lifebeyondinjury.
---
You can find further information regarding our expertise, experience and team on our Personal Injury pages.
If you require assistance from our team, please contact us.
---
Subscribe – In order to receive our news straight to your inbox, subscribe here. Our newsletters are sent no more than once a month.