Andre was only 22 when he was involved in a car accident near Covent Garden, which resulted in him having his left leg amputated.
Andre was in full-time employment as an admin assistant at Pearson's Educational Publishers working in an office in Holborn. He has an interest in online gaming and enjoys Japanese Manga comics.
The incident
On 1 November 2017, Andre was walking back to Charing Cross, having finished work in Holborn. He was walking along the pavement listening to his music when 'out of nowhere' he was struck by a taxi which mounted the kerb in Southampton Street, London and crushed him against a lamp post.
The incident was extremely frightening and came at a time when London had a heightened security alert following the Westminster Bridge terrorist attack. The CCTV footage from  the taxi's dash cam shows it mounting the kerb, mowing the first set of pedestrians down, before accelerating across the road where he gets to Andre. Andre is thrown into the air, off the bonnet, and then crushed against the lamppost. He was in excruciating pain, saw the blood flowing on his jeans and his leg was at an angle. He thought he had lost the lower half of his body and was convinced he was going to die.
The defendant driver was prosecuted for causing injury by dangerous driving, but was eventually found guilty of  careless driving in January 2019.
Andre describes his accident in his own words in his YouTube video below: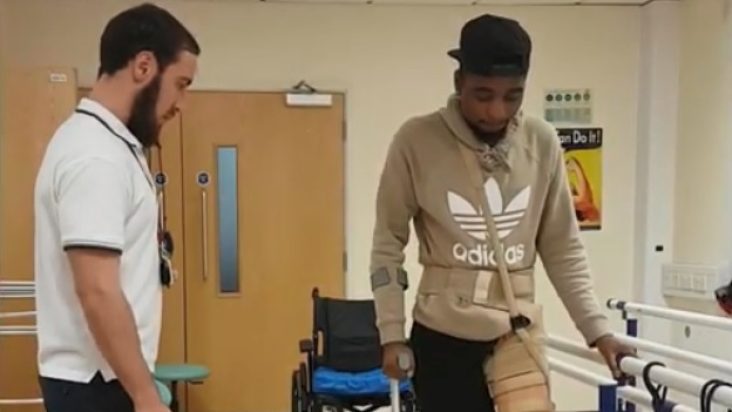 Treatment and rehabilitation
Andre was treated at the scene by Helicopter Emergency Medical Services for a significant degloving injury to the right leg and an open femoral fracture to the left leg with massive soft tissue injury. He was admitted to the Royal London Hospital where he underwent emergency surgery. The left leg could not be saved and had to be amputated above the knee very close to his hip. He required skin grafts for the right leg and was left with open wounds with vacuum dressing.
Andre was transferred to the Lambeth Amputee Rehabilitation Centre as a wheelchair user. He was fitted with a prosthetic limb and underwent intensive physiotherapy to relearn how to walk following the loss of his leg.
He was discharged to his mother's home, which was on two levels with no access to showering facilities. He was unable to return to work and so suffered a loss of income.
Andre has struggled with low self-esteem and self-image issues since the accident. He has struggled significantly with psychological injuries, phantom pain and fatigue. He has had intrusive thoughts and flashbacks to the accident.
The outcome of the criminal trial, which lasted five days, caused Andre considerable distress.
Interim payments
Andre instructed Stephanie Clarke in early December 2017 to investigate the personal injury claim. By Christmas, she had secured a £5,000 interim payment for Andre to cover his immediate living expenses.
To date, she has secured £220,000 of interim funds to allow him to have the following:-
Private prosthetic rehabilitation from the London Prosthetic Clinic in Kingston.
Case management from a specialist amputee case manager
A multi-disciplinary private rehabilitation team including psychology counselling and occupational therapy
Provision of new accommodation in the form of a level access flat.
Provision of a vehicle to allow mobility.
Life beyond injury
Testimonial from Andre:
"Stewarts have made everything clear to me throughout. There are a lot of things I didn't know at the start of the case that I understand now. That has been very helpful.
Working with Stephanie has been great. I always feel supported and as though the team has my best interests at heart.  I have a very high impression of the team at Stewarts.
The interim payments that I have received today have helped tremendously. I have been able to move into level housing and now have a vehicle to get around.
A lot of my hobbies are indoor hobbies, like gaming and reading, so I have been able to continue with these. Since my injury, I have started to make the short videos for You Tube to try to share my experiences with other young amputees."
Andre has created a YouTube channel with an ongoing video series 'Amputee Stories' with the intention of supporting other young amputees through their journey
One of the videos shows Andre walking confidently outside with his prosthetic.
Andre's end goal is to get back to work, and to gain experience working within the video gaming industry.
Please watch this video below where Andre is very reflective of his journey and the lessons he has learnt so far from his injury.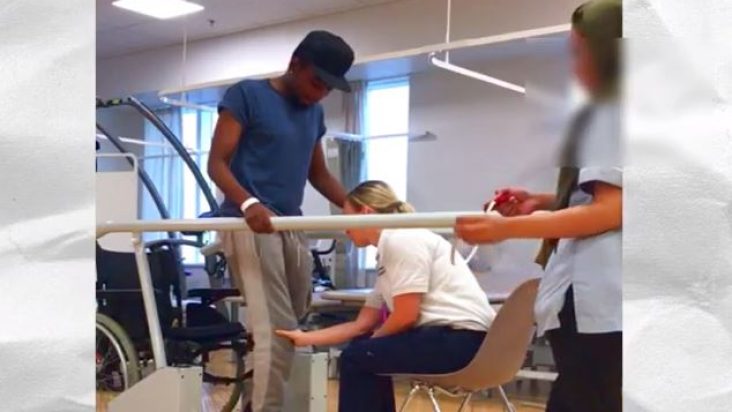 ---
Life beyond injury
We have teamed up with other clients who have suffered catastrophic injuries to tell their stories of Life Beyond Injury. Please visit the Life Beyond Injury webpages here.
We hope that by sharing these stories, newly injured people can see that with the right support they too can overcome adversity to lead full and active lives.
You can join in the conversation and share your stories of overcoming adversity to lead a fulfilling life beyond injury: on Twitter, here #lifebeyondinjury; or on Facebook, here #lifebeyondinjury.
---
You can find further information regarding our expertise, experience and team on our Personal Injury pages.
If you require assistance from our team, please contact us or alternatively request a call back from one of our lawyers by submitting this form.
---
Subscribe – In order to receive our news straight to your inbox, subscribe here. Our newsletters are sent no more than once a month.