UK Disability History Month has taken place from 16 November to 16 December this year.
As in previous years, our Disability Focus Group of the Inclusion Committee organised a range of initiatives to mark the event.
What is Disability History Month?
Disability History Month is an annual event that aims to celebrate the lives of disabled people, challenge disabilism and achieve equality for disabled people. This year's theme is 'Disability, Health and Wellbeing'.
Over the past few years, we have all faced unprecedented challenges. During such periods, it is often marginalised groups, including those with disabilities, who are impacted the most.
People living with a disability can suffer disproportionately from poor health and wellbeing. Studies conducted by the Office for National Statistics suggest that in 2021 people with a disability:
showed lower employment rates
were less likely to own their own homes
reported lower rates out of 10 for happiness and higher rates for anxiety
were more likely to report feeling lonely.
The Stewarts' Disability Focus Group organised a range of initiatives to highlight some of the issues faced by disabled people, to celebrate people who have shared their experience of life with a disability, and to understand what is being done to better accommodate those with disabilities.
Health and wellbeing
Although there have been some improvements, everyday obstacles to good health and wellbeing for people with disabilities remain. These include the availability of adequate care, treatment and support, the availability of accessible housing, transport and communications, and existing prejudices that inhibit inclusive workplaces and access to education.
Hayley Symington and Jenny Duggan were delighted to welcome Holly King, a clinical specialist physiotherapist in the field of amputee rehabilitation, and Russell Lucier, a former personal injury client of Stewarts, to the firm to discuss disability, health and wellbeing.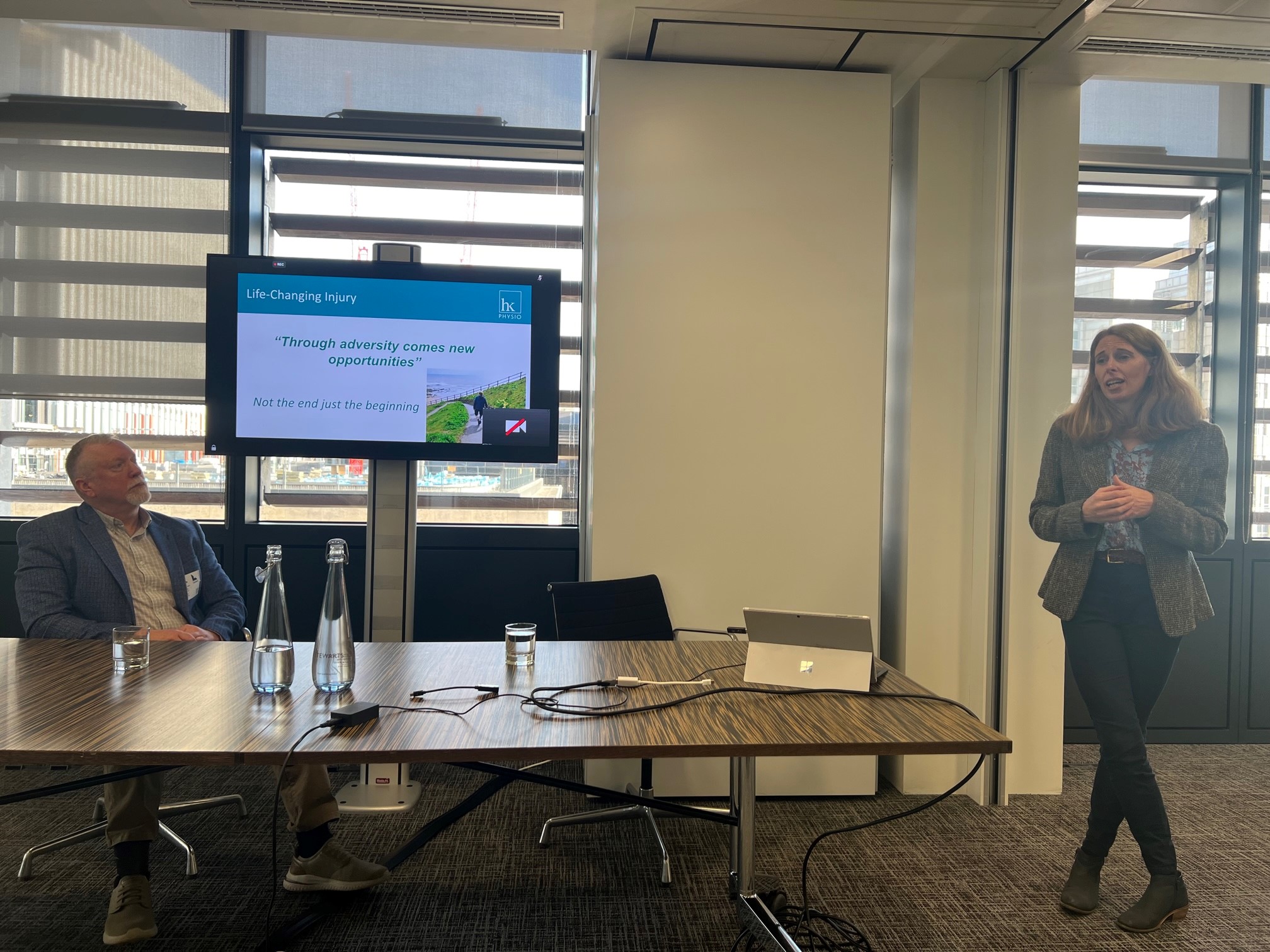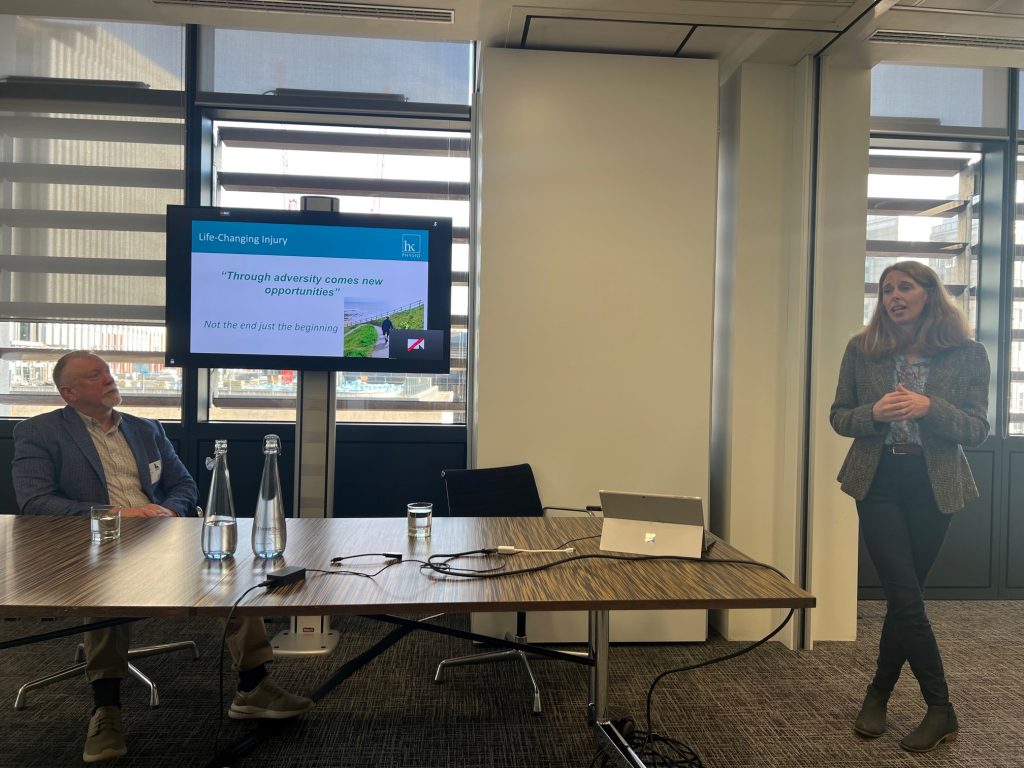 Holly educated us about the factors that can affect health and wellbeing in the context of disability and amputation. Treating pain, including phantom limb pain, can be one of the most significant factors in improving health and wellbeing following an amputation. A multi-disciplinary approach to treatment, including clinical psychology, is key, as is treating the whole person rather than just their amputation.
Holly's advice was to avoid retraumatising people who have suffered a serious injury by asking about their accident and avoid focusing on negative aspects of their new life. Her approach to her clients is that their disability is not the end but rather the beginning. She aims to build confidence, resilience and trust after life-changing injuries.
Russell shared his experience of living with a disability after a motorcycle accident in 2017 left him with life-changing injuries. He sustained severe bilateral leg injuries that required years of painful surgeries, including a lower limb amputation in 2020. Access to much-needed treatment, including psychological support, and securing an adapted family home were vital to improving his wellbeing and quality of life.
Russell provided sound advice, which we can all apply to our daily lives:
"Anyone can experience disability at any point in their lives. Don't take your health for granted. Work on your wellbeing and resilience before you need it."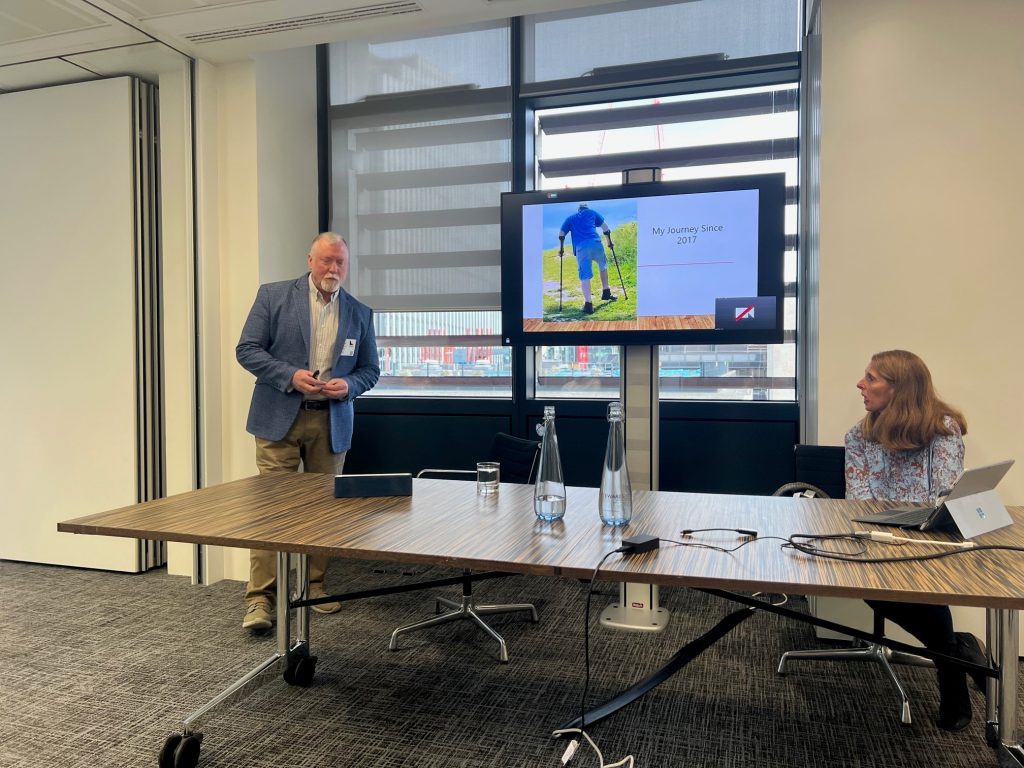 The disability pay gap
There is clear evidence that good work improves health and wellbeing across people's lives and protects against social exclusion. Conversely, unemployment is shown to negatively affect our health and wellbeing as it is associated with an increased risk of mortality and morbidity.
Research by the TUC has recently revealed that the disability pay gap in the UK is 17% and is rising. In addition to a growing wage gap, the TUC revealed that disabled individuals are twice as likely to be unemployed than their non-disabled peers.
Alison Goldney met Lee Cairns, CEO of Peer Advice Services, to discuss his experience of returning to work following a spinal cord injury. In a two-part article, Lee provides some practical advice for those thinking of returning to work following a catastrophic injury and discusses the Access to Work Scheme.
We can all work together to develop a more inclusive workplace. Stewarts is committed to promoting equality and diversity across the firm. This includes improving access for and meeting the requirement of our disabled clients and colleagues.
To learn more about Disability History Month, go to https://ukdhm.org/.
---
If you require assistance from our team, please contact us or request a call back from one of our lawyers by submitting this form.