Tom Matusiak, Legal Director at Stewarts and Director at Leeds Law Society, gave an opening address at the LegalTech in Leeds Conference 2023 alongside Eve Roodhouse, Chief Officer, Culture and Economy at Leeds City Council.
Tom says: "Leeds is the UK centre of excellence for legal services outside of London and has a booming digital sector. In this time of unparalleled change in the legal industry, this year's conference demonstrated the strengths, talent and innovation in Leeds City Region – all in the impressive Esther Simpson Building of the University of Leeds.
It was great to hear from Mike Freer MP, Minister at the Ministry of Justice, on further international opportunities for the Leeds legal sector, and to welcome Beth Fellner from LegalGeek and representatives from different regions of the UK legaltech ecosystem. One of the many highlights of the day was an interactive presentation on an access to social justice generative AI assistant by Adam Roney of Calls9 and Patrick Grant from the University of Law Leeds."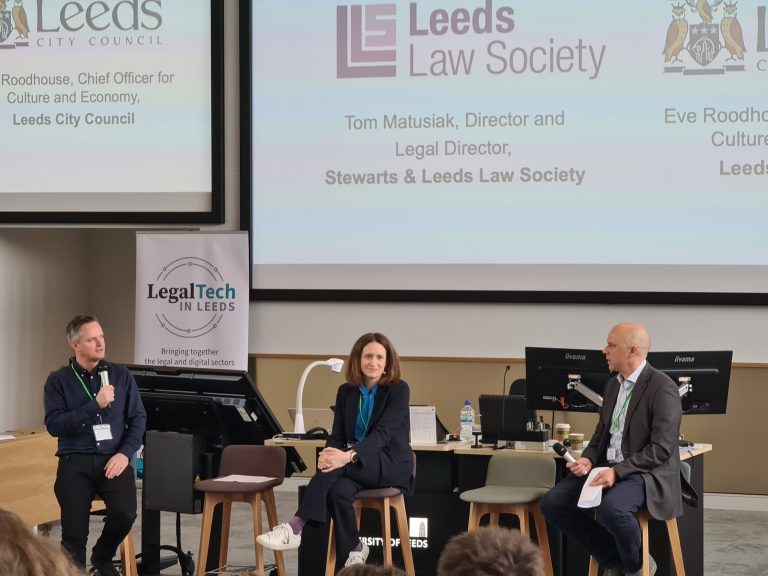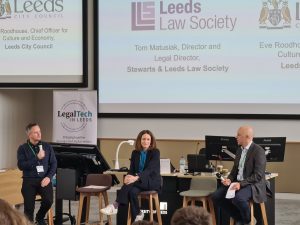 Tom's opening address is reproduced here.
Leeds legal sector
Leeds is the UK centre of excellence for legal services outside of London. Law is one of the pillars of the Leeds economy and a full range of law firms, legal service providers and in-house legal teams give excellent service to a full range of regional, national and international corporates and individuals. That service includes deals and disputes worth billions in a range of sectors (for example in finance – which is not surprising when Leeds is the second largest UK centre for commercial banking).
The Whitecap 2020 Leeds City Region Legal Tech & Innovation report found 1,600 legal companies employing 14,000 people in Leeds City Region and set out a range of legaltech and innovation success stories from the region along with statistics on legal education in Leeds. 3,700 law students graduate from Leeds annually – 15% of the UK total. In the few years since that report even more top law firms have set up offices in the Leeds or are seeking launches. The Lawyer magazine wrote this year that 'Leeds real estate lawyers are hot'.
Here are some quotes from that article:
'But why real estate and why Leeds? As with any move, it comes down to location, location, location. Leeds has the perfect balance of real estate clients, investment and legal talent… Leeds is also home to a booming financial district and has £7.3bn worth of development in the pipeline, according to Leeds City Council. And let's not forget that it has "London-quality" talent… Real estate lawyers, Leeds is your prime location.'
Change in legal industry
The legal industry is undergoing a time of unparalleled change brought about by advances in technology. What types of changes are happening?
Improved management, review and research of the proliferation of information and documents now being electronically generated;
Improved and more efficiently-delivered legal products and more tailored client service delivery;
The opening up of access to legal services for those who currently can't or don't access them;
Assistance to law firms and legal service providers in running as more efficient businesses; and
Legal mechanisms evolving.
The pandemic turbo-charged this change, and the changes made in pandemic have brought permanent positive change to the industry:
By default now, court hearings of half a day or less in the Chancery Division are to be conducted remotely. This means an innovation of necessity bringing permanent time, cost and environmental efficiencies.
Hybrid working opens and widens opportunities (and law firms are looking at long-term hybrid working – including from the angles of risk, training and mental health).
Innovation and change through tech is often not headline-grabbing. It is often incremental improvement such as: combining a few steps in a process; making a process paperless; using existing technology a bit better; an added safeguard for information; or a clearer way of displaying next steps to a client.
Headline-grabbing tech
But in the last few years some of the tech change has been headline grabbing – and affects law as much or more than many other industries. I'm sure the three technologies I now mention will be mentioned by speakers and our panellists later, but here are some quick takes, benefiting from discussions held in our many LegalTech in Leeds events:
Blockchain technologies – cryptocurrencies and NFTs
These are ways of transferring ownership of non-tangible things – including rights, bringing many transactional opportunities.
The law is adapting to this tech. We see court decisions and legal industry groups evolving the legal status of these technologies and the duties of those creating and using them.
We also see legal procedures evolving; courts allowing proceedings to be served (or alerted) to the defendant via NFT airdrops into cryptowallets.
The metaverse (or 'metaverses')
Some legal issues and remedies in metaverses have parallels with those outside (such as with intellectual property issues), but some will be novel; for example, in a decentralised metaverse will there be a remedy for blocking the view from someone's digital land?
But just as the metaverse creates new legal issues, so it may make easier legal solutions. We can well imagine a court in which participants in a court room wear mixed reality headsets or lenses to see some witnesses and participants in person in the court room and some from remote locations. Everyone involved could then see document, video and 3D evidence through their lenses.
Generative AI
This is the hottest of hot subjects at the moment.  You can't fail to be impressed by the power of this and it is inconceivable that this kind of technology is not part of the future of widespread legal service. In fact it is being used by frontrunners already:
There are reports in the media in the last months of a major law firm using a specifically-designed AI chatbot as a first port of call for some analysis and drafting (before checking and tailoring by lawyers); and
Legal Cheek reports that a judge in Colombia used ChatGPT to assist him in solving a dispute (the judge emphasised that any information put forward by the bot gets fully fact-checked and the purpose is to assist and speed up the process).
But we're also seeing the risks of using generative AI too – answers to some legal questions being wrong (but looking deceptively accurate). And we have to be alert to AI reinforcing prejudices. We see law firms setting up generative AI policies.
A key factor for participants in the industry will be the training of generative AI systems, the quality of the information fed to those systems, and lawyers using their top legal skills to tailor and correct generated content.  Interpersonal and oral communication skills will be more important than ever for lawyers.
Leeds digital sector
Leeds has a booming thriving digital sector as we've heard from Eve Roodhouse (Chief Officer, Culture and Economy at Leeds City Council) and as we will hear further today. The Whitecap 2020 Leeds City Region Legal Tech & Innovation report emphasised the benefits of bringing together the legal and digital sectors.  And that's what we have been doing through the LegalTech in Leeds evolution:
We've seen in LegalTech in Leeds events the sharing of expertise on improving processes, improving client experiences and overcoming challenges to innovation.
We've seen the energy in the rooms as those in legal and digital designed services in the LegalTech in Leeds Hackathon (a speaker in one of our events said that 'creativity is in the DNA of Leeds' – we saw that that day).
We welcome those from legal and digital from other cities and regions today and to all events – and we welcome Mike Freer MP, Parliamentary Under Secretary of State for the Ministry of Justice. We know that Leeds City Region is part of a wider ecosystem and know that (as someone said at one of our events) 'a rising tide floats all boats'.
Building a stronger society
As society and technology evolve, change and innovation in law and procedure, combined with change and innovation in legal service delivery, legal regulation and legal education build a stronger society through improved relevance of the law and access to the law, and they make this jurisdiction (including Leeds) a more attractive one for deals and disputes.
What a time of change we are living through – and a time where the legal and digital worlds are becoming inseparable and where you and people like you, and exchanges of ideas such as those we are having today, are shaping the future – and present – of law in Leeds and everywhere else.
---
If you require assistance from our team, please contact us or alternatively request a call back from one of our lawyers by submitting this form.
---
Subscribe – In order to receive our news straight to your inbox, subscribe here. Our newsletters are sent no more than once a month.