South Asian Heritage Month (SAHM) is an annual observance that runs from 18 July – 17 August, celebrating the rich and diverse cultures, histories, and contributions of people with South Asian heritage.
This year Stewarts seized the opportunity to explore the multifaceted tapestry of South Asia through a number of events in July and August, which took place both in the London and Leeds offices.
The aim of the events, organised by the Ethnicity, Religion and Culture Focus Group, was to highlight the importance of understanding and appreciating the cultural, linguistic, religious, and artistic diversity within the South Asian community, whilst celebrating their present impact on the rest of the world. Although South Asian Heritage Month is a time to reflect on history, it is also an opportunity to celebrate the contemporary achievements of individuals from the region. From Bollywood films to world-class cuisine, South Asian culture has transcended borders and is embraced globally.
Henna (Mehndi) and Lunch Event
On Tuesday 18 July, we kicked off the month-long celebration wit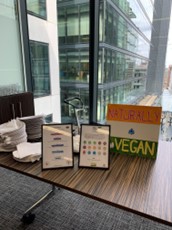 h a successful lunchtime event, both in Leeds and London. Diversity Champion Varsha Chandrasegaran and Diversity and Diversity & Inclusion Manager Reg Amoah introduced the event in Leeds and London respectively.
Attendees had the opportunity to indulge in mouth-watering traditional Indian food with a vegan twist, in acknowledgment of the fact that veganism can be traced back to ancient South Asian civilisations and religions.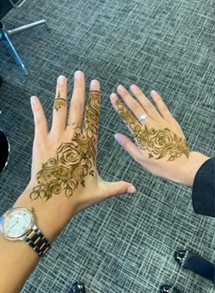 They also got the opportunity to get a first-hand taste of the colourful festivities by getting Mehndi, an intricate form of body art used as a sign of celebration and symbol of health, luck and positive energy.
Bollywood Dance Workshop
South Asian cultures are a treasure trove of history and creativity. On 27 July, the London office was treated to a captivating dance workshop that left attendees enthralled and entertained by the infectious energy of Bollywood dance. Participants were left with a deep appreciation for the cultural significance and contemporary influence of this iconic dance style.
Yoga Session
The lunchtime yoga session held on 2 August offered participants a unique opportunity to delve into the ancient practice of yoga- a cornerstone of South Asian culture that continues to inspire millions around the world. This event not only celebrated the physical and mental benefits of yoga but also deepened the understanding of its roots and impact on modern society.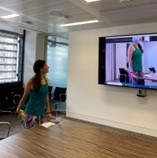 A participant said "the session was informative, the teacher gave us poses to help open our hips, shoulders, neck and back, which are areas that can become tense from working at a desk. We even did eye yoga to help release strain on the eyes. Overall, the session was very relaxing, and I learnt a lot from the instructor, which I will try and add into my workday".
As we wrap up this year's celebrations, we reflect on the complex and diverse heritage of the South Asian community. As the world becomes increasingly interconnected, events like this help bridge cultural divides, promote understanding, and highlight the value of inclusivity.
---
You can find further information regarding our expertise, experience and team on our Diversity and Equality pages.
If you require assistance from our team, please contact us or alternatively request a call back from one of our lawyers by submitting this form.
---
Subscribe – In order to receive our news straight to your inbox, subscribe here. Our newsletters are sent no more than once a month.