The Stewarts Foundation provides a scholarship and bursary funding to a postgraduate student on the Royal Academy Schools course. Current bursary recipient Rachel Hobkirk is due to graduate in 2023, and has provided an update on completing the second year of her studies. 
Although studying at RA Schools is free, the cost of living in London and costs associated with making work are not fully covered by the RA Schools. The additional support made available through the foundation will provide the chosen student with greater freedom to explore their creativity without financial constraints.
Stewarts also partners with the Royal Academy of Arts to sponsor the RA Schools Show, the acclaimed exhibition that marks the culmination of the three year postgraduate programme. Rachel Hobkirk's work will be exhibited at the 2023 event.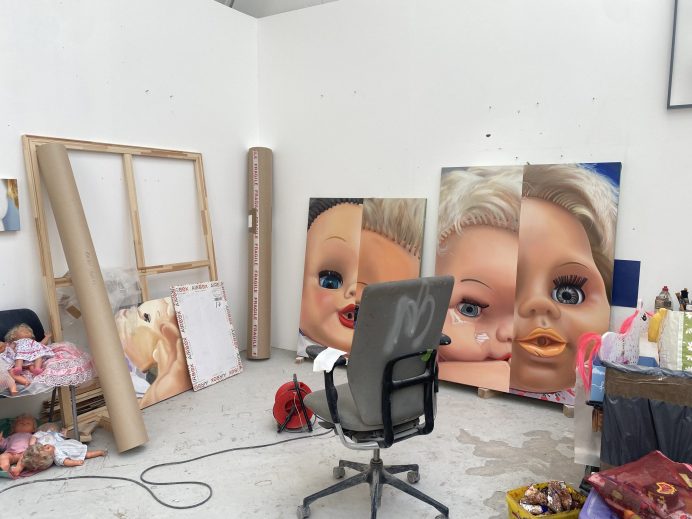 Rachel's end of year report 2022
My second year at the RA Schools has been focused on developing my painting practice. It has been a combination of fine tuning my practice formally, as well as, pushing the Doll series into a sphere that further encapsulates notions of the uncanny, eerie and the crude.
My visual language has begun to mature into something I would refer to as 'Dark Pop'. Choosing to replicate the glossy, seductive surfaces of Capitalism whist also exploring how a discarded, doll can convey the dark, hollowness of the female psyche. I want the work to balance between enticing cuteness and unsettling disgust. Something that feels jarring and paradoxical, much like the conflicting feelings of one's internal self, especially when transitioning from adolescence to adulthood.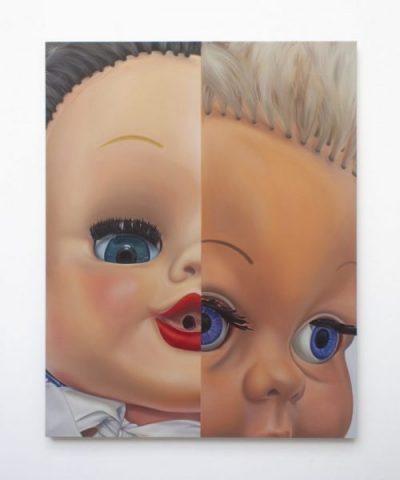 Tutorials with visiting artists has been particularly beneficial to my practice this year. Discussing my work through a fresh lens enables me to consider how the personal experiences and subjectivity of each viewer will affect how they read and engage with my work. For example, a tutorial with sculptor Emma Hart, who grew up playing with Tiny Tears dolls, led to a vibrant and active discussion about my paintings. Her perspective revealed how, as a child, the illusion of the doll being a real baby was shattered every time she would focus on the strange, hollow round hole of its mouth. As well as, shedding light on how my decision to crop and splice two images together pushed the work further away from painting and into the realm of digital image/photography.
The financial support from my bursary has enabled me to upgrade my materials this year. For example, using superfine linen instead of canvas and using Michael Harding oil paints instead of Winsor & Newton. All these material decisions have a big impact on the work. Choosing to use linen meant creating an oil instead of acrylic based underpainting, which then led to achieving an incredible glow and transparency in the paintings. As well, my bursary means I can build up a large collection of Tiny Tear dolls in the studio, which are fundamental to the creation of my work.
I'd like to thank Stewarts for continuing to generously support me whilst I study at the RA Schools. It is incredibly important that artists receive financial support during these crucial, early years. Without it, the sense of financial burden many artists face can lead them to eventually stop making work, which is why the bursary support provided by the RA Schools through their donors is so vital. I hope you look forward to seeing how my work evolves during my final year and its ultimate summation at Degree Show 2023.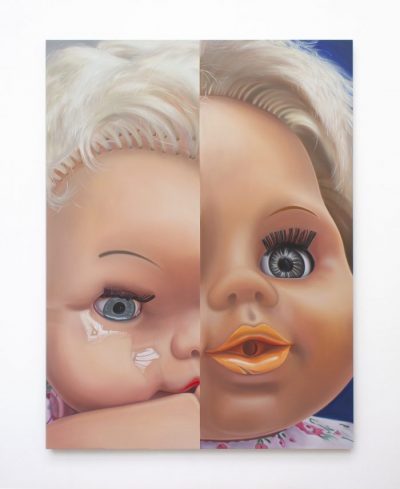 ---
The Stewarts Foundation
The Stewarts Foundation was set up in 2010 to formalise and manage the firm's charitable giving. The Foundation's vision is to:
Create opportunities for the disadvantaged in our society
Treat people less fortunate than ourselves with compassion and respect
Make a substantial social impact
The Foundation supports a small number of charities carefully selected by its Trustees through its grant-giving programme.
---
Subscribe – In order to receive our news straight to your inbox, subscribe here. Our newsletters are sent no more than once a month.