A team of 40 riders including 18 from Stewarts will be cycling the HotChillee London to Paris ride on Wednesday 20 July 2022, in what will be a special anniversary event.
The ride covers 500km distance and 5,000m of elevation over three days, starting near Hampton Court Palace in London, and finishing on the Champs-Élysées in Paris. Over 450 riders take part in groups of varying abilities, with everyone merging 50km from the finish for a ceremonial roll-in along closed roads as one large group.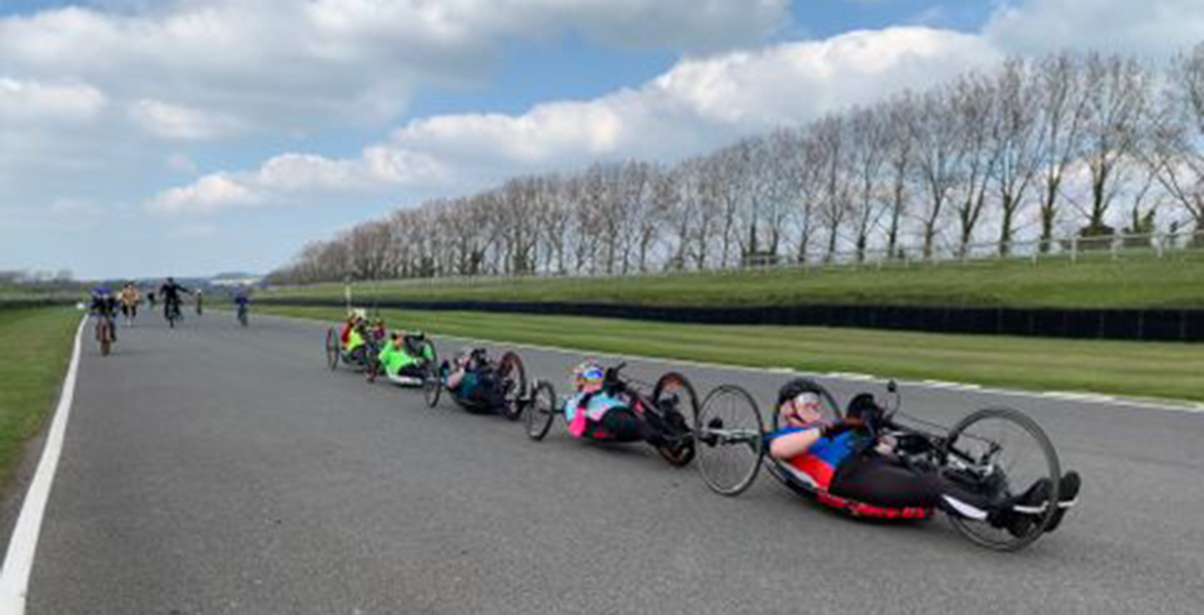 Tenth anniversary ride
In 2012, Personal Injury partner Danny Turnbull was instrumental in opening up the London to Paris ride to hand-cyclists. That year, a group of riders, including Danny on a hand-cycle, completed the ride. This July marks the tenth anniversary of that ride.
Danny sadly lost his battle with cancer in April 2017. The following year, a group of riders from Stewarts rode the #RideforDanny London to Paris in his memory. Read more about that here, and see a video put together by HotChillee in memory of Danny below.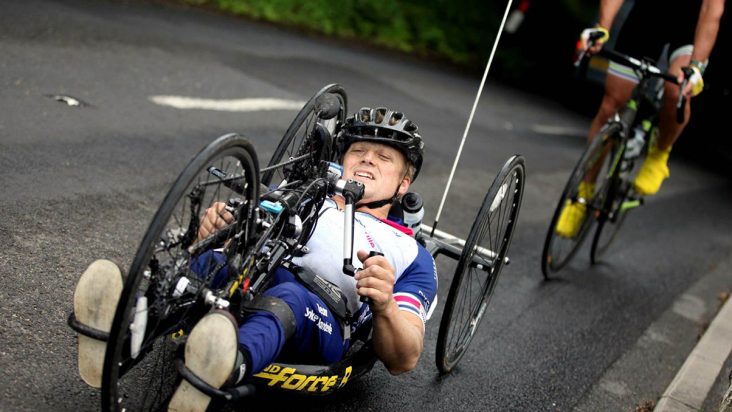 Danny served as a Trustee and Chairman of The Back Up Trust for a number of years. This year, as in 2018, we'll be riding to raise money for the Back Up Trust.
For over 30 years, Back Up have helped people and their families to rebuild their independence after a devastating spinal cord injury. Their award-winning, practical services challenge the perceptions of what's possible and help to increase skills and confidence. Back Up are there for people in their darkest hours, so they get back up to living life to the full.
This year's #NoLimits ride sees Claire Danson join the team. Claire is set to be the first woman hand-cyclist to ride London to Paris. Also joining the Stewarts team will be some veteran hand-cyclists from previous London to Paris rides.
Claire's story
Claire sustained a spinal cord injury in a cycling accident in August 2019. Prior to her injury, Claire had been a GB age-group triathlete and aspired to turn professional.
After the collision with a tractor, Claire was airlifted to Southampton General Hospital where doctors were unsure whether she would survive the collision. Claire had broken her wrists, as well as a shoulder, a finger, all of her ribs, her shoulder blades, back and neck. She had also punctured her lungs. Most of Claire's injuries healed, but the injury sustained to her spinal cord at the T5 vertebrae means she is paralysed from the chest down.
Seven weeks after her injury, Claire was transferred to Spinal Treatment Centre in Salisbury where she first met Back Up. Through them, she received support on how to use her wheelchair as well as activity courses and mentoring. Claire also recently attended a residential sit-ski trip to Colorado through Back Up, which gave her confidence and independence. This also allowed her to meet others with spinal injuries.
From early on in her recovery, Claire dreamed of getting back to sport and the London to Paris ride is the challenge she was looking for. To read more about Claire's story, and experiences with Back Up, click here for an article in the Times.
Fundraising
The team from Stewarts has been busy fundraising for Back Up in a number of ways during the training period. Some team members organised a a spin-a-thon in London Victoria train station and another ran a pay-what-you-can yoga class. There has also been a raffle with a number of prizes having been generously donated by a variety of businesses.
The group is aiming to beat their fundraising target from the 2018 ride, by raising over £125,000.
If you wish to donate to the main group fundraising page, please click here.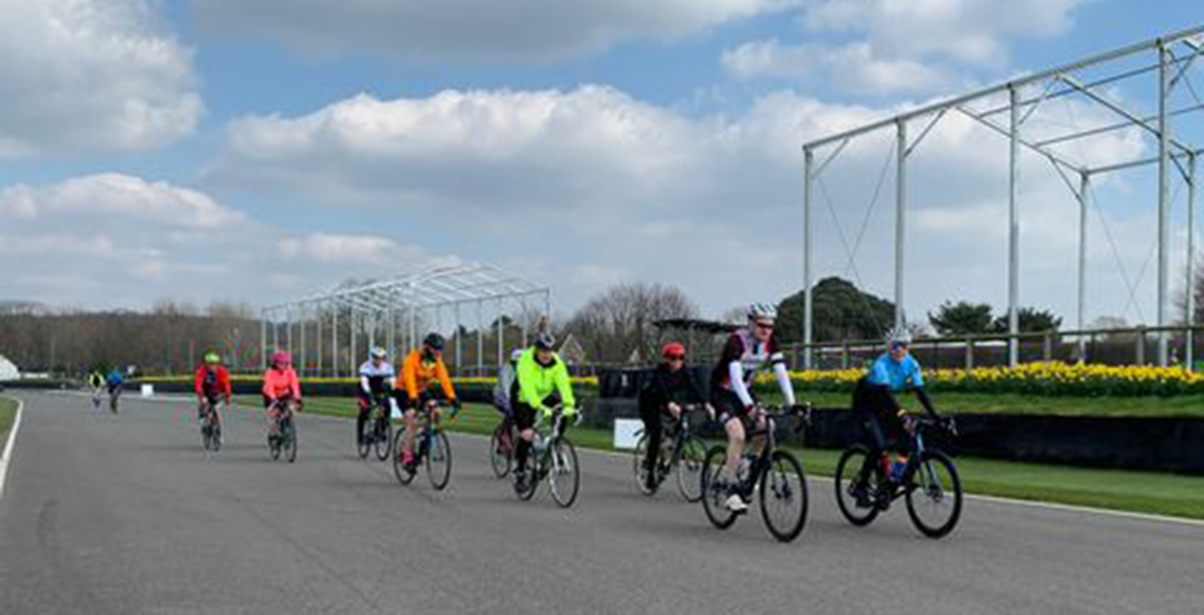 The experience so far…
The group of riders have all completed at least one 100 mile ride in preparation for the event. There have been multiple group rides so cyclists can meet the full team they will be completing the event with, and to get familiar with group riding dynamics. A few of the riders share their story of the experience so far.
Lydia Buckingham, PR Manager:
"When I joined Stewarts in 2013, one of the first stories I heard about was the London to Paris ride that Danny and the group had completed the previous year. Back then I didn't know anything about cycling, spinal cord injuries or hand-cyclists. But I soon realised what an absolutely fantastic challenge this had been and it signalled something about the culture of the firm I had joined. I have spent years getting to know the people at Back Up and the incredible work they do, and I am so pleased to be able to complete this ride to raise funds for them. It's been a learning curve already and I am not at the start yet – back in January this year I didn't even know what a cleat was. But I am as ready as I'll ever be!"
Daniel Wilmot, Partner, International Arbitration:
"The work of Back Up makes a real difference to the lives of those devastatingly affected by a spinal cord injury. And as a charity, it holds a particularly special place in the hearts of many at Stewarts given its connection with our former partner, Danny Turnbull. During the pandemic, I think many of us reflected on the privileges we enjoy and the good we could do outside of our day-to-day lives, and I was no different. So I jumped at the chance to challenge myself in a way I have not done before (I'm definitely no cycling buff!), but, more importantly, in a way that also helped Back Up to continue its life-changing work and allow me to play my (small) part in making a difference for others in need. That makes all of the training, tiredness and sore legs so much more worthwhile (as does the thought of a pain au chocolat, or three, at the finish line in Paris…)."
David Savage, Partner, Financial Crime:
"I am genuinely excited to tackle the L2P cycle on behalf of the Back Up Trust.  Cycling got me through some pretty dark times during the pandemic and so it seems only right that I now take on this new challenge in order to help fund a charity which helps those going through life changing spinal injuries. Plus the lycra is a bonus!"
Kara Smith, Legal Director, Pro Bono:
"For me, this London to Paris journey is all about achieving something which was previously thought to be unachievable. In 2012, my colleague and friend, Danny taught us all the meaning of the words 'no limits' when he and two other handcyclists cycled from London to Paris. When the opportunity to ride in Danny's memory arose in 2018, I initially discounted the idea because I had three young children, no bike and literally no level of fitness. Cycling from London to Paris was completely unachievable in my eyes. However, in the end, I couldn't bear the thought of not being involved and so I signed up and I'm so glad that I did because that ride changed my life. It made me realise that I can work, be a mum and still manage to find the time (and the energy) to train for this epic adventure. I'm so proud to be part of the 2022 London to Paris team and to once again ride in Danny's memory and build on his legacy."
---
Life beyond injury
We have teamed up with other clients who have sustained catastrophic injuries to tell their stories of Life Beyond Injury. Please visit the Life Beyond Injury webpages here.
We hope that by sharing these stories, newly injured people can see that with the right support they too can overcome adversity to lead full and active lives.
You can join in the conversation and share your stories of overcoming adversity to lead a fulfilling life beyond injury: on Twitter, here #lifebeyondinjury; or on Facebook, here #lifebeyondinjury.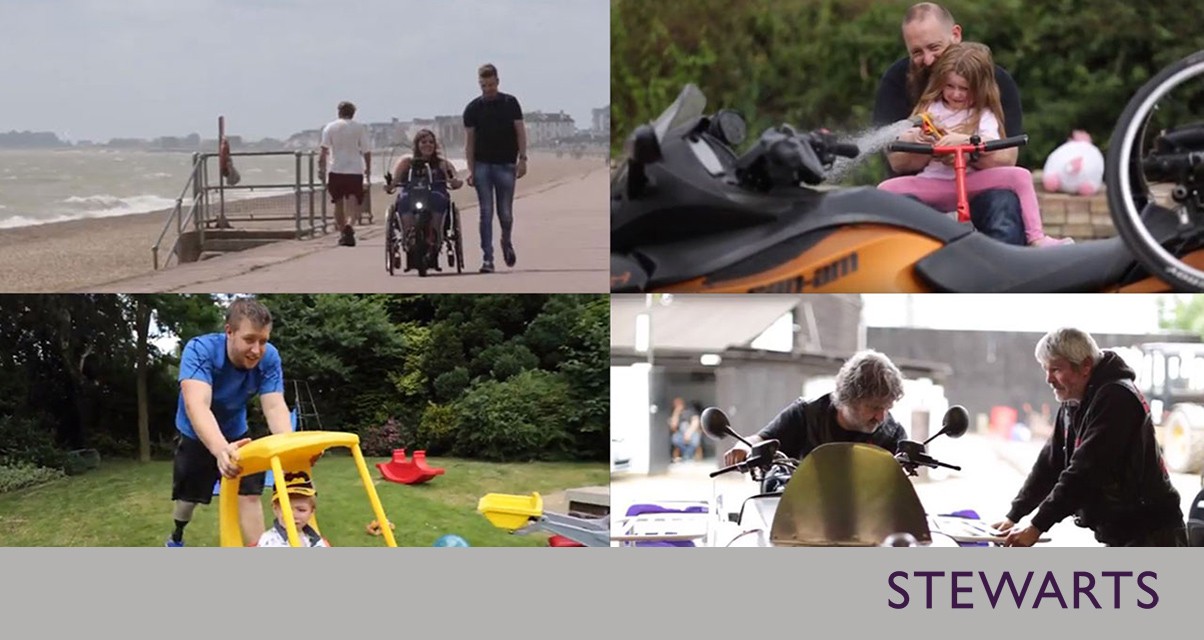 ---
You can find further information regarding our expertise, experience and team on our Personal Injury pages.
If you require assistance from our team, please contact us.
---
Subscribe – In order to receive our news straight to your inbox, subscribe here. Our newsletters are sent no more than once a month.