A team of riders from Stewarts will take part in the annual cycling fundraiser for Back Up Trust, alongside HotChillee, in memory of former partner Danny Turnbull, albeit in a slightly different format. This year, Back Up Trust is asking participants to ride 50km or 100km on World Spinal Cord Injury Day, Saturday 5 September, as a solo event.
In 2019, the one-day event was held in Danny's home county of Hampshire and involved two distance options, 100 miles or 110km. In 2018, a group of riders from Stewarts cycled from London to Paris, a distance of 500 km over three days. The route echoed that taken by Danny and his colleagues in 2012 when he was instrumental in opening up the London to Paris event to hand-cyclists. Ride organisers HotChilllee have put together the following video tribute to Danny showing clips of that ride, see video below. A report of the 2018 event can be found here.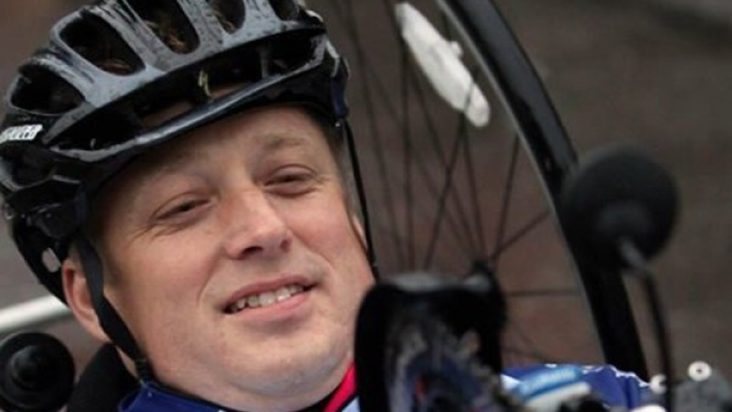 Due to current social distancing measures, this year's event will be a solo event. Riders can choose to ride 50km or 100km either virtually (via stationary bike or turbo machine), or in their local area. Those riding virtually will be connected via Zoom in an attempt to emulate the community feel of previous events.
Danny passed away in 2017 following a long battle with cancer. He joined Stewarts as a paralegal in 2000, before being made a partner in 2010. Danny also served as a trustee and chairman of Back Up Trust for a number of years. In 2017, he was posthumously awarded the David Norman Cup for an Inspirational Person with a spinal cord injury. For more information about the work Back Up Trust does, please click here.
There is no fee to take part or cut-off date for registering for the event. There is a minimum fundraising pledge of £50 per entry. Anyone who wants to take part should contact Back Up Trust – more information can be found here.
For more information about the event, please visit the event's JustGiving page.
---

The Daniel Turnbull Memorial Scholarship
The Stewarts Foundation has set up an annual scholarship with The University of Law in memory of the firm's partner Danny Turnbull who died in 2017.
The scholarship will be awarded to an individual who is disabled, as defined under the Equality Act 2010, to undertake the Legal Practice Course (LPC) at any of the University of Law's campuses.
To find out more and to apply please visit the University of Law's website here – University of Law's Postgraduate Scholarships & Bursaries
---
If you require assistance from our team, please contact us or request a call back from one of our lawyers by submitting this form.