The Covid-19 pandemic has had a devastating effect on the aviation industry. Tens of thousands of job cuts and temporary pay reductions have been planned or implemented by airlines worldwide as they struggle to deal with restrictions on their operations. Affected airlines include Avianca, British Airways, EasyJet, Emirates, Etihad, Qatar, Ryanair, Virgin Atlantic and many more.
Head of Employment, Joseph Lappin, and Arpad Szakal, a consultant at the Centre for Aviation Psychology and career transition coach, have prepared a short webinar outlining the steps involved in any redundancy process in the airline industry. Arpad also gives his advice to anyone seeking a career change or looking for work in the industry following redundancy.
The webinar, titled 'Redundancies in the aviation industry: Legal insights and career transition tips', can be found below.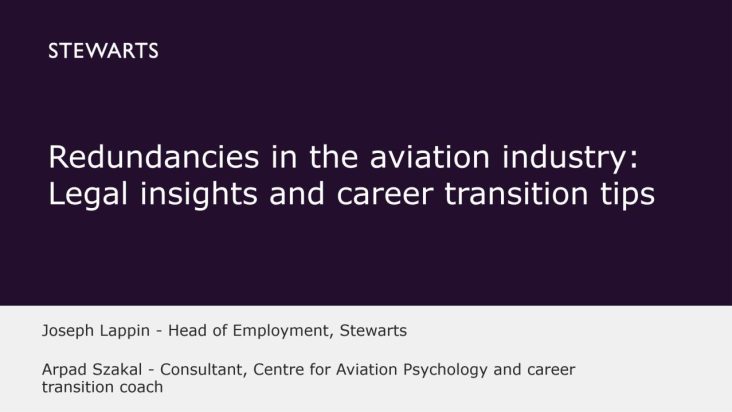 Key points
Make sure you have the facts: If your airline has identified that you will be made redundant, make sure you understand the process being applied by your employer. Find your contract. If you don't have it, ask your employer for it. If you work for a sister airline, check in your contract which airline employs you. Where are you based? If it is not clear from the process being applied by your employer airline, find out which country's law applies to your redundancy.
Look for unfairness: The process will vary depending on the law that is applied. In the UK, redundancy is a potentially fair reason for dismissal. However, a dismissal on the ground of redundancy will normally only be fair if an employer adheres to legal principles and follows a fair process. Many employers take shortcuts and dismiss unfairly. Depending on the circumstances, warning signs may include failing to consult meaningfully with affected staff, failing to identify an appropriate pool of employees for redundancy selection, or applying subjective and unfair scoring criteria to those selected for redundancy.
Seek legal support: The rules governing the redundancy process can vary greatly, with some jurisdictions providing more or fewer rights for employees. Employers can make it seem like their hands are tied, but if:

you have any reason to be concerned or confused about the process applied to you
there is a difference between your home base and your airline's home base, or
you would just like to have certainty that you are being treated fairly,
We highly recommend that you seek legal advice in your home country.
For more information about airline redundancies, see our dedicated page here.
---

Covid-19 is impacting individuals and companies around the world in an unprecedented way. We have collected insights here to help you navigate the key legal issues you may be facing at this time.
---
You can find further information regarding our expertise, experience and team on our Employment page.
If you require assistance from our team, please contact us or alternatively request a call back from one of our lawyers by submitting this form.
---
Subscribe – In order to receive our news straight to your inbox, subscribe here. Our newsletters are sent no more than once a month.