World Sepsis Day was established in 2012 by the Global Sepsis Alliance (GSA), a not-for-profit charity, and takes place on 13 September every year.
In GSA's words: "World Sepsis Day is an opportunity for people worldwide to unite in the fight against sepsis."
The theme is "Stop Sepsis, Save Lives," and all communities are encouraged to come together to raise awareness of sepsis.
What is sepsis?
Sepsis is a life-threatening reaction to an infection. It happens when your immune system overreacts to an infection and starts damaging your body's tissues and organs. It may lead to shock, multi-organ failure, and death, especially if not recognised early and treated promptly.
Common causes
Sepsis is caused by bacterial, fungal or viral infection. Viral infections and common infections such as pneumonia, urinary infections, skin or wound infections, seasonal flu or Covid may result in sepsis.
Symptoms
Sepsis is frequently underdiagnosed in the early stages (when it is still potentially reversible) due to the symptoms it shares with other illnesses.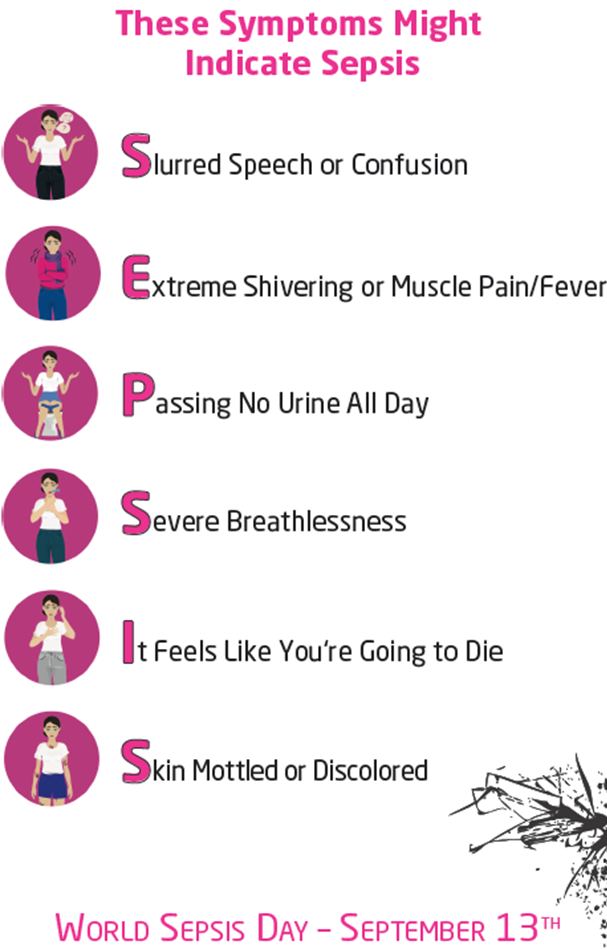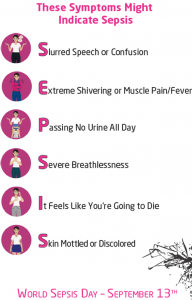 How prevalent is sepsis?
Sepsis is the number one cause of preventable death in the world. It is a global health crisis affecting between 47 and 50 million people every year and accounting for at least 11 million deaths worldwide annually.
Up to 50% of sepsis survivors experience long-term physical and/or psychological effects for the rest of their lives.
However, sepsis can be prevented.
How to prevent sepsis?
The best way to prevent sepsis is to prevent infection in the first place, which can be done by:
Vaccination
Clean water
Hand hygiene
Prevent hospital-acquired infections (HAIs)
Safe childbirth
Awareness
Early treatment of infection and early recognition of sepsis saves lives.
Case study
In a recent case study, Alexandra Bennett, a legal director in our Clinical Negligence team, discussed a client who was 20 years old when she developed sepsis in October 2015. She had just begun her third year of studies for a Law and Politics Degree. Due to a lack of recognition of the symptoms of sepsis and a delay in diagnoses, she sustained life-long complications, including bilateral above-knee amputations of her legs and bilateral amputations of her fingers above the knuckle.
How to get involved
Every year, on 13 September, events take place worldwide to raise public awareness of sepsis and show support for and solidarity with the millions of people affected by it.
The easiest way to support World Sepsis Day is to sign the World Sepsis Declaration (otherwise described by GSA as the "petition against sepsis") and share this link with colleagues, family, friends and everyone who should be informed about sepsis.
The more people that know about sepsis, the safer everyone is.
If you would like to donate to support GSA in raising awareness, prevention, and research of sepsis, please visit the World Sepsis Day website.
---
You can find further information regarding our expertise, experience and team on our Clinical Negligence pages.
If you require assistance from our team, please contact us.
---
Subscribe – In order to receive our news straight to your inbox, subscribe here. Our newsletters are sent no more than once a month.