Nigel is a 50 year old father of three who worked full time as an IT Consultant. Nigel has a young family, including two teenage children and a three-year-old. Before his injury, he enjoyed a wide variety of sports, including cycling, running, swimming, kayaking, skiing and touch rugby.
The incident
On the day of the accident, 10 July 2018, Nigel had walked to the local shops and was standing on the pavement at a cashpoint in the process of taking out some money. The accident occurred when a van pulled out from Stanmer Road, causing a vehicle on the adjoining Battersea Park Road to mount the pavement and collide with Nigel, who was an innocent pedestrian on the pavement. As a result of the accident, Nigel required an amputation of his right leg below the knee and sustained an injury to two fingers on his left hand which has left him with some permanent loss of function to his hand.
Nigel instructed Partner Nichola Fosler to pursue a claim for compensation on his behalf against the two drivers involved in the accident. Both drivers initially blaming each other for the accident. Criminal proceedings were brought against both drivers but only the driver of the van was convicted of driving without due care and attention. Following the criminal conviction, the defendant's insurer admitted liability for the accident.
Rehabilitation and recovery
AXA Insurance, the defendant's insurer took a proactive approach to rehabilitation by providing early funding for case management. The case manager, Scott Hodder of Bush and Co was instrumental in putting in place the rehabilitation that Nigel required in order to maximise his independence. This included putting in place domestic and child care support, amputee and musculoskeletal physiotherapy, personal training, Pilates, occupational therapy, a referral to an orthopaedic consultant and plastic surgeon, and prosthetic treatment.
During the claim, the defendant's insurer funded private prosthetic treatment and prosthetics. Following a successful microprocessor trial the insurer also funded the purchase of an Empower microprocessor foot which enables Nigel to walk longer distances, particularly when he is out and about with his young family.
Legal case and settlement
After the accident, Nigel was not able to return to the property he shared with his partner as it was not suitable for his needs. Through negotiation, Stewarts secured early interim payments, in addition to the rehabilitation funding, which enabled Nigel to move to more suitable accommodation and fully engage in his rehabilitation.
This meant that he was able to return to part-time work within 6 months of his accident in his home-based job. A workplace ergonomic assessment was undertaken by an occupational therapist to advise on appropriate changes to Nigel's workstation and office chair to accommodate his injury.
Expert opinion was obtained from a number of experts including: orthopaedic, rehabilitation, psychiatric, accommodation, prosthetics, care, occupational therapy, physiotherapy, footwear and assistive technology. Witness statements were obtained from Nigel's work contacts in respect of his loss of earnings claim. The claim concluded in September 2020 before court proceedings had been issued just over two years from the date of the accident. As a result of the UK being in lockdown due to Covid-19, the case settled following at a "virtual" settlement meeting.
The settlement included claims for future replacement of the Empower microprocessor foot, alternative prosthesis for day-to-day activity, rowing and cycling prosthesis, a prosthetics with a silicone cosmetic cover and a high activity prosthesis for running with attachments for cross- country and downhill skiing and kayaking.
A settlement was negotiated at a meeting in September 2020. This ensures Nigel has the financial security to enable him to live the rest of his life to his full potential. It will also allow him to have lifelong access to prosthetics, medical treatment and therapies as well as equipment for work, mobility, exercise and leisure activities.
Life Beyond Injury
Despite the Covid-19 lockdown, Nigel has been keeping busy by doing virtual rowing with a group of other amputees. He is also looking to purchase an E-bike to enable him to go cycling with his children. He has recently successfully trialled a prosthesis to enable him to return to running and is now running in excess of 5km.
Testimonial from Nigel:
"I found Stewarts and Nichola Fosler to be highly professional. They were encouraging and clear with their future goals in my case. With Nichola, I always knew how things are going to work and what we were aiming for. I was never left wondering about what was happening."
"These types of injuries create uncertainty – You don't know what is in store for you in the coming years. The settlement money has removed that uncertainty. It means I can plan and get on with my life. This case has settled very quickly and I put it all down to the way that Nichola has handled it. I was hugely impressed by the level of professionalism and expertise shown by Nichola and the team at Stewarts."
"With the settlement money, I've been able to get back to the things I enjoy doing. Nichola also fought hard for us to get interim funding – She was not scared of pushing people when she needed to and I found her approach reassuring – The interim funds allowed us to move into an apartment with lift access.. Our new property has made life a lot easier."
"The interim funds also meant I could get a running blade. Walking is fine but after my accident, it would frustrate me to see people running. Being able to have the funds for a running blade was extremely important to me, it allowed me more freedom and a further sense of normality. It was a greatly liberating experience."
---
Life beyond injury
We have teamed up with other clients who have catastrophic injuries to tell their stories of Life Beyond Injury. Please visit the Life Beyond Injury webpages here.
We hope that by sharing these stories, newly injured people can see that with the right support they too can overcome adversity to lead full and active lives.
You can join in the conversation and share your stories of overcoming adversity to lead a fulfilling life beyond injury: on Twitter, here #lifebeyondinjury; or on Facebook, here #lifebeyondinjury.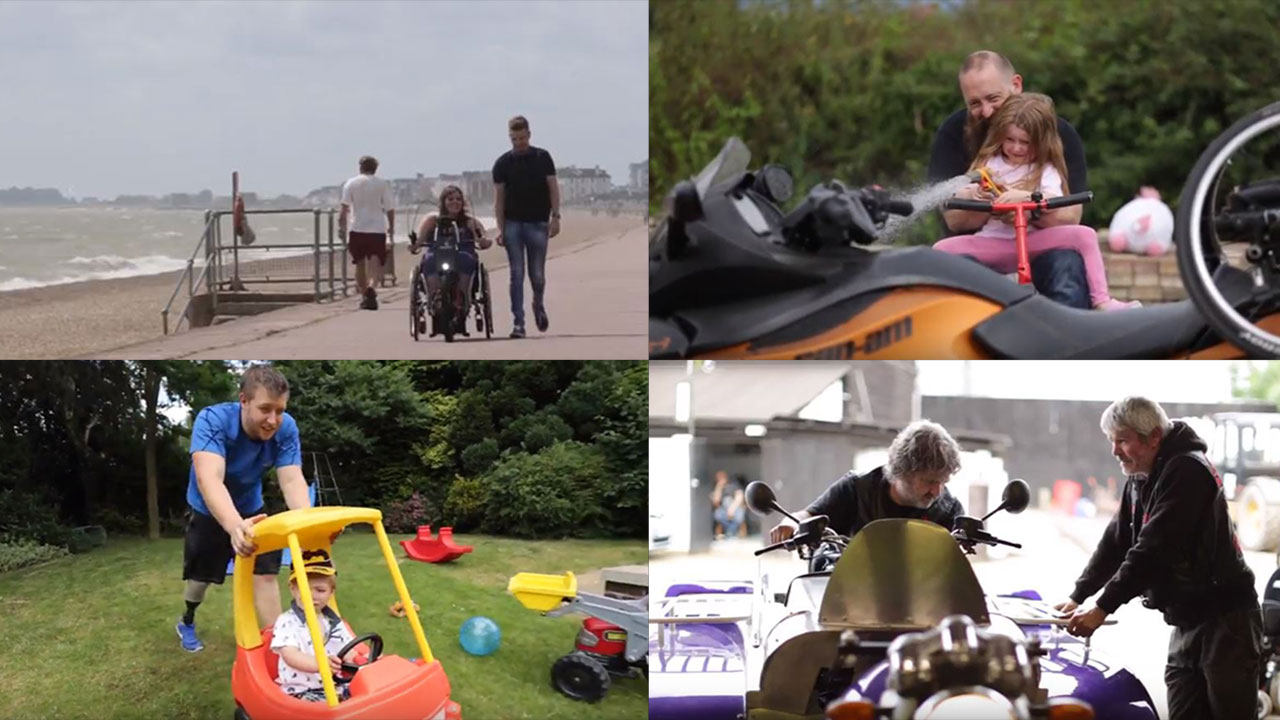 ---
You can find further information regarding our expertise, experience and team on our Personal Injury pages.
If you require assistance from our team, please contact us or alternatively request a call back from one of our lawyers by submitting this form.
---
Subscribe – In order to receive our news straight to your inbox, subscribe here. Our newsletters are sent no more than once a month.