Our event series is designed to educate medical experts on different aspects of medico-legal experts' involvement in their cases. From initial report writing, conferences with counsel, and finalising reports for service through to experts' 'without prejudice' discussions, the preparation of their joint statements and, lastly, giving evidence at trial.
This episode covered establishing causation in medical negligence cases and the latest thinking around the effectiveness of spinal decompression surgery.
Nick Knowles introduced presentations from Anna Beale, barrister at Cloisters chambers, and Mr Nick Todd, consultant neurosurgeon and spinal surgeon.
'An introduction to causation' – Anna Beale
Causation is key to medical negligence cases but can be difficult to prove. To do so successfully, you need to establish that poor levels of care were given, and this caused the injury.
In this presentation, Anna set out the basics of the law relating to causation to give a good grounding in the topic to medical experts. Anna focused on what to look out for causation and condition and prognosis reports.
This talk is essential for anyone new to medico-legal reporting and a good refresher session for those who have some experience.
See Anna's slides here 
Read Anna's notes here
'Decompression surgery' – Nick Todd
Nick Todd spoke about the effect on the long-term outcome of the timing of decompression surgery following spinal epidural haematoma. This surgery was previously thought only to be effective up to eight hours after injury.
However, Nick has undertaken a new assessment of the medical literature on this subject, which provides a more optimistic view on outcome. This is a change to the current school of thought on the timing of decompression surgery and its effect on a patient's recovery and prognosis. It is, therefore, an important view to consider for expert witnesses going forward, as the timing of surgery may influence causation in medico-legal cases.
The recording
If you were unable to join us for the live webinar, you can access the recording here.
The webinar is free to view but standard registration details are required.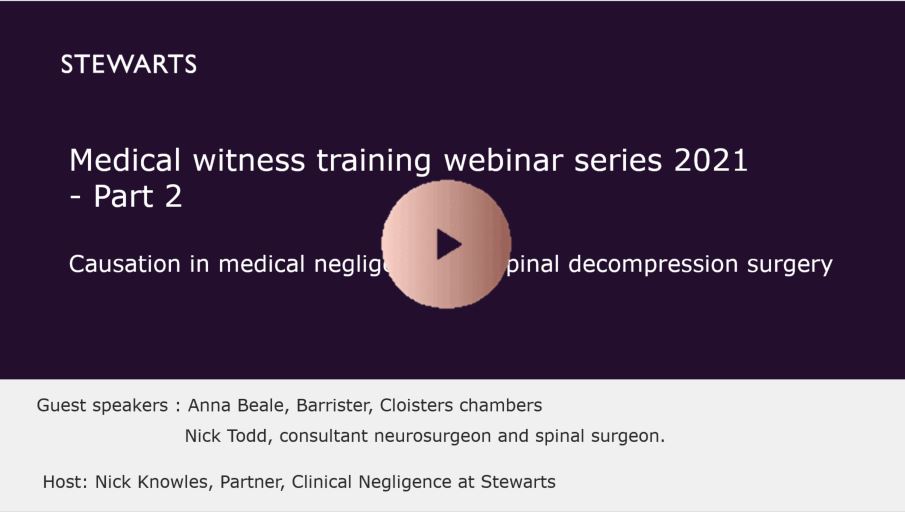 About the guest speakers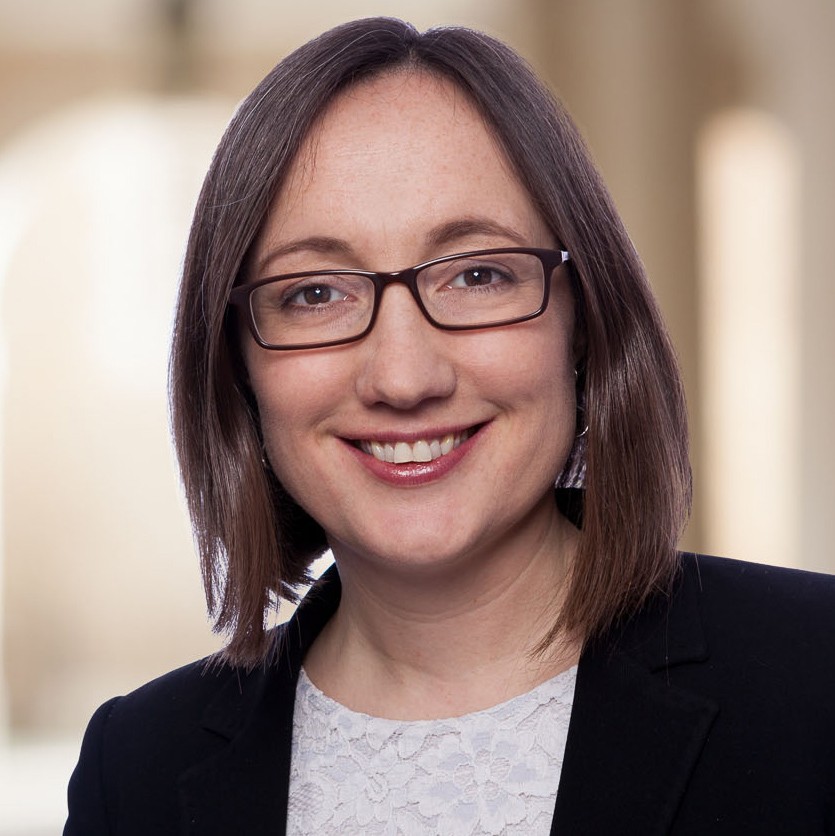 Anna Beale, Barrister, Cloisters chambers
Anna undertakes the full range of clinical negligence and personal injury work. Her parallel employment and discrimination practice means she has unusually extensive advocacy experience for a barrister of her call in this area.
Anna's clinical negligence practice has expanded in recent years. She has acted as junior counsel in a range of medically complex and high-value claims involving spinal injury, spinal surgery, negligent cancer treatment and delay in treating severe brain injury. As sole counsel, she has been instructed in claims arising from negligent spinal, hip and bariatric surgery, cauda equina, delay in diagnosing spinal infection and spinal tumours, delay in cancer diagnosis and several claims relating to the development of severe pressure sores.
She also has experience of fatal accident claims in the context of clinical negligence. Anna has a particular interest in complex causation issues.
Nick Todd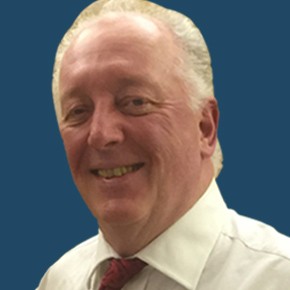 Nick Todd worked as a neurosurgeon taking patients with the widest range of neurological and neurosurgical conditions. He is experienced in managing head and spinal injuries, ischaemic and haemorrhagic cerebrovascular disease, paediatric and adult brain tumours and central nervous system infection. Nick provided specialist services in paediatrics, particularly to children with spinal disorders.
Nick also provided specialist services in the field of adult spinal surgery. Nick's experience and expertise resulted in him being called upon to provide several hundred reports in connection with medical-legal cases. These reports have informed the courts in many areas of litigation, including personal injury, clinical negligence, defamation, and reports for the Family Division.
He has appeared as an expert witness to assist the court on many occasions, including in the County Court, the High Court and the Criminal Court of Appeal.
---
Medical witness training webinar series 2021 – Part 1
If you missed Part 1 of the Medical witness training webinar, the recording can be viewed here. Part 1 was made up of two presentations, Decoding FND: it's all in your head (Dr Parashar Ramanuj MRCPsych) and The fallible client: how clients overcome evidential gaps to prove their case (Martyn McLeish).
Medical witness training series
The medical witness training series has been running since 2015, and is aimed at providing training to medics who work within medico-legal reporting. Previously held annually across the London or Leeds offices, the event went online in 2020 and made into a series providing more regular updates.
---
You can find further information regarding our expertise, experience and team on our Personal Injury or Clinical Negligence pages.
If you require assistance from our team, please contact us or request a call back from one of our lawyers by submitting this form.
---
Subscribe – In order to receive our news straight to your inbox, subscribe here. Our newsletters are sent no more than once a month.