"My daughter pushes me. I want to learn to walk again for her"
Dale was serving in the army when he received the posting he had been waiting for: six months in the Falkland Island. Whilst there, he was shot in a training exercise accident and sustained a spinal cord injury rendering him paraplegic and reliant on a wheelchair.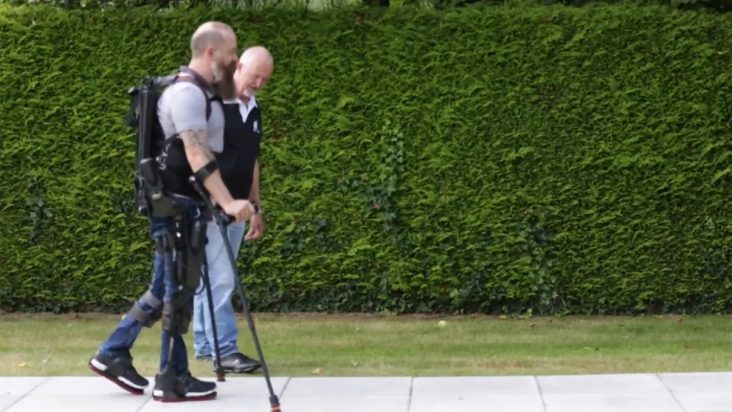 The army
Dale's army career began in 1998. He served all over the world including Kosovo, Afghanistan and the Falklands, before being promoted and posted to the Falkland Islands for six months in 2009. After three weeks, he was shot in an accident during a military training exercise.
Whilst recovering in a military hospital, Dale was surrounded by people who had lost limbs and sustained spinal cord injuries in combat. "I was feeling sorry for myself, but looked around and realised I shouldn't feel sorry for myself," he says.
Pushed by his daughter
After the accident, Dale was told that having children would be extremely difficult. To the surprise of Dale and his wife, Michelle, they found out on the day before Dale's discharge from the army that she was pregnant. Their daughter Lydia was born in 2012. Lydia has been a big motivation for Dale in his recovery. "My daughter pushes me. I want to learn to walk again for her," he says. She has only ever known him as he is following his injury.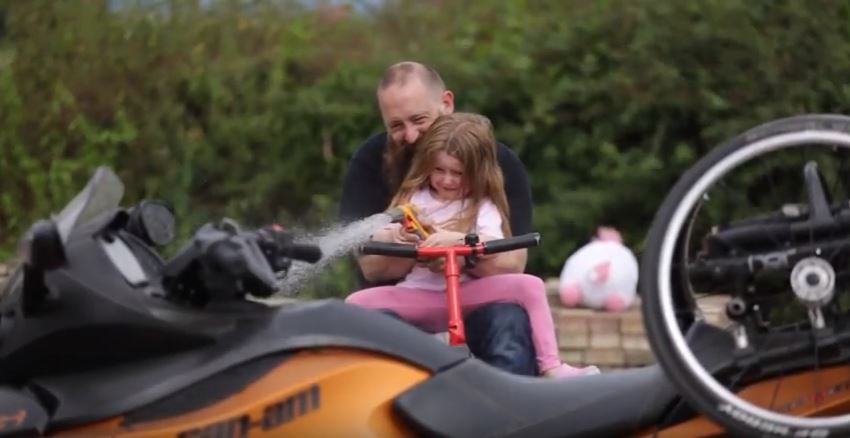 Compensation
Dale had to claim compensation from his employer, the Ministry of Defence. After a long career in the army, this left him feeling guilty and as though he was "biting the hand that feeds". He appreciated, however, that he needed to focus on his medical recovery and future financial security.
Dale received a multimillion-pound compensation settlement that has enabled him to have access to an exo-skeleton for rehabilitation.
Dale's life after injury
Dale is now able to stand and walk on crutches thanks to the exo-skeleton. He works part-time demonstrating the benefits of the exo-skeleton.
Dale has recently taken up clay pigeon shooting. He says it's the closest thing to a reminder of life in the army.
"The case was from the beginning a scary journey", says Dale, "but one that has allowed me and my family to continue with life, and to continue with a secure future."
---
We have teamed up with three other clients who have catastrophic injuries to also tell their stories. Please visit the Life Beyond Injury webpage to see their films.
We hope that by sharing these stories, newly injured people can see that with the right support they too can overcome adversity to lead full and active lives.
Please feel free to share our films. You can join in the conversation and share your stories of overcoming adversity to lead a fulfilling life beyond injury:
On Twitter, using the hashtag #lifebeyondinjury.
Or on Facebook, using the same #lifebeyondinjury hashtag.
---
Our specialist injury lawyers deal with a range of catastrophic injury claims. These include brain and spinal cord injuries as well as the loss of limbs resulting in the need for specialist prosthetics. You can find further information regarding our expertise, experience and team on our Personal Injury pages.
Our lawyers only handle a small number of cases at any one time. They work closely with their clients in order to understand the complex issues involved and the impact of the injuries sustained.
If you, like Dale, have sustained a catastrophic injury and need assistance or advice please call our specialist team on 020 7822 8000 or by email on pi@stewartslaw.com.
---
Media contact: Lydia Buckingham, Senior Marketing Executive, Phone: +44 20 7822 8134, Email: lbuckingham@stewartslaw.com