"To come through it all and still be able to see positivity in it all is a marvellous thing"
Martin has always been into motorbikes, even as a child. On the way back from a motorbike touring holiday with his partner Karen, they were involved in a road traffic accident and Martin sustained a spinal cord injury.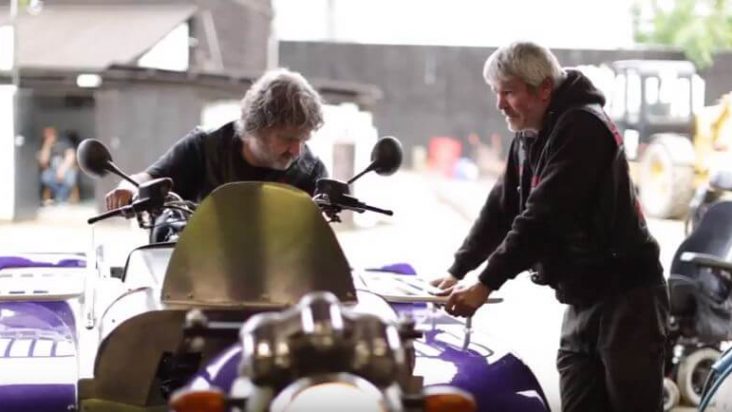 The accident
Martin and Karen met in the mid-1980s. After losing touch for 25 years, LinkedIn brought them back together. Before settling down, they decided to go on a motorbike touring holiday. On the way home, they were in an accident and Martin sustained a spinal cord injury.
Martin was operated on in Newcastle Victoria Royal Infirmary then transferred to Stoke Mandeville, National Spinal Injuries Centre for rehabilitation. He received support from his family and friends after the accident, with Karen by his side the whole time.
Cancer diagnosis
A year after Martin's accident, Karen was diagnosed with a reoccurrence of cancer. After a few short months, she fell ill and died within a matter of weeks. Martin says: "Just as I was getting better, Karen was going downhill. It seemed so cruel".
Compensation
Martin received more than £1m in interim payments to provide rehabilitation, equipment and a house. It meant he could buy a bungalow he was able to adapt to meet his needs. He went on to receive a substantial compensation settlement.
Martin's life beyond injury – on the road again
The accident changed Martin's perspective on life. Losing Karen meant he had to become more independent. Most of all, Martin wanted to get back out on the road. He managed to locate a wheelchair driven trike and has recently taken it on its maiden journey.
"The accident and its consequences have had an undeniable effect on not just myself, but my family and friends around me, too. Above all else, it has reaffirmed my belief that you should live your life to the full, not put anything off until tomorrow and most importantly JUST DO IT!"
"In the space of just 12 months, my whole world was turned upside down. The accident and injury sustained were bad enough, but to then have my partner taken away from me so soon was devastating. I've had to re-evaluate my life and my priorities and I've realised that it doesn't matter about your gender or religion, your ethnicity or language, your ability or disability, you can still do anything you want to do and it's a much better option than not having the option at all."
"To come through it all and still be able to see positivity in it all is a marvellous thing"
---
We have teamed up with other clients who have catastrophic injuries to also tell their stories. Please visit the Life Beyond Injury webpage to see their films.
We hope that by sharing these stories, newly injured people can see that with the right support they too can overcome adversity to lead full and active lives.
Please feel free to share our films. You can join in the conversation and share your stories of overcoming adversity to lead a fulfilling life beyond injury:
On Twitter, using the hashtag #lifebeyondinjury.
Or on Facebook, using the same #lifebeyondinjury hashtag.
---
Our specialist injury lawyers deal with a range of catastrophic injury claims. These include brain and spinal cord injuries as well as the loss of limbs resulting in the need for specialist prosthetics. You can find further information regarding our expertise, experience and team on our Personal Injury pages.
Our lawyers only handle a small number of cases at any one time. They work closely with their clients in order to understand the complex issues involved and the impact of the injuries.
If you, like Martin, have sustained a catastrophic injury and need assistance or advice please contact us.
---
Media contact: Lydia Buckingham, Senior Marketing Executive, +44 (0) 20 7822 8134, lbuckingham@stewartslaw.com