Three models of exoskeletons were demonstrated to an audience of industry professionals at STEPS Rehabilitation in Sheffield on 13 June, with Stewarts' client Dale Messenger demonstrating one device. Partner Ben Rogers spoke at the event about the benefits these devices can bring to users.
Dale Messenger, who featured in one of our Life Beyond Injury films, demonstrated the Ekso GT device, and explained how much the exoskeleton has benefitted his mental and physical recovery. Dale was shot during military training in the Falkland Islands, which resulted in him becoming paraplegic. Speaking to the Yorkshire Post about the event, Dale commented:
"I went through real pain. I was on a lot of opiates. Nothing I did was helping. I trialled the Ekso three years after my injury. I loved it. By the end of the trial the pain levels went down significantly. That was big for me. It's a big adjustment. Sport was a big thing in my army career and still is. My mental state improved, my physical state improved and I was able to go to the gym. And here we are today."
The people who are currently benefitting most from the technology are those who have had a stroke, or sustained a spinal or head injury. Those supporting and working with exoskeleton users believe that the impact of the suits is remarkable and extensive.
Ben Rogers was the first UK lawyer to secure landmark awards of compensation for the purchase and replacement of the REX and Ekso exoskeletons for his clients. Ben commented in the Yorkshire Post:
"They are suitable for people suffering from strokes or who have other neurological conditions. But the issue is funding. You're not going to get them through the NHS."
There are currently around 25 exoskeletons being used by people in the UK for medical purposes. Partner Daniel Herman acts for a client who became the first person in Europe to secure damages to purchase the Indego exoskeleton. Speaking to the Yorkshire Post, Daniel commented:
"We expect that to increase significantly. We have a number of clients looking to purchase exoskeleton devices in the next few months."
Patients using an exoskeleton can experience improvements  in their condition, including: better circulation; bone density; bladder and bowel functionality; a reduction in neuropathic pain and spasms; functional mobility improvements and increased muscle strength; considerable psychological benefits and an ability to pursue everyday tasks and hobbies.
As an emerging technology with a variety of applications from medical rehabilitation to use in industrial manufacturing, exoskeletons have received significant investment in recent years. However, despite this investment the potential of exoskeletons is not yet fully appreciated.
Following the event, Ben commented:
"I thought the day was a great success in raising awareness of the pioneering exoskeleton technology. At Stewarts, we have found it can make such a difference to our seriously injured clients' lives, getting them back up on their feet again."
The full article about the event, which featured in the Yorkshire Post, is no longer available online.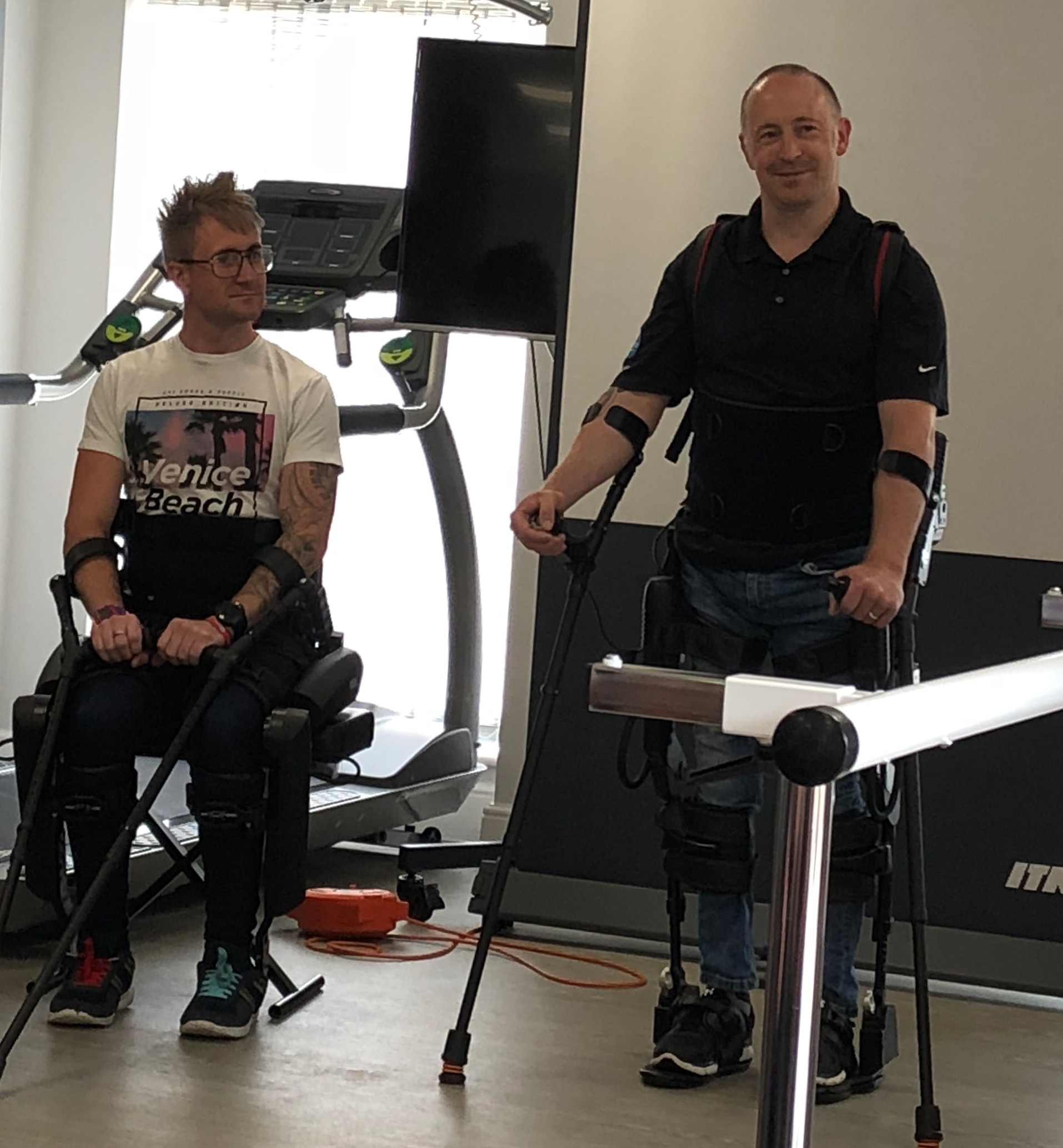 Dale Messenger and Simon Kindleyside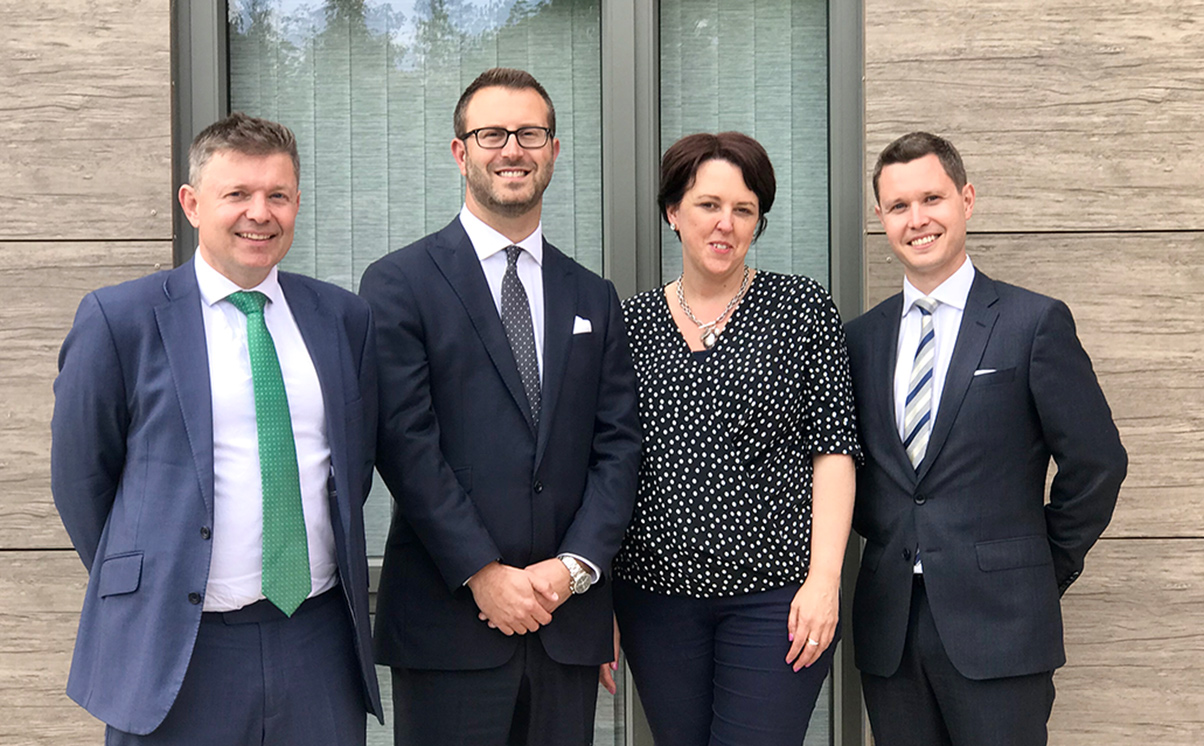 Ben Rogers, Daniel Herman and Chris Smith of Stewarts with Jules Leahy of STEPS
---
You can find further information regarding our expertise, experience and team on our Personal Injury pages.
If you require assistance from our team, please contact us or alternatively request a call back from one of our lawyers by submitting this form.
---
Life Beyond Injury
We teamed up with some of our clients who have catastrophic injuries to tell the stories of their injury, their case and life beyond. Please visit the Life Beyond Injury webpage to see more.
We hope that by sharing these stories, newly injured people can see that with the right support they too can overcome adversity to lead full and active lives.
Please feel free to share our films. You can join in the conversation and share your stories of overcoming adversity to lead a fulfilling life beyond injury:
On Twitter, using the hashtag #lifebeyondinjury.
Or on Facebook, using the same #lifebeyondinjury hashtag.
Media contact: Lydia Buckingham, Senior Marketing Executive, +44 (0) 20 7822 8134, lbuckingham@stewartslaw.com