A young former footballer who lost both of his legs in a tragic hit and run accident in July 2016 has been given the opportunity to swim again thanks to special prosthetic legs.
Shaun Whiter has been fitted with the swim legs, which have adjustable feet specifically for use in the water, by Pace Rehabilitation where he is undergoing rehab for his injuries.
During rehab, Shaun managed to jump in the pool with the prototype legs to test them out. The finished legs have been produced in time for upcoming holidays to Cornwall and the Caribbean, where Shaun hopes to do some snorkelling.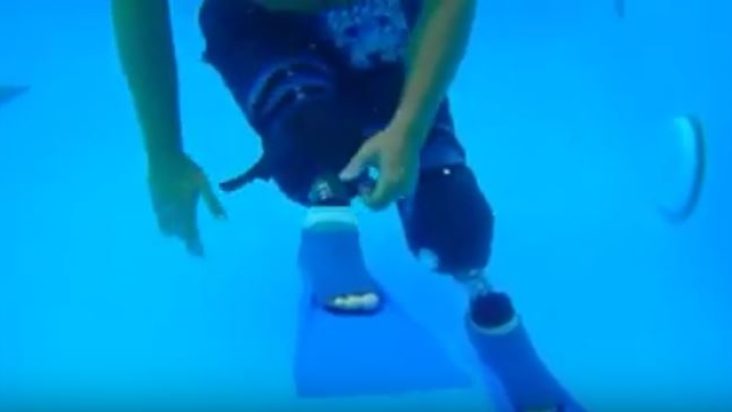 Shaun commented on his new legs:
"The new legs have been fantastic and a great opportunity to move around the pool and the beach with a lot more ease. When in the water, the help of the fins allows me to keep up with friends and family when swimming, snorkelling or body boarding. I can't wait to take them on my next trip."
Nichola Fosler, solicitor representing Mr Whiter comments "it is great to see Shaun continuing with his rehabilitation and for him to have prosthetics which enable him to return to the leisure activities that he enjoyed prior to his accident."
To read more about Shaun's rehabilitation and recovery, see his Life Beyond Injury story here.
---
Life beyond injury
We have teamed up with other clients who have suffered catastrophic injuries to tell their stories of Life Beyond Injury. Please visit the Life Beyond Injury webpages here.
We hope that by sharing these stories, newly injured people can see that with the right support they too can overcome adversity to lead full and active lives.
You can join in the conversation and share your stories of overcoming adversity to lead a fulfilling life beyond injury: on Twitter, here #lifebeyondinjury; or on Facebook, here #lifebeyondinjury.
---
You can find further information regarding our expertise, experience and team on our Personal Injury pages.
If you require assistance from our team, please contact us or alternatively request a call back from one of our lawyers by submitting this form.
---
Subscribe – In order to receive our news straight to your inbox, subscribe here. Our newsletters are sent no more than once a month.