In September 2022, Nick Knowles and Nadia Krueger-Young delivered an expert witness training seminar on risk management and avoiding litigation in a medical setting. The session addressed what a clinical negligence case involves, provided case studies and addressed the issues of consent and care administration.
You can view the recording of the webinar here: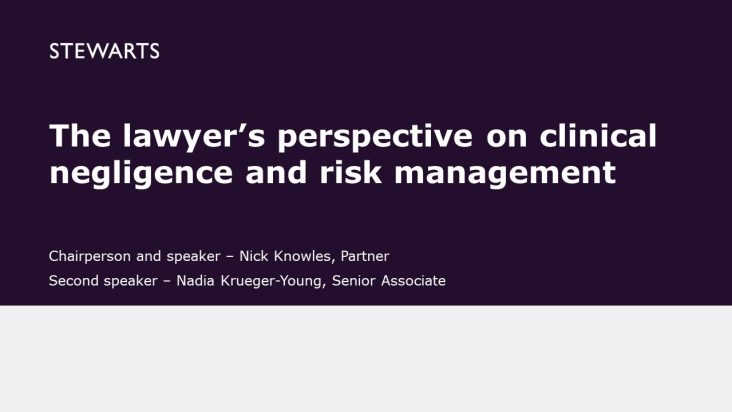 How a clinical negligence case works
The session began with a definition of a clinical negligence case, a claim for compensation for injury that can be applicable to any healthcare professional. Cases involving NHS care are brought against the relevant trust. Burden of proof of failure to uphold duty of care is on the patient or claimant involved.
For breach of duty to be proven, the standard of treatment must fall below that of a reasonably competent clinician. Courts will apply the Bolam test: a clinician will only be negligent if no responsible body of clinical opinion would have acted in the same way.
It is important to note that breach of duty alone is not always sufficient to deciding a clinical negligence case in favour of the claimant. The breach must have caused an injury which has resulted in avoidable harm against the patient. The court must consider what would have happened if the treatment had been reasonable.
The issue of consent
Consent is a fundamental principle of healthcare and must be voluntarily given by the patient themselves or a responsible party, either of which must have capacity to make the decision. Most importantly, the patient must receive the necessary and correct information to make an informed decision.
The judgment given by the Supreme Court in the precedent-setting case of Montgomery v Lanarkshire Health Board established that a doctor is "under a duty to take reasonable care to ensure that the patient is aware of any material risks involved in any recommended treatment, and of any reasonable alternative or variant treatments. The test is whether, in the circumstances of the particular case, a reasonable person in the patient's position would be likely to attach significance to the risk, or the doctor is or should reasonably be aware that the particular patient would be likely to attach significance to it."
Additional tips
The session also addressed the importance of care in administration, and provided examples of serious consequences when a mistake was made. Good record keeping is essential throughout the healthcare process, and even a small error such as not updating a postal address can lead to a serious problem such as a patient being discharged in error or a delayed diagnosis.
Small actions can make a big difference in shaping a patient's overall experience of their medical care and, where something goes wrong, whether they decide to bring legal action. Examples include whether apologies are provided by medical professionals when necessary and the tone in which messaging is delivered.
Case studies
Nick and Nadia provided case studies throughout the session to explain the concepts involved in a clinical negligence case. You can find examples of relevant case studies across the Stewarts website.
Q&A session
Following the main presentation, Nick and Nadia answered questions posed by the audience. Some of these included:
How much information is sufficient for consent around treatment?
Is there a way of reducing delays to birth injury cases?
Have you experienced changes in your practice following the Covid-19 lockdowns?
Following discussions of treatment options, how can you deal with a patient that chooses an option not in their best interests?
---
You can find further information regarding our expertise, experience and team on our Clinical Negligence pages.
If you require assistance from our team, please contact us.
---
Subscribe – In order to receive our news straight to your inbox, subscribe here. Our newsletters are sent no more than once a month.