The Covid-19 pandemic and the restrictions the nation has been placed under have put a strain on even the strongest relationships. Sharing work and home space, as well as the pressure of home-schooling and health concerns, have proved to be too much for some and created a 'perfect storm' for relationships to break down.
From the lockdown situation of summer 2020 to the gradual unlocking in 2021, the number of people seeking divorce related advice has repeatedly increased compared to the same periods in previous years. Stewarts' lawyers have provided commentary on the potential reasons for this.
Sky News story in 2020
Emma Hatley appeared on Sky News to discuss some reasons for the firm seeing divorce enquiries rise by 122% from July to October 2020 compared to the same period in 2019. Surveys conducted by Citizens Advice Bureau showed similar trends. Emma noted that the increased pressure of home working and schooling, as well as potential health and financial concerns may have played a role in this.
Emma explained that there are usually two peaks during the year when divorce enquiries spike, September after the school holidays and January after the Christmas holidays. This indicates that prolonged periods of family time can often result in relationship breakdown. She explained that the Covid-19 lockdown seemed to have flattened the September peak, resulting in a steadier stream of enquiries through 2020.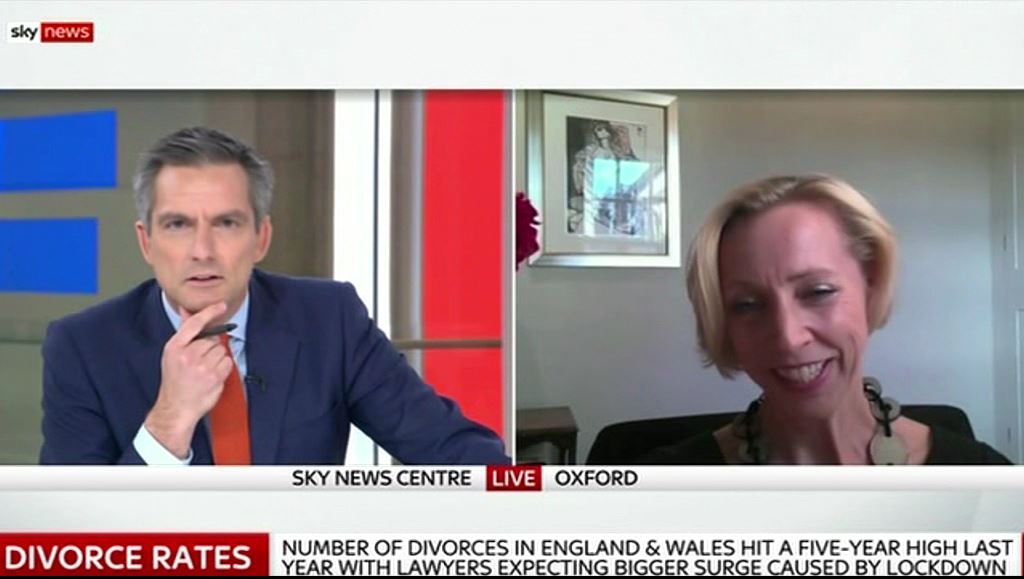 Emma also mentioned the 'no fault' divorce reform due to be implemented in April 2022, which will remove the requirement for divorcing couples to list one party as at fault. Some couples who have split amicably are holding off until this has been brought in before issuing their divorce petition. This increase in divorce rates is therefore likely to extend over the next year. She also discussed the potential impact of Brexit on divorce rates, particularly for international European families.
Emma's advice to any couple divorcing, if they have children, was to put the children first in any discussions. It's important for parents to continue in that role, even if they plan to part ways. For couples without children, Emma advised on the importance of transparency and recognition of each party's legal obligations from the outset of divorce proceedings.
A year of more divorces
Carly Kinch spoke to BBC Worklife in December 2020 about some of the potential reasons divorce enquiries are up in 2020. Data collected by the firm suggests a 122% increase in enquiries between June and October 2020.
"I think lockdown is essentially like those prolonged periods, but with enormous added pressures," Carly said. What's been different is the significant increase in the number of women initiating divorces, with 76% of new cases coming from female clients, compared with 60% a year ago.
In February 2021, Lucy Stewart-Gould spoke to The Times for their 'Stories of our Times' podcast, in an episode titled 'Love and Lockdown: The spike in divorces and breakups'. The episode looks at some of the reasons behind the increase in the number of divorce enquiries following Stewarts seeing a 122% increase in enquiries between September and December 2020.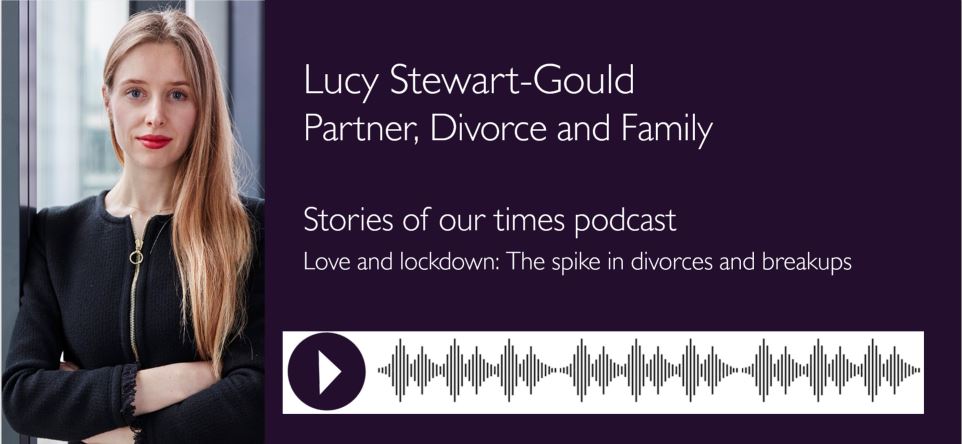 Lucy also outlined that the firm has seen a shift in the balance between male and female enquiries, with a roughly even split of enquiries between men and women in September 2019. She also talks about how the rate of enquiries almost doubled in September 2020.
Continued increases in 2021
Following periods of predicted consistency in divorce rates as lockdowns continued into 2021, the number of people seeking divorce related advice soared by 136 per cent in June 2021, compared to January, as lockdown restrictions eased. Sarah Havers spoke to City AM regarding the soaring number of people seeking divorce related advice.
"Even the strongest of marriages have been severely tested by the overall stresses of the pandemic – financial, emotional and physical," Sarah said. "What's interesting is that now restrictions are lifting, many couples can no longer sustain who they were in lockdown. Having been forced to take a long, hard look at their partners, the much-heralded promise of 'freedom day' has taken on a whole new meaning."
Sarah added that the firm has also seen a 100 per cent increase in enquiries about pre-nuptial agreements in June 2021, compared to February, ahead of a summer full of weddings.
---

Covid-19 is impacting individuals and companies around the world in an unprecedented way. We have collected insights here to help you navigate the key legal issues you may be facing at this time.
---
You can find further information regarding our expertise, experience and team on our  Divorce and Family pages.
If you require assistance from our team, please contact us.
---
Subscribe – In order to receive our news straight to your inbox, subscribe here. Our newsletters are sent no more than once a month.