Dan Herman is appointed as Head of Personal Injury from 1 May 2022, as Paul Paxton steps down from the role.
Dan has been at Stewarts for 22 years. He is also Head of the Leeds office, which he established in 2003. Dan has specialised in serious personal injury cases throughout his career, with most of his clients having sustained a spinal cord injury or brain injury.
Dan has been involved in more than 60 cases in which the claimant received compensation in excess of £1m. He has been recognised as a leading personal injury lawyer in Yorkshire by Chambers for more than 10 years. He is described as a "leader in his field", "an utterly first class lawyer" and "very bright, he's got a great eye for detail and he's got tremendous experience. He's passionate about the litigation and also about looking after the clients throughout the process".
Paul Paxton will step back from active case work from 30 April 2022. Paul joined the firm in 1997 and is currently the second longest-standing member of the firm. During his 25 years at Stewarts, Paul has been involved in some of the largest, most complex and most high profile personal injury cases of all time.
The legal directories have described Paul as, "the epitome of polite professionalism", "a PI heavyweight" and "the leading claimant lawyer in the country".
During Paul's tenure as Head of Personal Injury, Stewarts has become the leading catastrophic injury practice in the country.
Paul comments:
"Dan is the perfect successor; incredibly experienced, hugely respected by his peers and with the energy, drive and vision to develop this fantastic department even further."
Dan comments:
"Paul's official job title might be 'Head of Personal Injury' but in truth he's been the life and soul – the heartbeat of the firm – for many years. His good humour, his generosity and his enthusiasm has been felt beyond his own department and across the firm."
"Paul has been my boss for 22 years. During that time he has recruited and developed a new generation of PI lawyers who are now themselves regarded as leaders in the field. He's universally respected and admired by counsel, experts and opponents – a huge figure in the PI world. I can't remember a single occasion when he's been anything but supportive, encouraging and understanding. He's been one of the biggest influences on my career and I hope he continues to steer me in the right direction."
Dan's career story
You can read Dan's career story from April 2020, here.
---
Life beyond injury
We have teamed up with other clients who have sustained catastrophic injuries to tell their stories of Life Beyond Injury. Please visit the Life Beyond Injury webpages here.
We hope that by sharing these stories, newly injured people can see that with the right support they too can overcome adversity to lead full and active lives.
You can join in the conversation and share your stories of overcoming adversity to lead a fulfilling life beyond injury: on Twitter, here #lifebeyondinjury; or on Facebook, here #lifebeyondinjury.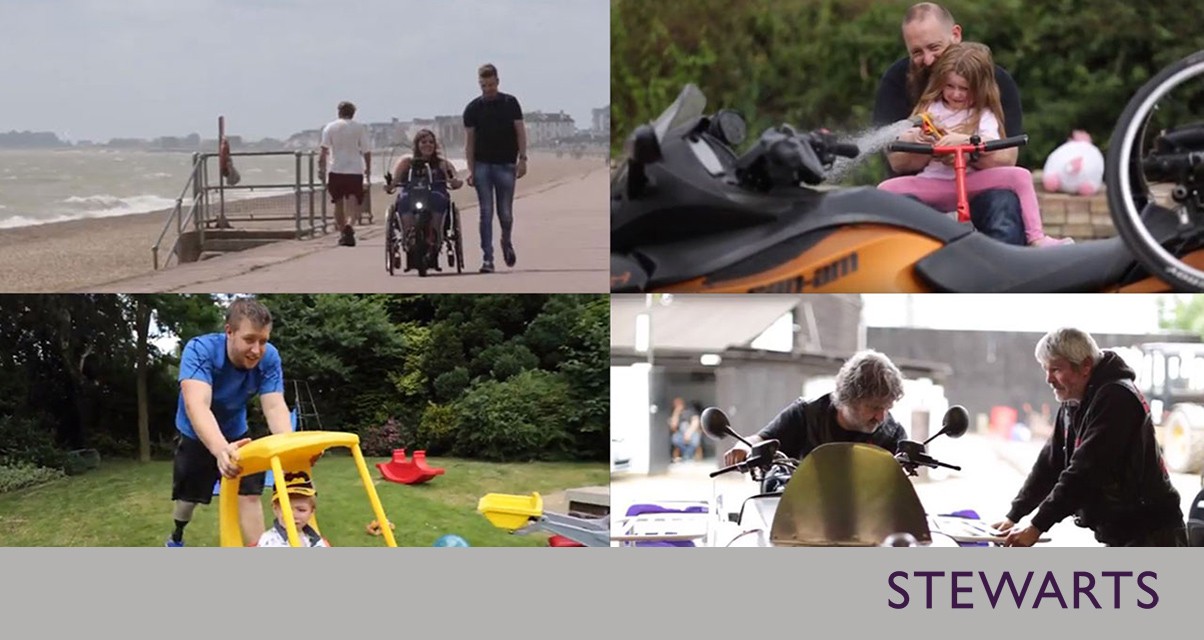 ---
You can find further information regarding our expertise, experience and team on our Personal Injury pages.
If you require assistance from our team, please contact us.
---
Subscribe – In order to receive our news straight to your inbox, subscribe here. Our newsletters are sent no more than once a month.