A team from Stewarts joined the latest HotChillee London to Paris cycle ride in July 2022, raising thousands of pounds for the Back Up Trust. The riders completed a 300 mile journey over three days.
Stuart Dench, Keith Thomas, David Savage, Ben Rogers, Daniel Wilmot, Kara Smith, Lydia Buckingham, Liana Turner, Helena Khullar, Jordan Coppin, Joseph Dowley, Sophie Faulkner, James Boissier, David Horne and Louise Jones all participated in the ride.
There is still time to donate to the event fundraiser for the Back Up Trust and learn more about the charity's work here. Our team has raised more than £17,000, going toward the more than £113,000 raised for Back Up by organisations and individuals.
Day One
The riders gathered bright and early for a 5am arrival completing last minute prep for a 5.45am roll out. By the first comfort break at the 30km mark the team were all chatting and sharing our reasons for doing the ride.
Lunch came around surprisingly quickly. Refuelled and ready to take on the afternoon, everyone rolled out of the Chequers in Lamberhurst, Kent and were soon met with the first of three pretty intense climbs. Biggest lesson for the day: hills straight after lunch isn't the greatest idea!
The team completed a final pit stop at the 135km point before rolling in to Folkestone at 160km to finish day one at around 3.20pm, greeted by a warm welcome of cheering, music and high-fives at the very glamourous service station finish line. Next stop: coaches to Dover and the ferry to Calais.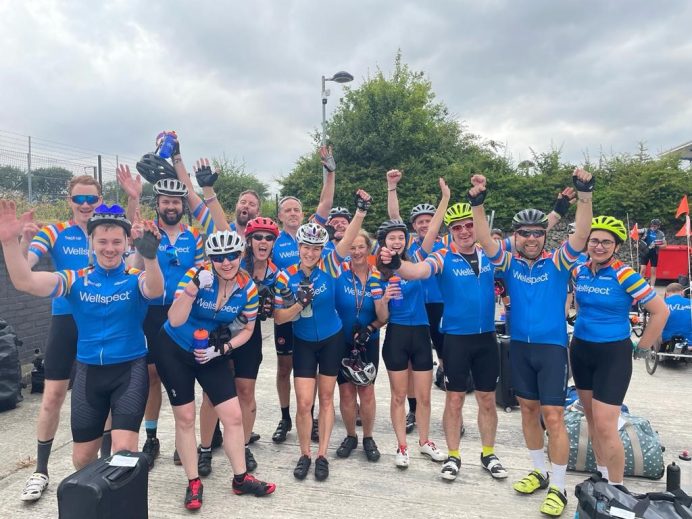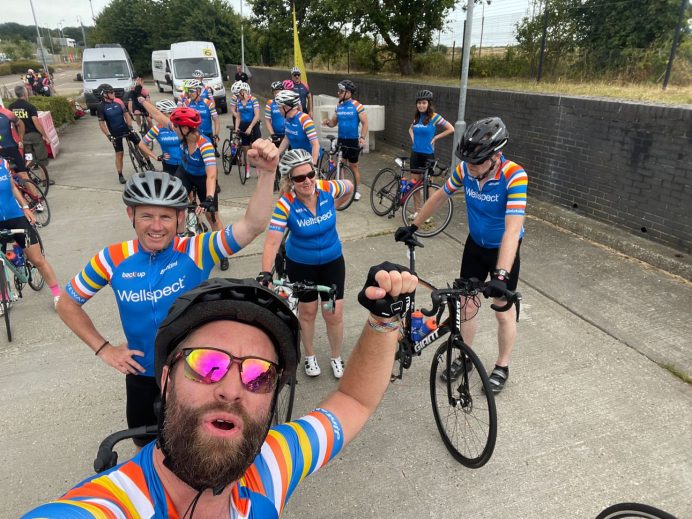 Day Two
A slightly smaller group of riders left Calais on day 2, the first day of riding in France, after a customs error left some people temporarily without bikes. But the group powered on to Amiens on what turned out to be a difficult morning with some serious climbing in the heat.
Through grit and determination the team made it through to lunch, but exhaustion was starting to set in. Reunited with their bikes, the rest of the group joined and everyone got to experience some of the gorgeous French countryside, smooth roads and warm welcome that had been promised. Light rain on the entry to Amiens was welcomed by all!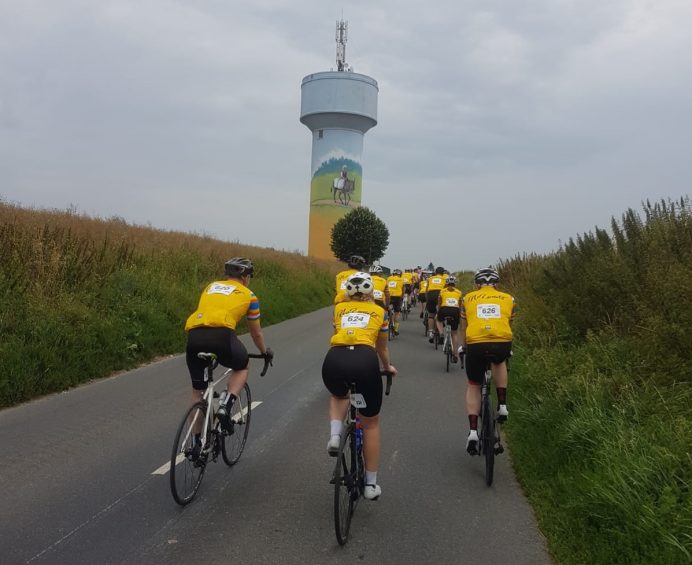 Day Three
The final day and it was a big one. Group Six – the Back Up group – set off first with an early start at 6.40am. It was the longest morning, with 144 km to complete until the lunch stop. Some gruelling climbs and a couple of mechanical issues could not stop our riders despite some tears and lots of fatigue.
After lunch, all groups gathered to roll into Paris together, with our five hand cyclists at the front, forming a peloton of around 350m that was about one kilometre long. The peloton rolled into Paris, past Saint-Denis and over cobbled streets.
There's no more iconic finish line than the Eiffel Tower and a huge welcome awaited the finishers with spectators gathering en-masse to cheer the riders in. Lots of friendly faces from Back Up were there at the finish line.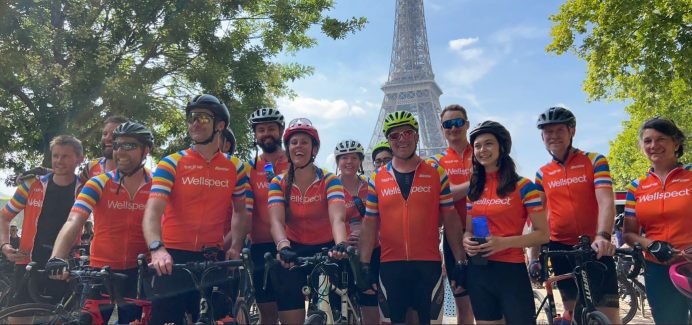 Quotes from our riders
Managing Partner Stuart Dench commented:
"Every member of the team represented the No Limits cause with absolute courage and commitment. I'm very happy to have been part of this fantastic event."
Kara Smith:
"I'm beyond proud to have once again taken part in the No Limits London to Paris ride.  It was a privilege to ride alongside 18 of my colleagues, the five amazing and inspirational hand-cyclists and the rest of the No Limits team who started off as strangers to us but ended as friends. The whole team supported and encouraged each other for the entire three days and demonstrated resilience and determination throughout. We were greatly encouraged by the messages of support and donations that came in throughout the ride and are hugely proud of the amount of money raised for Back Up. The 2018 and 2022 No Limits rides were life changing for me and I'm so lucky to have been involved in something so important. I'm excited for the next No Limits challenge already."
Ben Rogers:
"I'm pretty worn out still, but what an amazing experience. I learned a lot about myself and a lot of positive things about other people. I am still processing what we did and taking important lessons from it. It was a truly life changing experience."
Lydia Buckingham:
"I thought I was signing up to cycle from London to Paris. But once on the trip I realised this was something much, much bigger. This was about teamwork, and about helping each other, physically, mentally, emotionally. But most importantly, it was about creating an atmosphere that makes sport accessible to anyone and everyone. To be part of a group that genuinely has No Limits."
Virtual London to Paris ride
One of the original team members, Andrew Benzeval, had to pull out of the challenge due to injury. However, he recovered enough to be fit enough to participate virtually, and kept in touch with our riders on their way to Paris as he completed the equivalent distance each day on his static bike at home.
The Back Up Trust
For over 30 years, Back Up has helped injured people and their families to rebuild their independence after spinal cord injury. Their services help catastrophic injury patients to increase their skills and confidence.
Back Up's services include mentoring, wheelchair skills training and activity courses as well as support in getting back to work or school after an injury.
Sean McCallion, Head of Fundraising at Back Up Trust commented:
"Thank you to everyone who donated to and participated in this event. Your generous support will help ensure that we can support more people whose lives have been turned upside down by a sudden spinal cord injury. We are there for people in their darkest hours, often when things seem hopeless and loved ones don't know how to help. Through wheelchair skills training, mentoring and activity courses we rebuild confidence, independence and show a positive future."
A parent of a recent user of Back Up's services said: "My son has gone from not wanting to have a life to seeing a more positive version of what his life can be. I don't think any other service can offer what Back Up has offered. Just when we needed it most Back Up was there."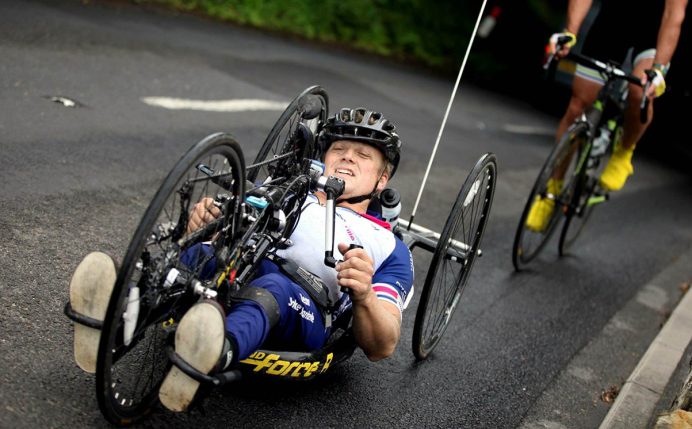 In 2012, Stewarts Personal Injury partner and Back Up trustee Danny Turnbull was instrumental in opening up the London to Paris ride to hand-cyclists. The July 2022 event marks the tenth anniversary of that ride.
Danny sadly lost his battle with cancer in April 2017. The following year, a group of riders from Stewarts rode the #RideforDanny London to Paris in his memory. Read more about that here.
---
Life beyond injury
We have teamed up with other clients who have sustained catastrophic injuries to tell their stories of Life Beyond Injury. Please visit the Life Beyond Injury webpages here.
We hope that by sharing these stories, newly injured people can see that with the right support they too can overcome adversity to lead full and active lives.
You can join in the conversation and share your stories of overcoming adversity to lead a fulfilling life beyond injury: on Twitter, here #lifebeyondinjury; or on Facebook, here #lifebeyondinjury.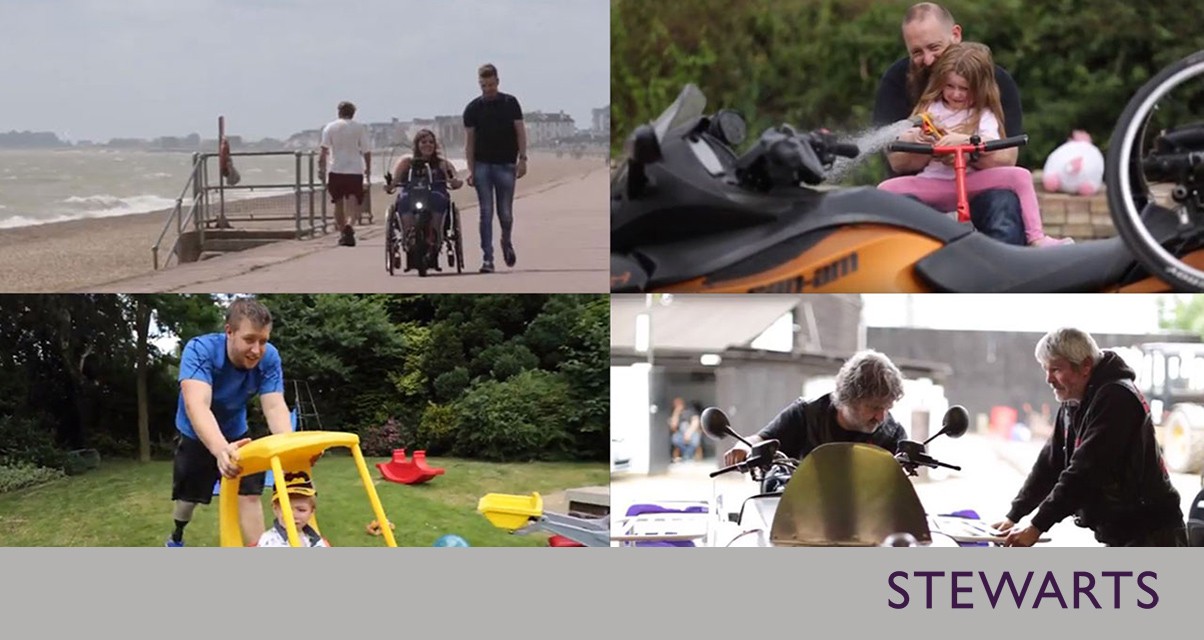 ---
You can find further information regarding our expertise, experience and team on our Personal Injury pages.
If you require assistance from our team, please contact us.
---
Subscribe – In order to receive our news straight to your inbox, subscribe here. Our newsletters are sent no more than once a month.