A series of 15-minute webcasts
A series of bitesize sessions brought to you by our specialist lawyers and featuring some special guest speakers.
The series is designed to deliver concise and interesting updates, conversations and presentations on a range of topics.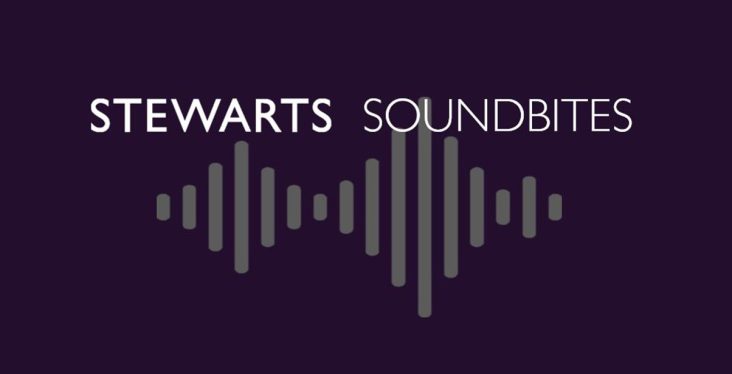 Episode 13 – "Distinguishing treatable symptoms after Traumatic Brain Injury; an insight into alternative assessment and treatment for fatigue, cognition, sleep, dizziness and mood disturbance" with Dr Nicholas Silver, Consultant Neurologist.
In this episode, Emma Lyons and Dr Silver discuss the origins of fatigue after traumatic brain injury as well as the potential treatable causes. Dr Silver offers invaluable insight into simple assessments of and treatment for fatigue that are commonly overlooked and explores other treatable symptoms arising from brain injury including poor cognition, sleep difficulties, dizziness and mood disturbance. He explains whether it is possible to distinguish between the pervasive and chronic symptoms compared to those which may be addressed by assessment and treatment.
Dr Silver is a pre-eminent Consultant Neurologist at The Walton Centre. This promises to be a fascinating 15 minute bitesize session for all involved in working with those who have sustained brain injury. We hope you can join us.
When: Wednesday 2 December
Time: 1:00 -­ 1:15pm
Episode 12 – Rental Properties after Serious Injury; Obstacle or Opportunity?
Emma Lyons and Phill Gill talked "all things rental" in this episode of Stewarts Soundbites. Phill Gill is the Managing Director of PLG Consultants, disability property specialists. He discussed the common problems faced by people searching for a new home after catastrophic injury and explores the opportunities that arise in "trialling" a completely different living environment.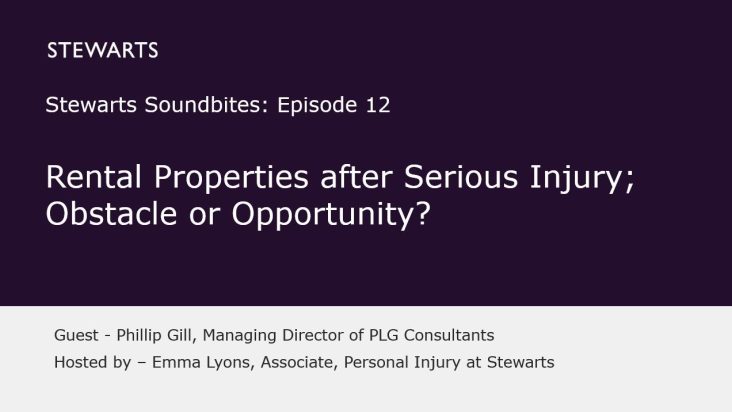 Episode 11 – Common Employment Issues (and how to deal with them) after Serious Injury
In this episode, Emma Lyons discussed the most common employment issues that arise for those affected by catastrophic injury with Will Young, a barrister specialising in personal injury and employment law. Will provided advice in relation to the important early steps to be taken by someone who has been injured (or their family or case manager) in relation to their employment following serious injury. He explained what the employer's duties are in relation to holding jobs for people and basic salary entitlement. Will discussed a person's right to 'reasonable adjustments' in the workplace and the protection that discrimination law affords those affected by serious injury. He also provided guidance for family members who find themselves suddenly in a position where they become carers and are facing difficulties in their own employment.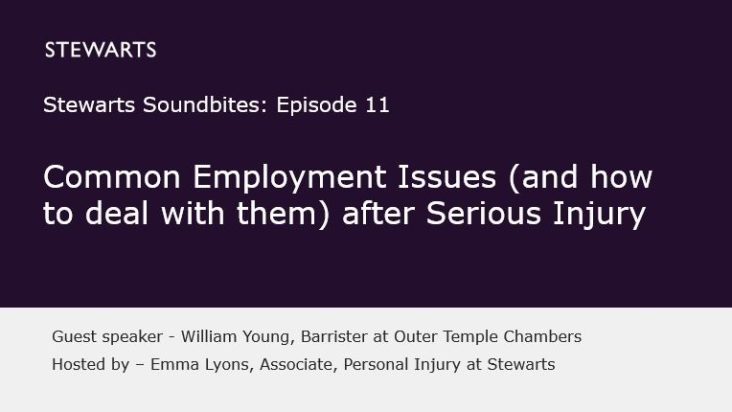 Episode 10 – Brachial Plexus Injuries after Serious Trauma
In this fascinating episode, Emma Lyons discussed brachial plexus injuries after serious trauma with Mr Tom Quick, a Consultant Orthopaedic Surgeon specialising in peripheral nerve injury. Mr Quick provided a fascinating insight into brachial plexus injuries in the context of spinal cord injuries and discussed whether damage to the nerves can come about after primary trauma. He examined how injury to the brachial plexus is often overlooked, what the main symptoms are and what treating clinicians, case managers, carers and family members need to look out for. Mr Quick also covered the treatment that is currently on offer (and in development) for injuries to the brachial plexus.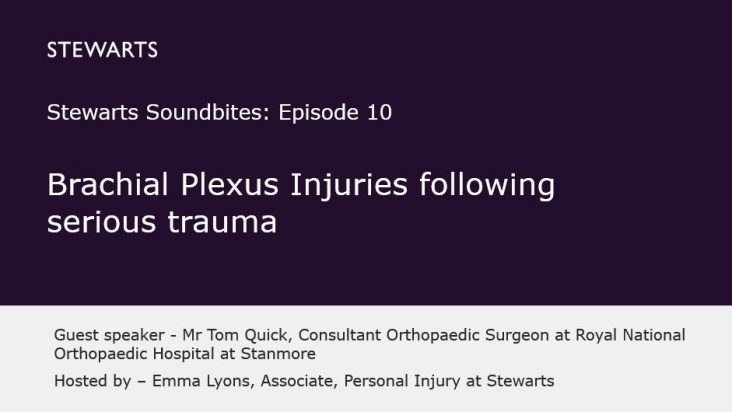 Episode 9 - The surprising link between pain and nutrition
In this episode, Sheri Taylor delivers an insightful look at the surprising link between pain and diet. She will explore the impact of nutrition upon chronic pain after catastrophic injury and will advise upon how food choices affect pain.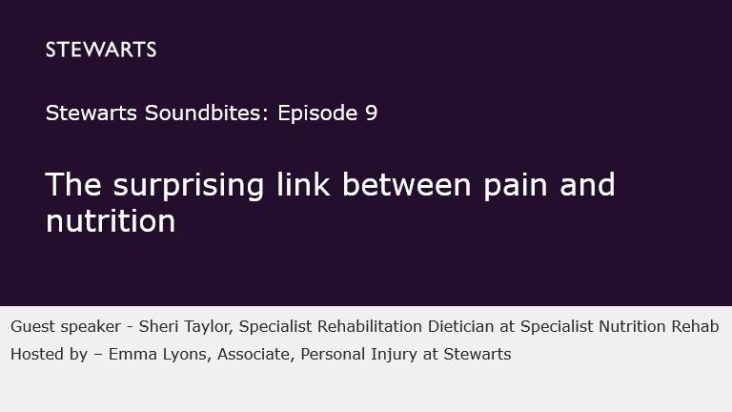 Episode 8 - Providing Continual Care for Amputees during COVID
In this episode, Clinical Specialist Prosthetist Jamie Gillespie spoke about how Pace have remained open during COVID and supported existing patients, as well as seeing an increase in referrals when perhaps they would have gone to the NHS initially, or instead of, the private route.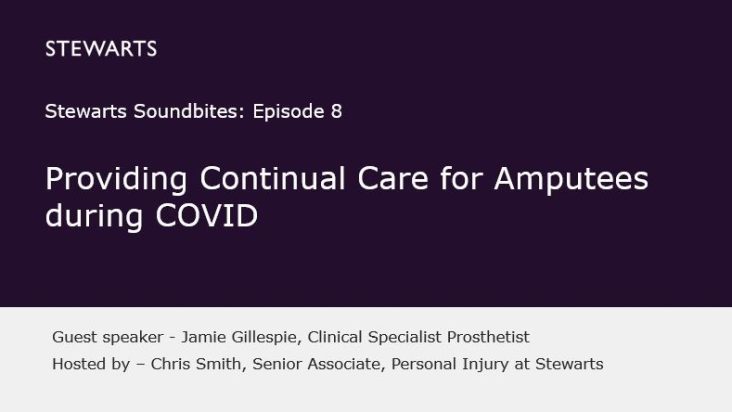 Episode 7 – Warm water therapy in spinal cord injury claims; an expert's perspective
In this episode, Partner Warren Maxwell spoke with Laura Bochkoltz, specialist physiotherapist and CPR Part 35 expert, on the benefits of warm water therapy for spinally cord injured patients.
The session covered: the different types of warm water therapies that are available; the benefits of warm water therapies; what issues experts consider when assessing a claimant's aqua therapy needs; and what evidence can be gathered by members of rehab MDTs to achieve the best outcome for their client and to assist the expert in forming a sound opinion.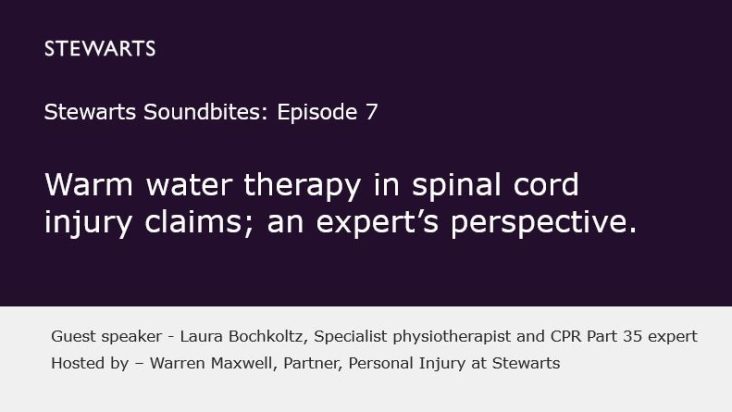 Episode 6 - A quick-fire guide to welfare benefits after serious injury; issues, appeals and the impact of coronavirus
In this session, Associate Emma Lyons and Grace Horvath­-Franco, a senior paralegal in the Stewarts Pro Bono department, discussed the key welfare benefits to be considered by those affected by serious injury and the professionals working with them.
A significant number of patients and their families experience a huge range of financial, social, and health issues as a result of serious injury or illness. Most people are not aware of the benefits available to them and the circumstances in which they may apply. This webinar aimed to provide a bitesize, yet comprehensive guide to welfare benefits after serious injury which will include: An overview of the key available welfare benefits; How to claim welfare benefits in light of the complications posed by COVID19; and How to prepare for welfare benefits appeals.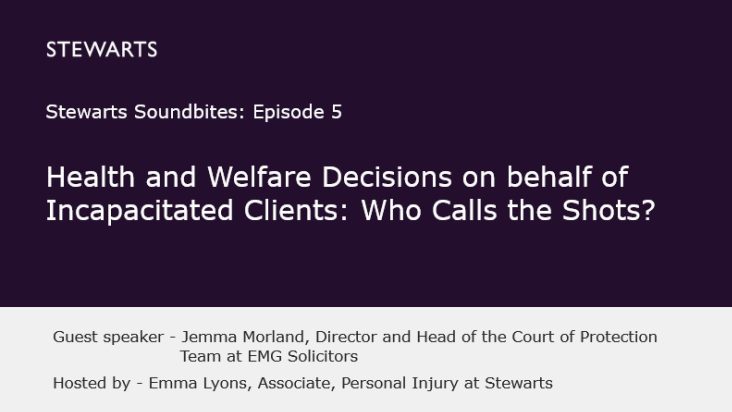 Episode 5 - Health and Welfare Decisions on behalf of Incapacitated Clients: Who Calls the Shots?
In this very special Q&A, we will talk to Jemma Morland, Director and Head of the Court of Protection Team at EMG Solicitors, about how to deal with health and welfare decisions to be made on behalf of a client who lacks capacity following a serious injury.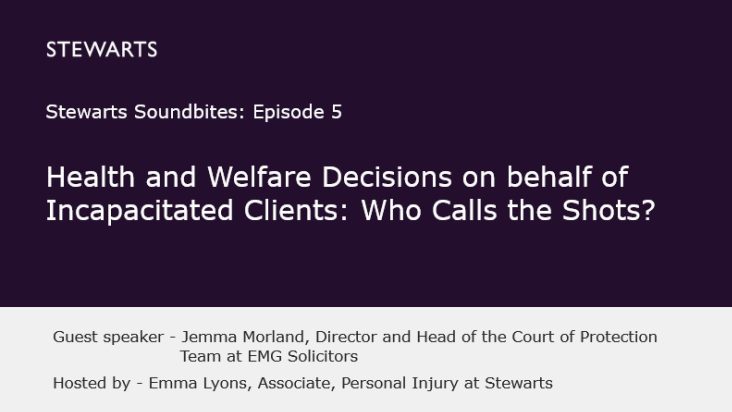 Episode 4 - In conversation with Dr Donald Brechin
We were delighted to speak with Dr Donald Brechin, Consultant Neuropsychologist, who addressed how individuals impacted by traumatic brain injury have coped from a psychological perspective throughout the different stages of lock down and what the challenges will be as we now emerge from it and establish a "new normal".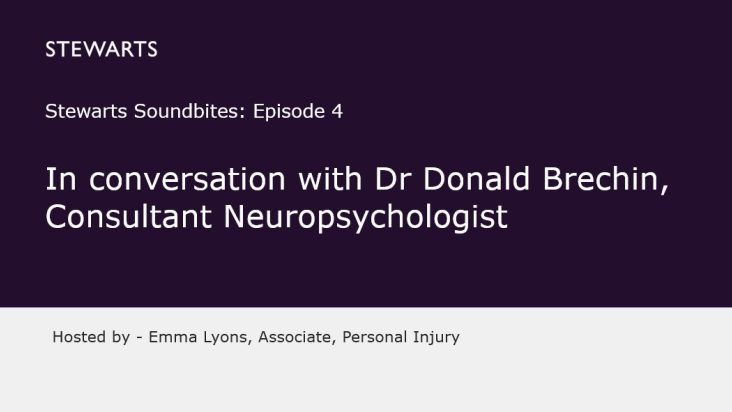 Episode 3 - Overcoming challenges within a rehabilitation setting during lock-down and beyond
We were delighted to have the founders of STEPS Rehabilitation as our special guest speaker for episode 3 of our Soundbites series. Associate Emma Lyons co-hosted with Senior Associate Chris Smith for a discussion with the founders of STEPS, Toria Chan and Jules Leahy, who discussed the challenges STEPS have faced during lockdown, how it has impacted their services and residents and how they have managed throughout.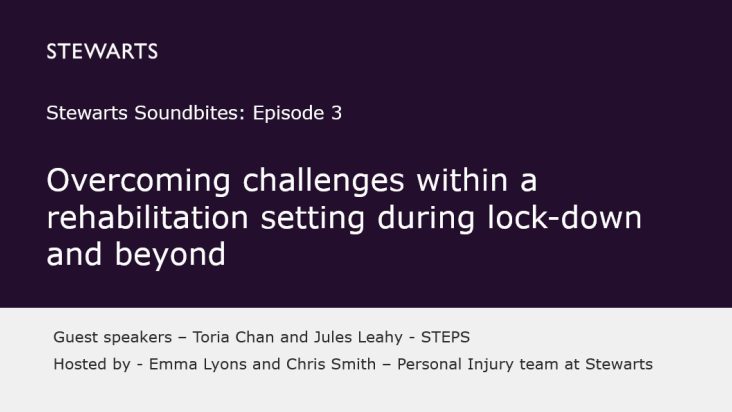 Episode 2 – Gerard McDermott QC's top tips for experts in report preparation during serious injury cases
Gerard McDermott QC provides his top tips for medical and non-medical experts in report preparation and presentation in serious injury cases.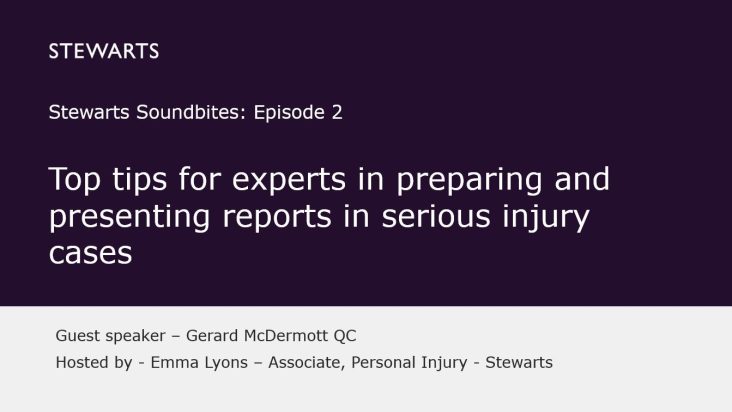 Episode 1 - The Virtues of Virtual Physiotherapy for Individuals with Traumatic Brain Injury
Speaker: Matt Booth, physiotherapist specialising in traumatic injuries – Flex Health
How brain injured clients have coped during lock down and how they have managed their individual physiotherapy needs;
The virtues of virtual therapy for brain injured clients and whether there is a long term place for virtual physiotherapy; and
Whether multi-disciplinary teams can work together on an almost exclusively virtual basis.