With a record 14 individuals and two departments ranked, Stewarts has once again achieved excellent results in the Chambers High Net Worth Guide.
Divorce and Family
The Divorce and Family department maintains market-leading Band 1 status in High Net Worth with nine individuals ranked. Industry insiders quoted in the guide describe the team as "really just the best of the best" and "absolutely first-class. They're the best firm for divorce by a long way in terms of the strength of their team."
Chambers notes that Stewarts "is particularly well regarded amongst sources for its deep bench and strength at all levels of qualification".
As in previous years, Emma Hatley and Helen Ward are listed as 'Star Individuals'.
Emma is described by one Chambers interviewee as "obviously fabulous, you can't get better than her. She is the all-round star." Another highlights that she is "absolutely dedicated to her attention to clients".
Helen Ward receives this feedback: "If there was a lifetime achievement award, she would have had it ten times over. She's the best." A barrister suggests "her mastery of every detail down to every letter is second to none, she is an incredible lawyer".
Both Debbie Chism and Stephen Foster maintain their Band 1 rankings. Head of Department Stephen Foster is acclaimed for "strategic ability", with sources suggesting his "strategic oversight is second to none. He is absolutely fantastic… and has great empathy with clients."
Debbie is described as "very, very astute. She really examines her cases from every conceivable angle and she sees the pitfalls and solves them before the other side sees them."
Richard Hogwood is listed in Band 2. "He's incredibly thoughtful and will fight your corner like no other", sources declare. A fellow solicitor says "he can grasp inter-jurisdictional matters in a way that is quite humbling".
Once again, Matthew Humphries and Sam Longworth are included in Band 3. Interviewees say Matthew is "as good as it gets in cut-and-thrust litigation" and a fellow family solicitor describes him as "unflappable and pragmatic".
Sam Longworth "is good at masterminding complex cases" and "is very intelligent and a good tactician", according to Chambers sources.
Toby Atkinson appears in Band 4, ranked in the High Net Worth Guide for the second consecutive year. Toby is "just superb" according to one quote. "He has high intelligence and a brilliant approach to complex cases."
Carly Kinch is again listed as an 'Up and Coming' partner. A barrister says Carly "really understands what makes clients tick and is a highly effective negotiator. She has very strong interpersonal skills… is completely unflappable and inspires total confidence."
Trust and Probate Litigation
The Trust and Probate Litigation department moves up to Band 2 in the Private Wealth Disputes section, its second rankings rise in as many years. A London based litigator suggests the team is "going from strength to strength in this market", while others describe it as "very much on the up" and "growing well".
Head of Trust and Probate Litigation James Price maintains his position in Band 1 of the individual rankings. Summarised as "articulate, level-headed… incredibly smart and thoughtful" by a solicitor, Price is also "extremely knowledgeable and experienced in the field of contentious trusts", according to sources.
Ranked in Band 2, Geoffrey Kertesz is hailed by a barrister as "a real rising star", while a fellow disputes solicitor says he is "an exceptional lawyer" who "fights his corner hard, but is also pragmatic and commercial".
Previously acknowledged as an 'Associate to Watch', Emma Holland is recognised in the partner categories as 'Up and Coming' for the first time, following her promotion to the firm's partnership in 2021. "She is excellent, definitely a star of the future", according to a solicitor; another source dubs her "the backbone of the department".
Tax and Financial Crime
In 2021, the Chambers High Net Worth Guide also ranks David Pickstone and David Savage for the first time, recognising them in the Tax and Financial Crime categories respectively.
Head of Tax Litigation and Investigations David Pickstone receives a Band 2 ranking; Chambers notes his "considerable experience advising high net worth clients on complex tax disputes with HMRC". An interviewee weighs in: "He has a lot of high net worth clients. I really rate him."
Also ranked as an 'Up and Coming' partner, David Savage is commended by Chambers sources as "very friendly, innovative in his approach and has a lot of experience. He has great expertise when it comes to sanctions, which makes him a valuable adviser to any HNW client."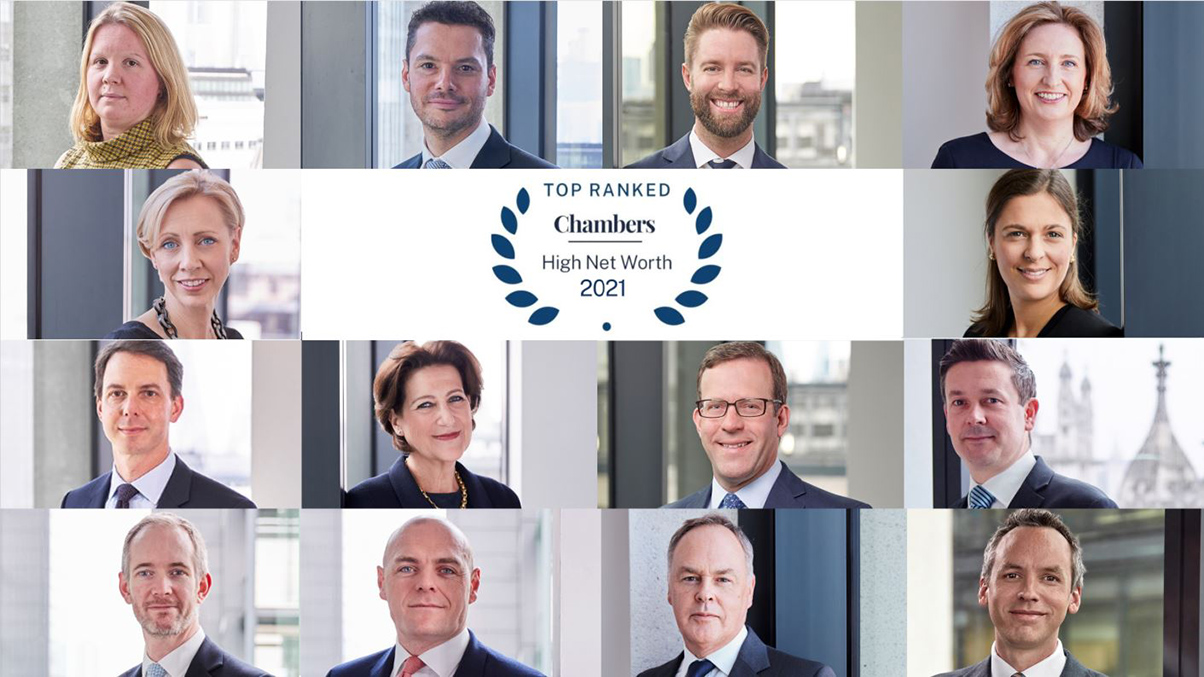 The Chambers High Net Worth guide was launched in 2016 and covers private wealth management work and related specialisms in key jurisdictions around the world, featuring in-depth editorial about the leading lawyers and law firms for wealthy individuals and families. You can read the full guide online.
---
You can find further information regarding our expertise, experience and teams on our Divorce and Family, Trust and Probate Litigation, Tax Litigation and Investigations and Financial Crime pages.
If you require assistance from our team, please contact us
---
Subscribe – In order to receive our news straight to your inbox, subscribe here. Our newsletters are sent no more than once a month.